Reviewed by NEAL GENDLER
What if you just turned 40, fell asleep and woke up in your childhood bed, once again 16 — but knowing you were 40 and all that happened in between.
Most of us are unlikely to face that problem, but for Alice Stern, it's not only an enormous shock but also something of an unsought treat: Her dying father once again is 49 and vigorous, her face is smooth, her stomach flat.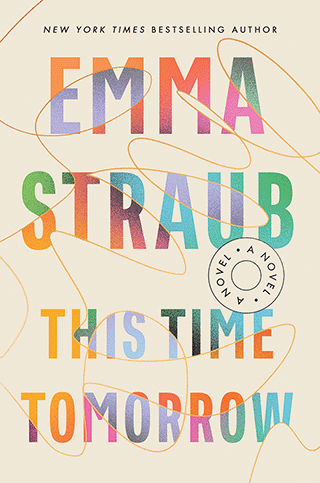 "Alice felt aware of simultaneous thoughts … Alice was herself, only herself, but she was both herself then and herself now. She was 40 and she was 16," acclaimed novelist Emma Straub writes in her inventive, engrossing This Time Tomorrow.
It's fiction, of course, but who hasn't daydreamed about leaping back in time — to see our parents and grandparents young, to choose a different career or to see a historic event.
Alice looks around her room — walls plastered with photos, rug concealed beneath mounds of teen girl clothes — "like she'd just woken up in a museum where she was the only exhibit." She reaches for her cellular phone, which doesn't exist.
We don't get to this until after 68 pages of Alice's adult life. She's lived in a Brooklyn studio apartment since 25 and is an admissions officer at Belvedere, the prestigious private school from which she graduated.
It's an OK job, creating witty, acid observations about the kindergarten applicants' parents, among them her high-school crush Tommy Joffey.
But it's not the life in art she'd envisioned, nor does it seem to be leading anywhere. She has a boyfriend — and has had others — but not the kind of love found by her best friend since childhood, Sam, a mother of three ensconced in a large New Jersey house.
Alice was raised from age six by her father, Leonard, after her mother left for California "to join a healing community led by a man named Demetrious."
Leonard, an indifferent dresser with scarce cooking skills, stayed single, focusing on Alice and remaining in their house on Pomander Walk, a charming, gated community of tiny houses on a short street near 94th and Broadway.
He's prosperous from the book he wrote at age 38 about two brothers who travel back and forth in time. It sold millions, in multiple languages, and became a TV series, bringing more payments.
But when Alice is 40, his sedentary decades of constant smoking, few to no vegetables and drinking Coca-Cola all day have landed him in a hospital bed, full of wires and tubes, unresponsive at just 73.
At 16 again, Alice sees him anew. "When she was young, she'd thought he was old, and now … Alice realized how young he'd been."
So how did Alice come to this?
At 40, she'd been having a birthday dinner with Sam, who's called away when her son Leroy falls and hits his head. Alone, Alice goes to a bar, long ago a favorite with Sam and fake IDs.
Rather tipsy, she decides against taking the subway back to Brooklyn, instead heading to Pomander Walk.
The gate is unlocked, but she can't find her house key. Not wanting to wake the neighbors at three a.m., she lies down in what had been the guardhouse.
She awakens in her childhood bed. It's her birthday.
A little later, she meets Sam at their SAT prep class, where Alice finds that her limited high school math has evaporated. She searches for a way to tell Sam what has happened, finally convincing her with a fact Sam had suspected.
Sam astonishes her with news that she's having a birthday party. Alice remembers the first one, when Tommy used her bed to have sex with Lizzie, after which Alice never spoke to him.
That pair's departure to sneak into their family homes leads to an insightful Straub observation: "So much of being a teenager is pretending that your body hadn't started to do the things that adult bodies did. It was when children had to learn how to be separate humans, a painful process across the board."
But what we've wanted to know since page 69 is how this happened to Alice and if she's stuck being 16 and living the next 24 years over again.
We get answers when she decides to tell Leonard what has happened. He makes a shocking revelation. By this time, we're about 60 percent into the book, and I don't want to disclose more from the very fertile imagination of Straub, author of five previous hit books and, with her husband, co-owner of a Brooklyn bookstore called Books Are Magic.
OK, a hint: What happens next defies prognostication, which is what makes this cleverly written tale such a delight.
***
Neal Gendler is a Minneapolis writer and editor.
(American Jewish World, July 2022)