Temple of Aaron's annual tribute event will be "An Evening of Laughter and Memories," featuring comedian Richard Lewis, 7 p.m. Sunday, Nov. 1 at the synagogue, 616 S. Mississippi River Blvd., St. Paul. The event will honor the memory and work of former principal Wendy Goodman.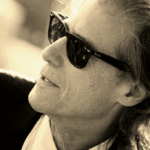 The Chicago Tribune and Baltimore Jewish Times have both compared Lewis to legendary Jewish comedian Lenny Bruce, and the New York Post once said, "Lewis built the strongest stand-up comedy career on a blazing trail of neuroses since Woody Allen."
Lewis is the author of The Other Great Depression: How I'm Overcoming, on a Daily Basis, at Least a Million Addictions and Dysfunctions and Finding a Spiritual (Sometimes) Life, which was published in 2000.
His newest book is Reflections from Hell: Richard Lewis' Guide on How Not to Live, featuring illustrations by Carl Nicholas Titolo.
Lewis recently spoke to the AJW, and mentioned that his wife, Joyce Lapinsky, a St. Paul native, informed him about his final resting place, over breakfast: "You're going to be next to me for the rest of eternity…. You're going to come to Temple of Aaron Cemetery."
Lewis plans to do the Sunday evening show first, before his interment in the local cemetery.
For tickets and information, visit: templeofaaron.org, email: kenagranoff@templeofaaron.org or call 651-698-8874, ext. 106.