Sanders' reluctance to make his Judaism central to his public persona is a function of his preference for the economic over the esoteric
By RON KAMPEAS
MANCHESTER CENTER, Vt. (JTA) — Bernie Sanders reads from the Passover Haggada in Hebrew and jokes with his seder hosts about finding chametz, traces of leavening, after they have thoroughly cleaned the house in preparation for the holiday.
The presidential candidate, a socialist competing for the Democratic nomination, also follows Israeli politics close enough to understand the influence of the haredi Orthodox parties in government. And like many Jews of his generation, Sanders, 74, chafes at what he sees as disproportionate critical attention applied to Israel.
Elections 2016
But little of this emerges in his public profile.
More has been written about the Judaism of his Brooklyn childhood than his interactions with the faith and community today.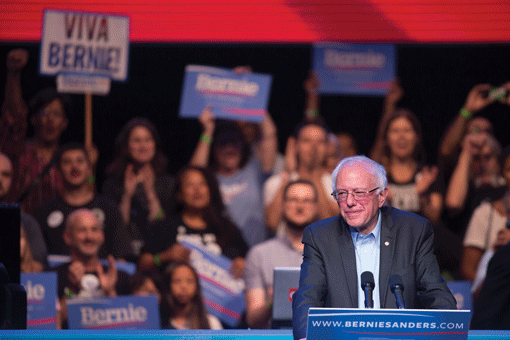 "I know he's Jewish and I know he has a good heart, but give us something, make us feel proud of you," said Rabbi James Glazier, of Temple Sinai, a Reform congregation in South Burlington. "I can't tell him what to do — that's not my business. He owns his own spiritual journey. But we need a Jewish hug from him every once in a while."
As a politico, Sanders appears averse to hugs, Jewish or otherwise. Consider his awkward handshake with Hillary Rodham Clinton during the first Democratic presidential debate last week after he said her use of personal emails while in government shouldn't be a campaign focus.
"It's not like he's embarrassed or ashamed of [his faith]," said Richard Sugarman, an Orthodox Jew who is among Sanders' closest friends and a professor of philosophy. "He continues to be a universalist; he doesn't focus on those issues."
The Jewish Vermonters who know Sanders say his reluctance to make his Judaism central to his public persona is a function of his preference for the economic over the esoteric, as well as a libertarianism typical both of the state and its Jewish community — one that embraces expressions of faith and the lack of them.
Sanders, like many Jews who came here in the 1960s and 1970s, migrated to Vermont for reasons having little to do with his Judaism. He once told NPR that travel brochures he saw as a teenager depicting the state's open spaces attracted him in the mid-'60s. Sanders, his first wife and his older brother bought 85 acres of land for $2,500. (Sanders has been married twice. His first wife was Jewish, his current spouse is not.)
Ben Scotch, a lawyer who for decades worked in the state attorney general's office and for the American Civil Liberties Union, said he and Sanders were part of a generation of Jews who supplanted the state's more conventional Jewish community.
"The children of Jewish families that settled here generations ago frequently looked at Vermont and said, 'What are we doing here, this is no place to identify as Jews, the real Jewish centers are in the cities,' and they doffed their hats," said Scotch, who lives in Montpelier, the state capital, and knows Sanders through his dealings with government.
"One generation was heading south on the interstate to New York, and meanwhile heading north on the interstate are children of city-bound Jews, saying 'enough of my parents' materialistic values, I don't want to be in the undershirt business for the rest of my life.'"
Eventually, many of the new Jewish migrants found Jewish community, albeit one that worked with Vermont's counterculture. Montpelier today is home to four female rabbis, three Reconstructionists and one who identifies as Orthodox, having attended a transdenominational rabbinical school.
The Orthodox-identifying rabbi, Tobie Weisman, said she has encountered an abundance of stories like Scotch's through her group, Yearning for Learning, which organizes Jewish programming throughout the state.
For example, she asked the owner of a local gelato shop what ingredients he used to ascertain whether the desserts would be suitable for the kosher-observant, only to find out that the man's mother was Jewish. Several months later, the shop owner was seeking advice on how to make horseradish-flavored gelato for a seder.
"Being a rabbi, I find Jews," Weisman said, noting that when she speaks to people with children, about one in three times she'll find a Jewish connection.
Susan Leff, who founded Jewish Communities of Vermont two years ago to coordinate Jewish activities in the state, said counting Jews in Vermont is a challenge, precisely because the Jews who arrived in the '60s value the state's nonconformist ethos and resist organization.
Before launching her start-up, Leff asked around at Jewish congregations about setting up an affiliate of the Jewish Federations of North America, but it was a nonstarter.
"People would say, 'Why send our money to New York?'" she recalled.
Leff said her mailing list suggests that there are more than 20,000 Jews among the state's 600,000 residents. That's four times the 5,000 Jews that appear on outdated databases. From three functioning synagogues in 1975, when she arrived in the state to study at Bennington College, there are now 14 with rabbis, along with an array of lay-led prayer communities, or havurot. Of the 10,000 students at the University of Vermont, where Leff served as Hillel director for a decade, she estimates 2,000 are Jewish. The campus has a kosher kitchen.
David Fried, Weisman's husband — a New York native who is a farmer and a jam maker — described his own trajectory from secular Jew to observance.
Checking trees ripe with produce on a cool autumn day, he remembered being nervous the first time he shut down his farm, Elmore Roots, on Shabbat. Fried said he discovered quickly that his clients and neighboring farmers respected his observance.
Alan Steinweis, who heads the University of Vermont's Center for Holocaust Studies, said the state's libertarian traditions created a convivial environment for diverse Jewish expression.
"It's a comfortable place for Jews to move to," he said.
Steinweis noted that the Boycott, Divestment and Sanctions movement against Israel, or BDS, had failed in its bids to gain a foothold at the university, despite its reputation for being among the most liberal in the United States.
"It's traditional Yankee libertarianism," he said. "It's OK to criticize, but don't censor."
Sanders' fraught encounter with BDS supporters who challenged his defense of Israel at a town hall meeting in Cabot last year was captured on YouTube. Sugarman said he was not surprised that his friend stood up to the hecklers, telling them to "shut up."
"Many of us were gratified, not amazed, that Bernard had the beitsim to stand up against these nihilists," said Sugarman, using the Hebrew colloquialism for "balls." (Most Vermonters call Sanders "Bernie"; Sugarman prefers "Bernard.")
Sugarman has known Sanders since they met on a slow train home to Vermont in 1976. Sugarman was returning from defending his doctorate at Yale, Sanders from a family reunion in Brooklyn — "events that were traumatic for both of us," Sugarman said.
They spoke all night, and Sanders moved in with Sugarman for a while following the breakup of Sanders' first marriage — and kept a kosher kitchen in deference to his friend. (Sugarman, who roomed with former Sen. Joe Lieberman, I-Conn., at Yale, may be the only person to have lived with both serious Jewish contenders for the U.S. presidency.)
Sugarman encouraged Sanders, who had run several hopeless third-party bids for statewide office in the '70s, to run as an independent for Burlington mayor in 1981; Sanders defeated the Democratic incumbent by just 12 votes.
‪Sanders went on to be elected to the U.S. House of Representatives in 1990 and to the Senate in 2006.
He has chosen friends who complement his wonkishness: Sugarman, the philosopher, and Stanley "Huck" Gutman, a professor of poetry at the University of Vermont who has written about the Israeli poet Yehuda Amichai. In 2010, the Washington Post profiled Gutman, who for four years was Sanders' chief of staff, because Gutman routinely sent Senate staffers favorite poems. Gutman acknowledged he got nowhere in talking poetry with his old friend and boss.
In his cluttered office Sugarman, whose expertise is Emmanuel Levinas, the Talmudist and philosopher, pulled out from a table tumbling with books on Levinas (and one kids' book about Hanuka) a compilation of speeches from a Levinas seminar he organized in 2000. He opened it to the welcome speech by Sanders, who mentioned Levinas only to jokingly wonder whether he was a candidate because his name cropped up on signs around town.
But Sugarman said the candidate's Jewish identity is principally expressed in his understanding that elections make a difference, sometimes with catastrophic consequences.
"He once said that as a child in Brooklyn, he learned there was an election in Germany in 1932," Sugarman recalled of Sanders, whose father lost family in Holocaust-era Poland and who is on the board of the U.S. Holocaust Memorial Council. "And although it was not decisive, it was quite important."