By MORDECAI SPECKTOR
The Theresienstadt (Terezin, in Czech) ghetto was a prison for about 150,000 Jews, between 1941 and 1945, according to the entry in the Encyclopedia Judaica.
The website of the United States Holocaust Memorial Museum notes: "Neither a 'ghetto' as such nor strictly a concentration camp, Theresienstadt served as a 'settlement,' an assembly camp, and a concentration camp, and thus had recognizable features of both ghettos and concentration camps. In its function as a tool of deception, Theresienstadt was a unique facility."
The Encyclopedia Judaica says that 35,539 souls died in the ghetto, in what was Czechoslovakia (now the Czech Republic). The article continues: "The deportees to Theresienstadt included many musicians, painters, actors, writers and scholars, with whose aid an intensive cultural life was gradually organized in the ghetto. This included several orchestras and theater groups, opera performances (without staging), choirs, and satirical entertainment."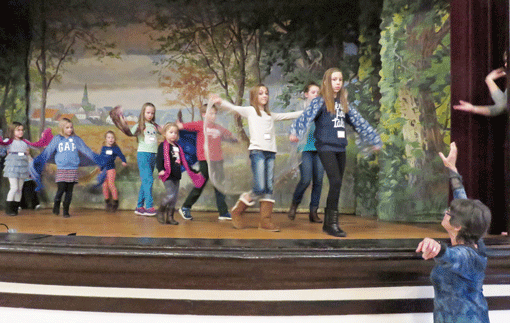 Broučci (The Fireflies) was one of the musical productions in Theresienstadt. It was adapted by Kamila Rosembaumová from the classic Czech children's book by Jan Karafiát, and performed with a musical score composed by Karel Švenk. The work was performed by the imprisoned Jewish children of Barracks L410 in Theresienstadt.
In an unusual collaboration between Jewish and Czech-American artists, Broučci (The Fireflies) will be presented May 15 at the C.S.P.S. Hall in St. Paul. Children from the Czech and Slovak School Twin Cities and Sokol Minnesota will perform the work.
Judith Brin Ingber is the director and choreographer, working from the original Rosembaumová text; Craig Harris is the pianist and arranger, using the original score by Švenk.
During a recent interview with the Jewish World, Brin Ingber mentioned several points of entry for her into this unusual inter-ethnic cultural project. "My mother's grandparents were Slovakian Jews, so I have a peculiar connection that I didn't think of in the beginning."
In an email exchange, Brin Ingber, an eminent authority on Jewish and Israeli dance history, also pointed out that she interviewed Vera Meisels, who performed in Broučci, in 1945, in Theresienstadt. Meisels now lives in Tel Aviv.
"I interviewed her at length and her memory was extraordinary," recalls Brin Ingber, regarding Meisels. "She not only remembered dance movements but also songs, so I recorded her."
Brin Ingber also notes that a wedding song, which comes in the last scene of Broučci, "was obviously taken up by the Czech people who moved to Palestine." It's the melody Jews sing at Simchat Torah: "Torah, Torah, Torah / Torah tzee-va lanu Moshe."
The local Czech and Slovak community has pitched in with gusto on the theatrical production, according to Brin Ingber. For example, parents of the children in the play have created costumes for the show. And apropos the joyous wedding scene at the play's conclusion, the Czech and Slovak Cultural Center of Minnesota's cooking group will bake kolache, "a wonderful poppy seed dessert," which will be available for purchase after the show.
"It's pretty amazing the way things flow between the communities," Brin Ingber reflects. "It's been very uplifting and exciting that this community has so embraced its Holocaust project."
Rimon: The Minnesota Jewish Arts Council also provided funding, which allowed Brin Ingber to devote her time and effort to Broučci.
***
Broučci (The Fireflies) will be performed at 3 and 4:30 p.m. Sunday, May 15 at the C.S.P.S. Hall, 383 Michigan St., St. Paul. Admission is by donation. For reservations or information, email: 2016fireflies@gmail.com.
(American Jewish World, 5.6.16)