Adam Heffez, who has written a book about graffiti in Israel and the West Bank, will kick off Culture Blvd III on Sept. 29
By MORDECAI SPECKTOR
I missed the graffiti on a Safra Square wall, across from the Jerusalem city hall, during my recent visit to Israel. The stenciled artwork shows Walter Sobchak, the character played by John Goodman in the Coen brothers' cult classic The Big Lebowski.
Walter has a pistol in his hands, and the graffiti proclaims: "Shomer F—ing Shabbath!!!"
In his commentary accompanying this graffiti image in his book Words and Walls: Social Commentary through Graffiti in Israel and the West Bank, Adam Heffez explains that Sobchak is "Shomer Shabbat, an observer of the mitzvah (commandment) associated with the Jewish Sabbath. To be Shomer Shabbat means not cooking, writing, driving, operating electrical devices, spending money" — and no bowling on Shabbat.
Culture Blvd III — Exploring Israel
And Heffez speculates that the depiction of the gun in Sobchak's hands "colors the meaning of the phrase. Perhaps it was drawn by a secular Jew, frustrated with the power of the Orthodox in the city."
Heffez, 24, who currently works as a policy analyst with the Washington Institute for Near East Policy, will speak about graffiti in Israel and the West Bank on Sunday, Sept. 29 at Intermedia Arts in Minneapolis, as part of the Culture Blvd III series, "an exploration of Israeli culture through artists," which is sponsored by the Israel Center of the Minneapolis Jewish Federation.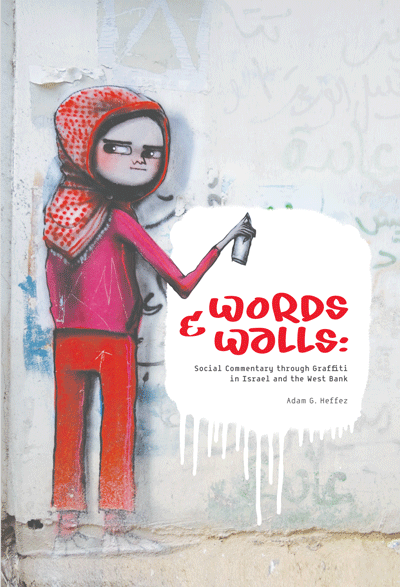 During a telephone interview with the Jewish World last week from Washington, D.C., Heffez explained that he is currently working in the area of "Syria and Lebanon foreign policy… It's a hectic time, not a particularly uplifting topic; but it's very interesting nonetheless."
He added, vis-à-vis the conflict currently raging in the Arab Middle East: "I really love both countries, so it's hard to see what's happening."
The Chicago native attended Georgetown University, and during his undergraduate studies traveled to Jordan and Syria. Heffez "lived with host families and also volunteered with an organization that serves Iraqi refugees of the most recent war on terror," in Amman, Jordan.
After his graduation from Georgetown, he received a Dorot Fellowship, for young "social impact leaders in the Middle East," he explained.
Heffez lived mainly in Jaffa, Israel, for his fellowship year, "and it was in the context of that fellowship that I ended up writing the [Words and Walls] and working at two different NGOs."
His jobs with the nongovernmental organizations took Heffez around Israel and the West Bank — "to places that really people don't venture to."
"I started to learn about these places from the graffiti on the walls, and the graffiti started to spark conversations with passersby on the street, locals, people who owned the buildings on which the graffiti was painted," Heffez told the AJW. "It was through these conversations that I came to form a connection with these places, and I hope to have shared that with everyone else through this book."


As far as his talk here, Heffez has presented his graffiti tour — 3,000 images boiled down to 300 for Words and Walls — for both Jewish and Muslim audiences.
"I really don't take a side, because I don't have one," he said, regarding the strong, sometimes extreme views on display. "My goal is really to have the graffiti speak on its own, and not have my voice in it."
In some quarters of the Jewish community, individuals are loathe to brook any criticism of Israeli government policies. Visiting speakers (and newspaper editors) occasionally catch flak from these staunch "pro-Israel" individuals.
Looking at Middle East contentions through the lens of graffiti is "such a great tool for me," Heffez comments, "because I can disassociate myself from the message and have other people speak for me, people who I think should be speaking about the conflict, and that's normal everyday people who are tagging these images on walls. It's really helped me in communicating about the conflict to various different audiences without eliciting [hostile] reaction."
Words and Walls is fascinating for the reader knowledgeable in Israeli-Palestinian issues and, at the same time, is a useful primer for someone new to the contentions between secular Jews and ultra-Orthodox Jews, for example, and between Jews and Arabs. Heffez clearly explains the backstory to the graffiti and interprets the various messages, as he travels from West Jerusalem to East Jerusalem, to Jaffa's Arab neighborhoods and through the West Bank. There are also excursions to Sderot, the Israeli town that has borne the brunt of Hamas rocket fire from Gaza, and Hebron, the only Palestinian city on the West Bank that has a small community of Jewish settlers living in its center. Heffez also looks at relatively successful Jewish-Arab coexistence in Haifa, and a less happy experience in Lod.
As one might imagine, there could be a spot of trouble while schlepping through these varied communities
"Anytime you go into a community, you have to disarm people of any suspicions they have," said Heffez, when asked about the dangers of his work. "I've faced problems in [Jerusalem's ultra-Orthodox] Mea Shearim, with a camera, obviously. And same thing in Silwan, East Jerusalem. What it really took is talking to locals, in Hebrew and Arabic, describing the project that you're doing and really involving them as stakeholders: either as interview subjects, asking them to respond to images on their wall, and as soon as they become participants in the project, they're on board with it. I learned this the hard way, by having profanities shouted at me or having rocks thrown at me; but I really found how to do the project correctly through those mistakes, and ended up having some great conversations out of it."
***
Adam Heffez, author of Words and Walls, will narrate a graffiti tour of Israel and the West Bank 3 p.m. Sunday, Sept. 29 at Intermedia Arts, 2822 Lyndale Ave. S., Minneapolis. Tickets are $12, $10 for JCC members, or $6 students and seniors. Tickets can be purchased at: jewishminneapolis.org/cultureblvd.aspx.
This event, which is presented by the Israel Center of the Minneapolis Jewish Federation, is co-sponsored by the Sabes JCC and Rimon: The Minnesota Jewish Arts Council. The American Jewish World and TC Jewfolk are media sponsors.