The Guthrie's Joe Dowling will direct Arthur Miller's The Crucible, an allegory of America's hysteria about Communism in the 1950s
By MORDECAI SPECKTOR
The renowned playwright Arthur Miller visited Salem, Mass., in November 1991, as the city was preparing for the 300th anniversary of the infamous Witch Trials. Some 40 years earlier, Miller had visited Salem, in the course of doing research for his play The Crucible.
In remarks at the Essex Institute (now the Peabody Essex Museum) — which can be watched on You Tube — Miller discussed Salem, in the context of his masterpiece, The Crucible, an allegory of a period of political repression in America: the 1950s, when Sen. Joseph McCarthy hurled wild and unfounded allegations about the Communist affiliations of individuals in government and society.
The Crucible at the Guthrie
April 11–May 24
"I was at my wits' end about how to counteract what I thought was a hysteria sweeping this country," said Miller, regarding what's become known as McCarthyism. "To put it in a few words, [the United States] seemed to be a dangerous place in which to hold an opinion which certain senators disapproved of."
Miller continued, "What my play is really about, and what Salem means, or should mean, is that here some people refused to compromise with the government and tell lies in order to save their lives."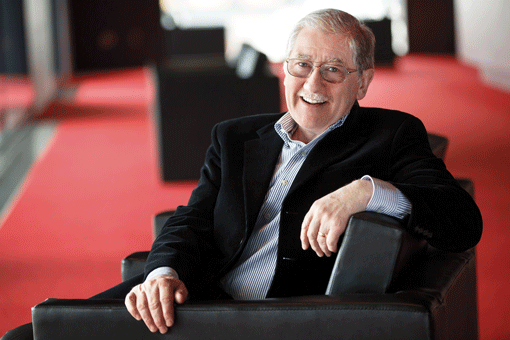 For the first time in four decades, the Guthrie Theater will present The Crucible, on the Wurtele Thrust Stage, from April 11 through May 24.
Joe Dowling, who will end his 20-year tenure as the Guthrie's artistic director this summer, recently talked with the Jewish World about Miller and his play.
The written version of The Crucible includes extensive commentary on the characters as they enter the play, as well as a lengthy introduction before Act One begins.
These expositions are "not read out in the play," said Dowling. "That's sort of advice for directors and actors to help them understand the kind of dynamics that led to the [Salem] witch hunt; because obviously to our contemporary mind, such a thing is almost impossible to believe."
As to the play's protagonists in Salem of yore, Miller writes that the ancestors of the townsfolk "had, of course, been persecuted in England. So now they and their church found it necessary to deny any other sect its freedom, lest their New Jerusalem be defiled and corrupted by wrong ways and deceitful ideas."
Miller goes on with his commentary: "They believed, in short, that they held in their steady hands the candle that would light the world. We have inherited this belief, and it has helped and hurt us."
The Guthrie's production of The Crucible will have a period design, according to Dowling.
"It's set in 1692, in New England, and we're going to set it very firmly in that period, both in terms of the costumes and the staging," he said. "It's going to feel very much like we're in that real world. Jane Greenwood is our costume designer, and she is creating very authentic costumes from the period…. We're doing it very much in its period."
The Crucible opened on Broadway in 1953, in the midst of Sen. McCarthy's Communist witch hunts.
Dowling mentioned Miller's "famous split-up" with actor, writer and director Elia Kazan, over Kazan's naming names of left-wing artists in testimony before the House Committee on Un-American Activities (HUAC).
"Arthur was called before [HUAC] a couple of years after he had written this play… and, of course, he refused to name names; and he's written about it very brilliantly in his memoir, Timebends," said Dowling. "It was a terrible time in his life… people he knew in the film industry and in the theater industry were all being blacklisted because they either had been called before the committee, or someone named them as having had Communist sympathies, even if they had those sympathies 30 years before."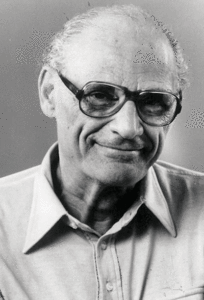 In the memoir Timebends, Miller says, "At first I rejected the idea of a play on the subject" of the Salem witch trials.
However, over time Miller realized that "a living connection between myself and Salem, and Salem and Washington, was made in my mind — for whatever else they might be, I saw that the [HUAC] hearings in Washington were profoundly and even avowedly ritualistic."
As Dowling mentioned, Miller's account of the link between the Salem and McCarthy witch hunts is "brilliant." In the case of HUAC, Miller writes that a person "was summoned before the Committee to be called a bad name, but one that could destroy a career. In effect, it came down to a governmental decree of moral guilt that could easily be made to disappear by ritual speech: intoning names of fellow sinners and recanting former beliefs."
In its portrayal of the hysteria over the Devil's ostensible influence in late 17th century Salem, The Crucible comments upon the madness of American political life. In Act One, Reverend Parris learns to his horror that his niece and daughter had "trafficked with spirits in the forest" — engaged in a satanic ritual. The scene is set for an escalation of lies and accusations, as the judges determine who has been seen consorting "with the Devil."
Beyond Salem and America in the '50s, The Crucible, with its themes of religious fundamentalism and vengeance, resonates in the post-9/11 world.
"There's even lines in the play" that evoke the U.S. war on terrorism, said Dowling, who mentioned that the judge, Deputy Governor Danforth, is challenged by John Proctor, and he says, "you're either with this court or you're against it" — just as a recent U.S. president declared that countries either are with us or they're with the terrorists.
On the topics of intolerance and fundamentalism, Dowling said, "Arthur saw all that… and [The Crucible] is a brilliant allegory for so much of what passes for political discourse in our contemporary world."
In its very first season, in 1963, the Guthrie presented Miller's most famous play, Death of a Salesman. Dowling, who has programmed a number of Miller's plays (The Price, Mr. Peters' Connections and A View from the Bridge), directed All My Sons, in 2001, and Death of a Salesman, in 2004.
In response to the AJW's question, Dowling said that he knew the renowned Jewish-American playwright.
"I knew him reasonably well. Towards the end of his life, he was here a number of times. In the late '90s and early 2000s, we did a number of his productions; and then we did a world premiere of his second to last play, Resurrection Blues, and he was here for the whole course of that and we got to know him pretty well."
Dowling will direct one more play — Sean O'Casey's Juno and the Paycock — before leaving the Guthrie at the end of June.
"We're going to base ourselves in New York, and I'm going to continue working, if I can," Dowling commented, regarding his plans post-Guthrie. "We have grandchildren here, so we'll be back here fairly often. I've been running theaters for over 40 years now, so it's time to stop running theaters."
***
The Crucible begins previews April 11, and opens April 17. The play continues through May 24 on the Wurtele Thrust Stage at the Guthrie Theater. For tickets, call the Guthrie Box Office at 612-377-2224 or go to: guthrietheater.org.
The Guthrie also will present "In Conversation with Joe Dowling" on April 21. Dowling will be interviewed by New York Post theater columnist Michael Riedel. The discussion will be followed by a Q&A with the audience.
(American Jewish World, 4.10.15)