A new Ner Tamid by Claude Riedel transforms rusted barbed wire once meant to hold Jewish people captive
By RUTH F. ELIAS
Glass artist Claude Riedel's new Ner Tamid, or eternal light, evokes the liberating presence of the light of God. Barbed wire tells a different, appallingly human story; it is the blade of oppression.
A radiantly colored glass bowl forms the base for a spiraling crystalline flame in Riedel's Ner Tamid. The bowl conjures the depths of a rich spiritual world suffused with the mysterious cosmos. The bowl and the flame are suspended from above by elegant elongated link chains, which paradoxically encase ropes of rusted barb wire.
The wire is not metaphorical. It is a remnant of the Hasag concentration camp in Czestochowa, Poland.
Does the enduring light of God belong in the same breath with a terrifying symbol of human oppression? The tension in that question and two personal journeys gave rise to the project of this Ner Tamid's creation. In retrospect, it would seem that this Ner Tamid was destined to become part of a story that spans more than 70 years.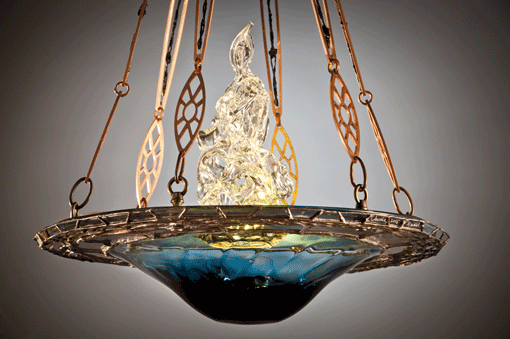 In the summer of 2013, my husband Walter and I set out to trace my roots in Poland. My Polish-born parents spent 1941 to 1945 in forced labor at the Hasag camp, where they were threatened with deportation and death, and where they lost most of their large family and many friends.
They survived the Holocaust and immigrated to the United States in 1948. They never wanted to go back to the country where the life they knew was destroyed.
A Polish father and son, Kristof and Vitek Straus, volunteered to meet us and guide us around the sites of Jewish Czestochowa. As I imagined the horrors of my parents' and our people's daily struggles to survive, we saw Vitek approach the pylons of the perimeter wall of the camp.
He reached up to break off strands of the now rusting, brittle barbed wire that once held groups of 5,000 enslaved Jewish people at a time until they were "selected" for death in Treblinka and other death camps.
Vitek handed me five three-foot strands of barbed wire. Shocked, I said, "I do not take anything away from memorial places."
He said, "A plaque to memorialize the Hasag prisoners will remain on part of the outer wall, but the camp will be demolished to make way for new construction."
I accepted the wires, knowing that Vitek's impulse came from a caring place. But I had no idea what to do with this paradoxical gift.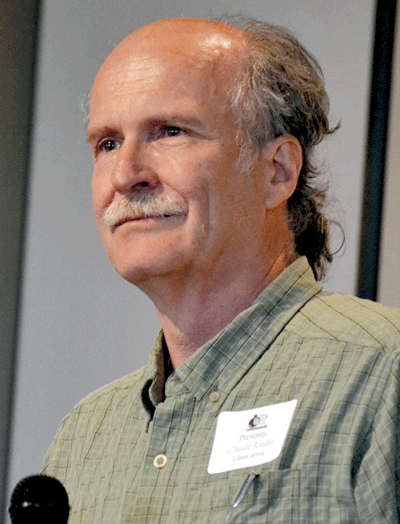 At home, Walter and I turned to David Harris, executive director of Rimon: The Minnesota Jewish Arts Council, an initiative of the Minneapolis Jewish Federation. We brainstormed many ideas about what to do with the barbed wire. But nothing clicked until we went to a Rimon fundraiser the following June and saw Riedel's presentation on Nerot Tamid, eternal lights.
Yes, a Ner Tamid! When we saw his beautiful Nerot Tamid, we knew a Ner Tamid by Claude would be appropriate and amazing. He immediately resonated with the idea of incorporating the wire into one of his pieces — his grandfather was taken away to Buchenwald on Kristallnacht, the Night of Broken Glass.
The rest of the story is that of a wonderful collaboration with Rimon, Claude, Walter and me. The wire gives voice for the call to always remember — Zachor. The barbed wire meant to hold Jewish people captive until sending them to their death is here transformed.
The Ner Tamid is eternal, as is our memory of those who suffered and perished in the Holocaust. The beauty of this lamp reflects the Jewish life that was lost. In its light, our memories will never be extinguished. In it, we see the strength and resilience of our people as well as the tikva, the hope and light out of darkness.
What will become of this remarkable Ner Tamid? This next chapter of its story is yet to be written. To view the Ner Tamid, visit Claude Riedel's Web site at: clauderiedelart.com. For information, e-mail: wselias@msn.com.
***
Ruth F. Elias is an educator and a former chair of CHAIM, the Children of Holocaust Survivors in Minnesota. She lives in St. Louis Park.
(American Jewish World, 4.10.15)