AJW Staff Report
At the Oct. 24 event marking the 20th anniversary of the Center for Holocaust and Genocide Studies (CHGS) at the University of Minnesota, John Coleman, dean of the U of M's College of Liberal Arts, lauded the center as "one of our college's most powerful examples of the… importance of our work across the humanities, social sciences and the arts."
Coleman added, "The work that you do every day reminds us that the study of genocide and mass violence does not reside solely in the past. Mass violence has taken — and is taking — a devastating toll in our own time."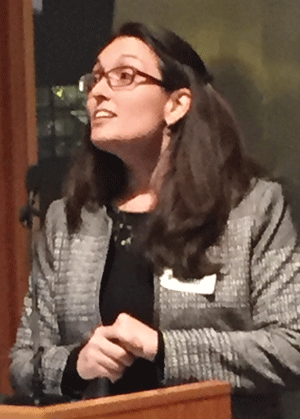 The event honoring the work of CHGS took place at the Weisman Art Museum, the Frank Gehry-designed building on the U of M's East Bank campus. The evening featured food, speeches, music and an art exhibit from the center's collection.
And several speakers paid homage to the role of Stephen Feinstein, who founded CHGS and was its first director. He played a singular role in expanding the academic institution's focus out to the larger community, for example, in emphasizing the Armenian genocide, the precursor to the Holocaust, and the more recent mass murder in Rwanda.
Feinstein also earned international acclaim for CHGS by curating pioneering exhibits of artworks representing the Shoah and other genocides. These exhibitions included "Absence/Presence: The Artistic Memory of the Holocaust and Genocide," which was displayed at the U of M's Nash Gallery in 1999; and "Witness and Legacy: Contemporary Art about the Holocaust," which was displayed at the Minnesota Museum of American Art, from 1995-2002.
Feinstein died suddenly, in 2008, of an aortic aneurysm, while speaking about a Holocaust-related film at the Minneapolis Jewish Film Festival. He was 64.
At the Oct. 24 event, Feinstein's daughter, Rebecca Feinstein, Ph.D., a health disparities fellow at Rush University Medical Center in Chicago, provided some moving personal remembrances of her father. Her mother, Susan Feinstein, and brother, Jeremy Feinstein, also attended the event.
In his remarks, Alejandro Baer, the Stephen C. Feinstein Chair and director of CHGS, quoted Feinstein's words from the center's first newsletter: "The Center has an urgent agenda, as the specter of violent prejudice and genocide continues to haunt the world."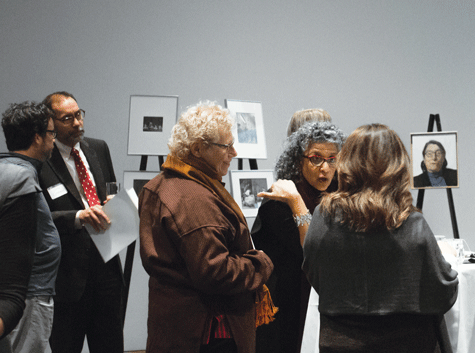 The evening concluded with a performance of works by Aram Khachaturian and Béla Kovács, which were performed by Natalie Moiseeva, violin; Rena Kraut, clarinet; and Ivan Konev, piano. Kraut captivated the crowd with her spirited playing on the klezmer-inspired "Sholem Alekhem, Rov Feidman!" — a Kovács composition for clarinet and piano.
***
The Center for Holocaust and Genocide Studies is a co-sponsor of a talk by Dr. Aline Sierp, assistant professor of European studies at Maastricht University, Netherlands. She will speak on "Divergent Italian and German Models to Confront the Holocaust: What Does It Mean for the Formation of Trans-European Identity?" 5:30 p.m. Thursday, Nov. 9 at 710 Social Sciences, U of M West Bank campus. Her talk will be followed by a Q&A and refreshments.
(American Jewish World, 11.03.17)