The History of Invulnerability challenges what we think we know about Superman and his Jewish creators
By DORIS RUBENSTEIN
For nearly every AJW reader, life has never existed without Superman. The Man of Steel's appeal in comic books, TV, movies, etc., crosses the barriers of gender, socioeconomics and time.
Who among us does not have warm memories of sitting on a front porch, or a playground bench, or with a sibling in your shared bedroom, shoulder-to-shoulder reading the latest issue of Superman comics.
MJTC's new show runs through May 11
These are just a few of the reasons that David Bar Katz's The History of Invulnerability, playing at the Minnesota Jewish Theatre Company's Hillcrest Center Stage in St. Paul, has such appeal. We've lived all our lives with the red-caped superhero; we think we know Superman. But do we really?
Katz's play, superbly and powerfully directed by Hayley Finn, makes us question our understanding of this American — and Jewish — icon.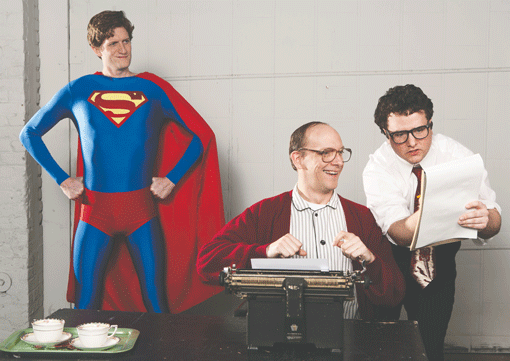 Katz takes very literally the myth that as we die, our entire life flashes before our eyes. In this case, the play is seen through the eyes of Jerry Siegel, a Jewish boy from the hinterlands of Cleveland and one of Superman's co-creators (along with Joe Schuster).
Twin Cities theater workhorse Jim Lichtscheidl performs a tour de force as the nebbish Siegel. All of the pent-up creativity and swallowed pride that Siegel suffers are reflected in the rounded shoulders, the eyes that hardly dare meet the enemy's gaze. And the ill-fitting cardigan sweater that Lichtscheidl wears also connotes his weakness of character.
Siegel, in his real life, can't even compare himself to Superman's alter ego, Clark Kent. At least Kent is a successful reporter for a great metropolitan newspaper. It is the cartoonist's inner life — the soul that yearns for truth, justice and the American way — that is embodied first on paper in Superman.
Superman, played with energy and panache and a curl on his forehead by Dan Beckmann, is Siegel's imaginary son, contrasting with his real-life son, Michael, whom he abandoned as a child of five. Siegel lives vicariously through his creation, but never gains any financial benefit from it as a result of a youthful mistake.
His life is such a series of personal and professional disasters that at one point he even loses the one shred of recognition that defines much of his life: co-creator of Superman.
This play is somewhat of a departure from many of the MJTC's usual productions. Not only is the ensemble of seven actors on the large size for a company that often presents one- to three-person shows, but the production values are substantial as well. Five of the members play multiple roles that develop over time and space. To achieve this differentiation, costume designer Barb Portinga had her work cut out for her, and she rose to the challenge with bravado.
Outstanding amongst equals in the ensemble is Charles Numrich, who, through body language, accent and talent, became transformed from scene to scene. He is a truly despicable villain in the role of the porn king-turned-comic mogul Harry Donnenfeld (is he the model for Superman's nemesis Lex Luthor?). Two minutes later, he tugs at our Jewish heartstrings as the religious concentration camp inmate Saul, trying to preserve the sacred for his Superman-reader son in the midst of the profanity of death. And in the next scene, he is the arrogant writer Thornton Wilder, then Hitler in the next.
Katz's play is missing one important element for a goodly portion of the audience; there is actually only one woman with a developed role in it: Joanna Harmon plays the first model for Lois Lane and plays her well.
Perhaps it's because Siegel was inept with women or that women have not played a major role in the comic book industry. We learn that he was married twice, but his second wife's name is never mentioned, even though she was the mother of his daughter.
There is another set of players onstage who are seen but never heard: projected images taken from Superman and other comics, and original graphics that illustrate a point or enlighten history. These images move the story along as much as any dialog in the script. Sam Smith and Jonathan Gross share credit for assembling and projecting these images, which add so much richness to the story.
If any of our non-Jewish childhood friends on the playground ever mocked our suspicions that Kal-El/Superman and Jor-El, his dad from the planet Krypton, were Jewish, this play affirms our beliefs. Still, for a story that deals largely with a comic book character, there is little funny about the sad lives of Siegel and Schuster. The MJTC gives us an appreciation of the blood, sweat, tears and persistence it took to create this unique Jewish American character.
***
The Minnesota Jewish Theater Company is presenting the regional premiere of The History of Invulnerability by David Bar Katz, directed by Hayley Finn. The play runs through May 11 at the Hillcrest Center Theater, 1978 Ford Pkwy., St. Paul. For tickets and information, call 651-647-4315 or visit: mnjewishtheatre.org.
(American Jewish World, 4.25.14)