Marking 10 years of recording and performing success, the Idan Raichel Project schedules a St. Paul concert
By MORDECAI SPECKTOR
Idan Raichel, one of Israel's most famous musical exports, last played in the Twin Cities two years ago. He performed with Vieux Farka Touré, the esteemed singer and guitarist from Mali, in West Africa, at the Dakota Jazz Club.
Raichel, who is a producer, composer and keyboardist, will return here on May 14, for a show at The O'Shaughnessy in St. Paul. The auditorium on the campus of St. Catherine University is more capacious than the intimate Dakota music room; but the full-blown Idan Raichel Project involves three vocalists and seven musicians, so the ensemble's eclectic sounds will fill the large hall.
Idan Raichel Project at The O'Shaughnessy May 14
"I'm really honored to share the stage with these amazing artists," Raichel says, regarding the upcoming U.S. tour.
The St. Paul JCC and The O'Shaughnessy are presenting the Project's local concert.
During a phone chat with the AJW from his home in Tel Aviv last week, Raichel talked about his most recent album, Quarter to Six (Cumbancha); his introduction to the diverse musical mosaic in Israel; and his infant daughter, who chimed in throughout the interview.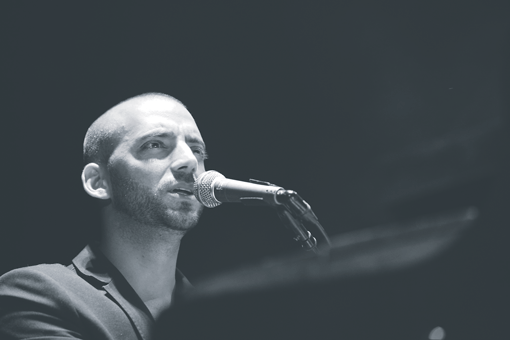 The Idan Raichel Project's 2013 album, Quarter to Six, continues the tradition of inviting guest artists into the group's creation process. Farka Touré is featured on the song "Mon Amour (My Love)." Renowned Palestinian-Israeli singer Mira Awad — who recently recorded and performed with Israeli troubadour David Broza (3-14-14 AJW) — joins the Project on "Ana Ana wa Enta Enta (I Am What I Am)," a song in Arabic.The entrancing and evocative "Sabe Deus (God Knows)" features Portugal's famed fado singer Ana Moura, in a duet with Raichel that begins in Hebrew and moves to Portuguese. And, as the Project has brought music in Arabic and Amharic (the native language of Ethiopian Jews) to the masses in Israel, "In Stiller Nacht (In A Quiet Night)" features the remarkable German counter-tenor Andreas Scholl; he sings in German, which apparently runs counter to the preferences of Israeli pop radio programmers.
Raichel conceived the most recent album as "a journey for the listener." There are 16 songs on the album, with a short break after the seventh track, "Ad She'Ein Yoter Le'an (Until There's Nowhere Left)," which provides listeners with a moment for personal reflection.
The closing track "Or Ka'ze (A Light Such As This)" features Ishai Ribo, a young Orthodox Israeli singer who reportedly had to get permission from his rabbi to take part in an album that includes songs sung by both men and women.
The album has gone double-platinum in Israel, selling 80,000 copies; and rose to No. 1 "on the world music charts and on iTunes," comments Raichel.
He adds that his main satisfaction from Quarter to Six has been the positive popular response "from all over the world, people are writing to us… they never imagined Israel to sound like that."
Raichel says that he and his musical compatriots are on a "journey to have peace with our neighbors, but also with the people inside Israel." The music is intended to bring a message of peaceful coexistence — as evidenced by the rainbow coalition of musicians working together in the studio and onstage — to Israel and the world.
The musician's initial exposure to some of the exotic sounds of Israel came when Raichel served as a counselor at the Hadassim Children and Youth Village, a boarding school located east of Netanya for kids dealing with familial dysfunction.
"It was the first time for me to see how the Israeli melting pot actually works," Raichel comments, about his year there. The kids came from "broken families… immigrants from East Africa, Ethiopia and the former U.S.S.R."
"I could see that the kids from Ethiopia and the refugee camps in South Sudan are not really integrating with the youngsters from the former U.S.S.R."
The kids suffered from "a lot of identity problems," says Raichel, vis-à-vis their relationship to Israeli society and to their homeland.
He mentions that the key for these kids to integrate in their new world was to have pride in their roots. Raichel quotes a Hebrew saying, which he translates as "know where you came from and where you're headed."
In the musical sphere, Raichel participated in jams that drew on sounds from Addis Ababa, Ethiopia, and from Moscow — from African grooves to hard rock to "beautiful classical music."
"The seeds of the Idan Raichel Project were actually from this boarding school," he notes, about his professional musical journey that has spanned 10 years.
The Project — with its records and pop hits on the radio — "actually brought the voices of the minority to the Israeli mainstream."
Raichel takes pride in bringing music in Amharic and Arabic — and German — to a wide audience in the Jewish state.
For AJW readers not familiar with Raichel's recorded work, he extends the offer of a free download of several songs. You can find this offer at the Project's Web site (idanraichelproject.com), or you can send an e-mail to: giftirp@gmail.com, which will trigger an autoreply "with a link for a free download," explains the musician. (I tried it and it works. You sign up for the Project's newsletter, and in return you get seven free songs.)
At this point in the phone interview, the chatter from a baby in Raichel's home rose in volume.
Do you have a baby?
"Yes, indeed," the 36-year-old native of Kfar Saba replies. "Yes, indeed."
The voice is that of the musician's four-month-old daughter, Philipa Helena.
"Her mom is Austrian, her father is this weirdo from Israel, and she's definitely practicing her vocals," Raichel comments.
So, we conclude our interview with a serious question, and one that's somewhat frivolous.
Raichel sees himself as a cultural ambassador for Israel, so I asked him about the global BDS (boycott, divestment and sanctions) movement against Israel, which includes protests of Israeli academics and artists.
He responds that he's a "cultural ambassador" for Israel, but not "for one political party or another. I'm doing what I'm doing for the past 10 years, and there were left-wing governments and right-wing governments. It's very important that artists from conflict regions… will come to share the music from the places they come from."
Raichel says his group provides a unique "perspective" from Israel, and imparts "a message of acceptance and peace."
He says he looks forward to meeting musicians from Palestine, Syria, Lebanon and Iran — and giving them a place on stage with the Project. Although Israel doesn't have formal diplomatic relations with some countries in the Mideast, Raichel sees his U.S. visit as an opportunity to foster musical relations with artists from these nations.
"The soundtrack of the places we come from is a very essential part of our lives," he adds. "If you want to make peace with your neighbors," you have to know "the essence of their day to day lives," and music, of course, is a vital part of the cultural mix.
And then there's the AJW's less serious question: Why did the musician recently cut off his signature flowing dreadlocks?
"I can tell you the three main spiritual reasons, related to the circle of energy, why I cut my dreadlocks," he replies. "But the truth is there is one reason: because my lady told me to do so."
He adds, "There is a saying in Israel, in Jerusalem, a man who is not afraid from his lady is not a real macho. So, that's it."
***
The O'Shaughnessy and the St. Paul JCC will present the Idan Raichel Project acoustic tour 7:30 p.m. Wednesday, May 14 at The O'Shaughnessy, on the campus of St. Catherine University, 2004 Randolph Ave., St. Paul. For tickets, call The O'Shaughnessy at 651-690-6700, or visit: oshag.stkate.edu.
The concert is co-sponsored by the Israel Center of the Minneapolis Jewish Federation.
(American Jewish World, 4.25.14)