By ADRIAN GLASS-MOORE / Assistant Editor
Minnesota Secretary of State Steve Simon is encouraging Minnesotans to vote by mail for the Aug. 11 primary and Nov. 3 general elections.
In a phone interview with the Jewish World last month, Simon described the elections this year as a "public health issue" due to the COVID-19 pandemic. An increase in mail-in ballots would reduce the number of people at the polls and therefore reduce the spread of the virus.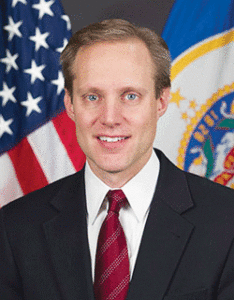 The Aug. 11 primary features DFL and Republican hopefuls for U.S. Senate and other offices. The Nov. 3 general election will offer the opportunity to vote for president and will have a higher turnout.
"Every person that votes from home this year is making it safer for those who do show up on election day at the polling place, both the voters and the poll workers as well," Simon said.
A mail-in ballot can be requested online at mnvotes.org in a matter of "three minutes, maybe four," Simon said. Voting by mail is possible starting 46 days before Election Day.
Other states have had problems with elections this year. Wisconsin's presidential primary election on April 7 was marked by long lines, some waiting for as long as 2 1/2 hours to vote, the Milwaukee Journal Sentinel reported.
Georgia's June 9 primary featured a new voting system that didn't work properly. There were long lines and some people gave up and went home, according to the Atlanta Journal-Constitution.
Simon said he had been watching the elections in Wisconsin and Georgia and "we're planning every day to make sure" the same doesn't happen in Minnesota.
One issue to worry about is a shortage of poll workers, also known as election judges.
"Especially in Wisconsin, at the last minute with only a few days to spare a lot of the people who had signed up to be poll workers declined to serve," Simon said. "They just didn't want to subject themselves to a polling place. They didn't want to risk their health and so they pulled out and they declined to serve."
To avoid a similar issue happening here, Simon is encouraging local governments to recruit more poll workers than usual.
"There should be a reserve force in place," he said. Poll workers are paid.
Simon is expecting about 3 million Minnesotans to vote in the Nov. 3 general election. Minnesota has about 3,000 polling places statewide, meaning an average of 1,000 voters per polling place. Simon says that number needs to go "way down from the standpoint of public health." That's where voting by mail comes in.
President Trump has claimed voting by mail leads to fraud.
"I think that kind of misinformation is dangerous," Simon said. "We've had absentee voting by mail for decades and decades in Minnesota, it has never been controversial…. It's puzzling, it's disappointing and it's dangerous to spread unfounded fear about something that has been so settled and so embraced by so many Minnesotans."
For those who prefer to vote in person on Election Day, polling places will be "as clean, safe and healthy as possible," Simon said. "We are bulk ordering and distributing, for every polling place in Minnesota, masks not only for the election judges but for voters. We will have hand sanitizer, we will have wipes, we will have protocols for everything from the use of pens to standing in line if there are lines."
Another option is voting in person early, starting 46 days before Election Day. This can be done at a county election office and possibly at another location.
Voting by mail has the advantage of convenience. "You can vote while you're on your couch or eating breakfast," Simon said.
***
There are three main ways to vote: early in person, on election day in person, or by mail. For more information, visit: mnvotes.org.
 (American Jewish World, July 2020)