By MORDECAI SPECKTOR
As the Jewish World went to press with the July edition, the Minneapolis Park and Recreation Board was set to vote on a resolution to limit homeless encampments in city parks to 10 tents at 10 parks. The homeless sanctuaries in the parks would be terminated on Sept. 1, 2020.
This action comes amidst the startling appearance of two large camps for homeless city dwellers in Powderhorn Park. The 66-acre idyllic, South Minneapolis park, including an 11.5-acre lake, now has two large homeless camps, one in the northwest corner and a larger one in the northeast corner. There is no precise census of the homeless. A volunteer press liaison told the Jewish World that 250 tents have been set up; the park board says there are 400 560 tents.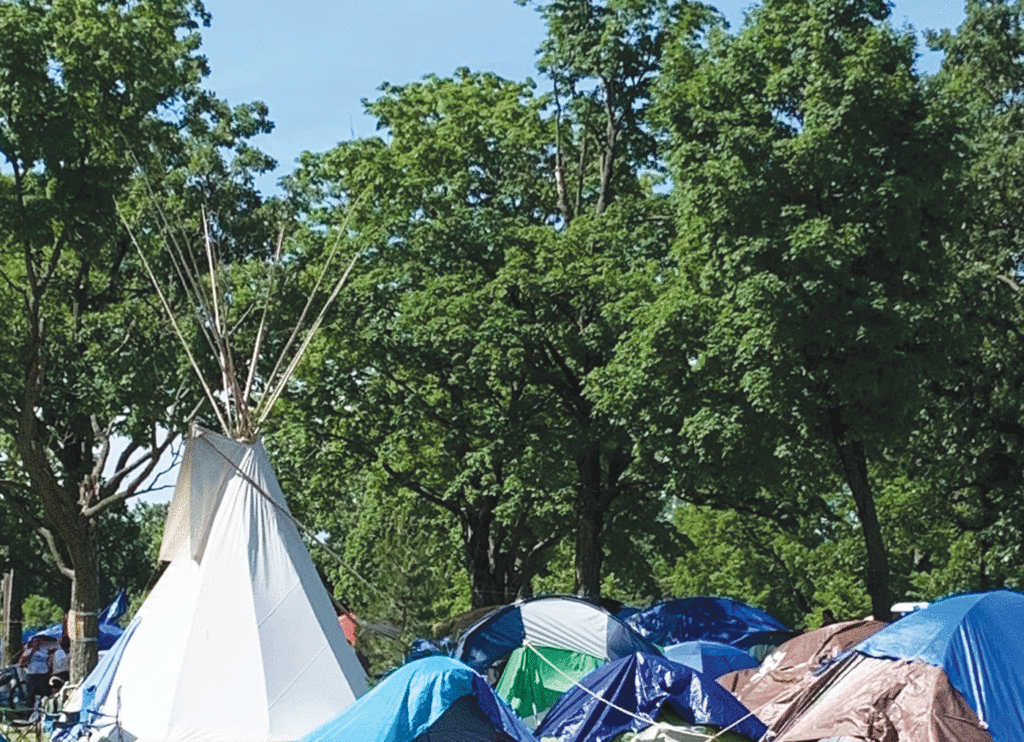 Homelessness in Minneapolis gained a higher profile in 2018, when a predominantly American Indian homeless camp appeared along a highway sound barrier on Hiawatha Avenue, near East Phillips Park. It was dubbed the Wall of Forgotten Natives. As winter set in, many of the camp residents moved to what was called a navigation center, large quonset huts erected near the Franklin Avenue LRT station.
Earlier this year, Quarantine Camp, a homeless camp with several dozen tents, was established near Hiawatha Avenue and 28th Street. When the Minneapolis uprising occurred, following the police killing of George Floyd on May 25, that camp was shut down, and many residents moved to the Sheraton Minneapolis Midtown Hotel, near Chicago Avenue and Lake Street, which was commandeered as a homeless shelter. The scene at the Sheraton soon got out of hand and the residents were evicted. Some of them were set up with tents on the west side of Powderhorn Park and, in mid-June, the encampment spread to the east side of the park.
Initially, residents on 10th Avenue South welcomed the "new neighbors." However, reactions of people living on and around the park to the homeless encampment is mixed. In community meetings, on the Discord group for Powderhorn Park and a Facebook group seeking an equitable outcome for the homeless people, some individuals have expressed fear for their personal safety, and complained about park rules being relaxed, as far as smoking and the use of drugs and alcohol in the homeless camps.
Minneapolis park officials initially handed out eviction orders to the homeless park residents. When housed neighbors strenuously objected to the order that the new residents must leave within 72 hours, park officials reversed course and declared the park a sanctuary for the homeless.
(Editor's note: At their July 1 board meeting, the Minneapolis Park and Recreation Board decided to table the proposal to limit the number of tents in city parks.)
A crew of mainly young volunteers has risen to the occasion and is coordinating donations and distribution of food, clothing and other necessities for those facing homelessness.
Sara Greenhalgh, 26, a Jewish native of Minneapolis, is the volunteer mental health coordinator at what is known as the Powderhorn Sanctuary. A licensed graduate social worker (LGSW), Greenhalgh works for Hennepin County; but her volunteer work with those residing in Powderhorn Park is separate from her day job.
She told the Jewish World that she has been providing "mental health support, trauma support, de-escalating situations… creating relationships with residents." She also has been creating a mental health team, which involves vetting volunteers and bringing more practitioners into the space.
Greenhalgh, who observed her Bat Mitzva at Shir Tikvah Congregation, pointed out that "being unsheltered, becoming unhoused is traumatic. That can be a traumatic situation. People here have also experienced a lot of other sources of trauma."
She continued, "You are seeing a lot of people who not only have backgrounds of serious and complex trauma, but you are also seeing people who have very recent trauma with [the killing of] George Floyd and the riots."
Regarding the use and abuse of drugs and alcohol, Greenhalgh said, "People don't just decide and choose to start using out of the blue; that comes typically from traumatic situations. You're working with people who have complex histories."
In 2019, a Wilder Foundation study found that nearly two-thirds of Minnesota's homeless population suffers from a mental illness. From a sample of 4,300 people experiencing homelessness, some 64 percent of both youth and adults reported that they had been told by a doctor or nurse that they have a mental illness, according to a Minnesota Public Radio report.
While, as Greenhalgh pointed out, homeless camps are not a new feature in Minneapolis, the Powderhorn Sanctuary presents the added danger of spreading the novel coronavirus. She noted that the volunteers are all wearing face masks, sanitizing all donations and supplies coming in.
"We're doing what we can from a harm reduction standpoint," she said.
Miriam Kelberg, a 25-year-old volunteer from Minneapolis, expressed a similar viewpoint. She has been working as a food and supply volunteer at the west side encampment. She also did supply runs for the homeless shelter that was in the Sheraton Hotel.
Regarding the pandemic and those living in Powderhorn Park lately, Kelberg remarked that it's "hard to keep COVID-safe. You can't stay home without a home — that's what the whole stay-at-home order was about."
"I've had really good experiences," Kelberg commented about her recent volunteer work. "Everyone deserves a home. I think it's important that folks who are housed are in contact with folks who are unhoused and stay in community together."
Again, homelessness has been an endemic problem in the Twin Cities for many years. Now, Kelberg says, "they're right in Powderhorn Park. We can't ignore unhoused people — they're super visible."
She added that there are other homeless camps in other Minneapolis city parks, and other people are being put up in hotels.
(The Jewish World office moved to Uptown in April. As it happens, there's a homeless camp on the Mall, near the Uptown library. On a recent day, 10 tents were spaced out over a block west of Hennepin Avenue.)
When asked how people can help those experiencing homelessness, Kelberg, who mentioned that she attended Mount Zion Temple growing up, said that ongoing meal support was being organized, and people were needed to provide a weekly meal — either for 50 people in one camp or 100 people in both camps. Of course, COVID food safety protocols need to be observed. Those interested in helping with food, can contact the volunteers at: powderhornfood@gmail.com.
Also, the Powderhorn Park Neighborhood Association has gone to bat for the homeless residents of the park. You can find lists of volunteer opportunities at this link: bit.ly/powderhorn-sanctuaries.
It might seem strange that it has fallen to a corps of young volunteers to support hundreds of people dealing with homelessness in a city park. We do have a government, local and state agencies with paid staff ostensibly in place to find solutions to the complex problem of homelessness. If resources are not directed to this problem, it will likely get worse. It could spread to the suburbs.
(American Jewish World, July 2020)