Reviewed by NEAL GENDLER
In nearly a century, Stella Levi has lived four different lives:
First a child in the Juderia, a Jewish neighborhood in Rhodes, Greece, then a young woman deported with her family to Auschwitz — barely surviving a death march — then a survivor lovingly guided among Italy's cultural sites, and finally an American in New York's Greenwich Village.
"I do believe that as we travel through life we become a different person in every situation, or context, or phase," Stella tells author Michael Frank. "What remains? What is consistent in an individual person? In my own case, what I see as a theme is a constant opening up."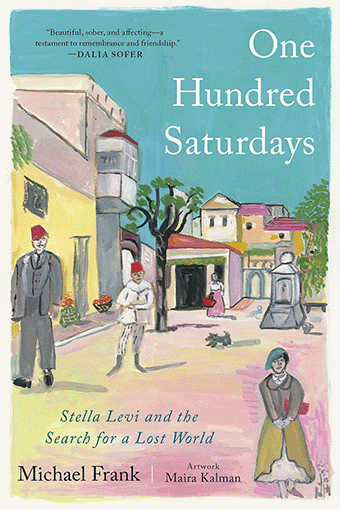 One Hundred Saturdays is the beautifully written, captivating result of Frank's Saturday interviews of Stella over six years. It opens in 2015, as he and she, 92, stand looking out from Rhodes' coast.
"Stella has come not for the first time but possibly the last … to the neighborhood in which she was born and grew up, like her parents and grandparents" and generations since the expulsion from Spain, Frank says.
Her history unreels in unusual fashion: The author is part of the story, narrating and providing interviews as conversations.
A valuable second focus is pleasant Jewish life on an island south of Turkey — awarded to Italy after World War I — subject of a few books but nearly a footnote in histories of the war.
The Juderia was 10 to 12 square blocks, houses so close that when someone sang, neighbors would join in. People spoke Judeo-Spanish, knew each other's business and often were related. Stella counts 150 to 160 relatives — almost 10 percent of Rhodes' Jews.
Of the Levis' seven children, only Renée, born in 1921, and Stella, two years younger, remained on Rhodes at the time of deportation. They and their parents were denied U.S. visas.
The Levis weren't wealthy but were comfortable in a life of communal baking and Turkish baths. Father Yehuda, who prayed daily in Kahal Shalom across the street, dealt in wood and coal and, with a Turkish partner, ran the port's customs scale.
Jews, Greeks, Turks and eventually Italians "managed to share the island as they had for centuries in relative harmony," Frank says. In 1923, the Italians began modernizing: running water and electricity for Juderia, paved roads, modern medicine and a hospital.
In 1938, Jews were barred from school. Stella, 15, met high school teacher Luigi Noferini in a bookstore. He organized an underground school.
In September 1943, Germany took over. The Levis fled the Juderia after it was hit by British bombs. The Jews' 2,300-year history on Rhodes ended July 23, 1944.
Marched "like a funeral cortege … of people in mourning for their own deaths" to the port, 1,650 Jews were packed into three rundown cargo ships for eight sweltering days to Athens, followed by rail to Auschwitz in unspeakable conditions — a total journey of three and a half weeks.
"It just makes no sense," Stella tells Frank, saying she still cannot grasp why the Germans, losing everywhere, including Italy and nearby Greece, expended such resources. "It would have been simpler to murder us all here."
Eventually, Stella reversed her refusal to talk about the Shoah.
"It happened to me, but to a different me," she says. "Someone who lived and saw with different eyes and a different brain."
Frank says: "The camp Stella quickly became unrecognizable to the Stella of Rhodes," stealing, conniving and cheating, "whatever it took to keep herself going."
Sephardi prisoners — such as Greeks from Thessaloniki — lacked Ashkenazi Jews' common language, but Stella's French helped her learn and cope.
Postwar, Renée and Stella reunited with Luigi in art-filled Florence. He wanted marriage, but Stella thought housewife life too limiting. Breaking Luigi's heart, she and Renée came to New York in December 1946 and soon met in California with siblings Morris, Selma, Sara and Felicie. (Brother Victor, who'd left Rhodes for the Congo, was in Italy.)
"They wept and we wept," Stella says, crying "for the loss of our home, the death of our parents, the end, well, of everything" in their past.
Stella realized she was better suited to New York, where she became a successful businesswoman, had a son during a three-year marriage and traveled widely.
One Hundred Saturdays, colorfully illustrated by Maira Kalman, vividly and lovingly describes a vanished world and the effect of its disappearance on a nonagenarian still sharp and articulate.
It lacks maps and an index. Pages 160 and 161 are reversed.
My real complaint is of too many untranslated phrases and sentences in Judeo-Spanish, French and Italian, foreign to most of us East European descendants. While seldom interfering with the story, this reduced flavor and became annoying.
"If the Juderia had continued to exist, I wouldn't have belonged there," Stella says. In New York, financially independent and "free to move through different circles, I was not limited. I never wanted to be limited."
***
Neal Gendler is a Minneapolis writer and editor.
(American Jewish World, November 2022)