TEL AVIV (JTA) — At least 12 people were wounded, some seriously, when a Palestinian man stabbed passengers and the driver on a Tel Aviv bus.
Four victims, including the driver, remained in serious condition following the Wednesday morning attack on the No. 40 bus. Initial reports said 12 to 21 people were injured.
The assailant was shot in the leg by a commander in the Israel Prison Service who was at the scene of the attack and apprehended by police. Video of the attack was later posted on YouTube.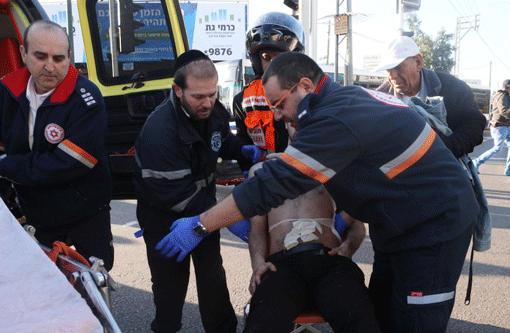 Police identified the assailant as Hamza Muhammed Hasan Matrouk, 23, from the West Bank city of Tulkarem who had entered Israel illegally, according to media reports.
The attack was the first in Tel Aviv since a soldier was killed in a stabbing attack at a train station in November.
In a statement, Israeli Prime Minister Benjamin Netanyahu praised the Prison Service members who stopped Wednesday's attacker and drew a link between the incident and recent terrorist attacks in France and Belgium.
"The attack in Tel Aviv is the direct result of the poisonous incitement spread by the Palestinian Authority toward the Jews and their state," Netanyahu said. "The same terror tries to harm us in Paris, Brussels and everywhere."
According to Israeli reports, the attacker boarded the bus at approximately 7:15 a.m. and began stabbing passengers soon afterward. The driver, Herzl Biton, 55, sprayed the assailant with pepper spray as he was being stabbed, slowing him down and aiding the Prison Service employees in stopping him as he fled the scene.
"We identified in the area of the Maariv Bridge a large gathering, and people crying for help. After an initial assessment, we understood it was a terrorist incident," said Prison Service Commander Benny Botershvili, who shot the attacker, according to the Times of Israel. "I and a team of three Nachshon fighters identified the terrorist and chased after him. We shot toward his legs, the terrorist collapsed and fell, we handcuffed him and waited for the police to arrive."
Liel Suissa, an eighth-grader on his way to school, told the Israeli daily Israel Hayom that he broke a bus window to escape the attack after the stabbing began. He said the assailant continued chasing after people as they escaped the bus.
"Suddenly the terrorist came and began stabbing people," Suissa said, according to Israel Hayom. "We all went to the back, and most of the people piled onto me. I sat in the bus and heard people screaming. He turned around in the bus and suddenly went to the driver and stabbed him."
Tel Aviv Police Commander Bentzi Sau called the attack a "nationalist incident" and praised Biton's "excellent reaction" to the stabbing. He said the police are investigating whether the attacker had any accomplices.
Hamas officials praised the attack as "heroic and courageous," according to Israeli reports. Hamas said it was a "natural reaction of sons of the Palestinian nation to the crimes of the cruel Zionist occupier."
(Israel correspondent Marcy Oster contributed to this report.)