Hezbollah and the Argentine government have been fingered in the death of Alberto Nisman, who was found dead on Sunday
By URIEL HEILMAN
(JTA) — The mysterious death of Argentine prosecutor Alberto Nisman seems ripped straight out of a crime thriller.
Nisman — the indefatigable prosecutor collecting evidence of culpability in the 1994 bombing of the AMIA Jewish center in Buenos Aires, which killed 85 people — was found dead in his apartment just hours before he was to present evidence to Argentina's congress that he said implicated his country's president and foreign minister in a nefarious cover-up scheme.
The charge? That the two agreed to whitewash Tehran's role in the AMIA bombing in exchange for oil shipments to energy-hungry Argentina.
Nisman's body was discovered late Sunday in his 13th-floor apartment with a single gunshot wound to the head.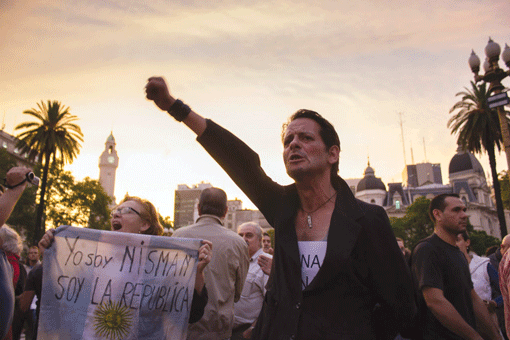 Officials connected to the president, Cristina Fernandez de Kirchner, quickly said evidence pointed to suicide, noting that a .22-caliber pistol and spent cartridge were found near Nisman's body.
But the suicide theory was dismissed out of hand on the streets of Buenos Aires and among people around the world familiar with Nisman and his work investigating the AMIA attack. Instead, they said Nisman, 51, was the victim of foul play. The suicide theory lost more ground Tuesday with the revelation by the prosecutor investigating Nisman's death, Viviana Fein, that no traces of gunpowder were found on Nisman's hand. There also was no suicide note.
"The idea of suicide I think is nonsense," Abraham Foxman, national director of the Anti-Defamation League, told JTA.
"The Jewish community has lost a stalwart hero, and Argentina and all people who pursue the truth and justice with a passionate zeal have lost a great fighter," Foxman said. "Throughout the years, all kinds of forces have tried to put him down, to destroy him. Every time he uncovered new stuff or exposed some interests that weren't happy, they set the courts against him or they set the police against him. And every time they tried to put him down, he fought it, he got up and beat them."
The investigation of the 1994 bombing — the deadliest terrorist attack in Argentine history and one of the worst incidents of anti-Jewish violence in the Diaspora since World War II — was seen as hopelessly inept and corrupt until Nisman took over the case in 2005.
There were no significant arrests for years after the AMIA bombing, which was preceded by the deadly 1992 bombing of the Israeli Embassy in Buenos Aires that killed 29. After 20 local men, including 19 police officers, were put on trial in 2001 on charges of involvement in the Jewish center attack, the investigating judge, Juan José Galeano, was caught on video offering one of the men a bribe in return for evidence. The case collapsed, the police were acquitted, and Galeano eventually was removed from the case and impeached.
Appointed to take over the case by then-President Nestor Kirchner, the late husband of the current Argentine leader who had called the handling of the case a "national disgrace," Nisman launched a more professional investigation. He traced the links from the Iranian leaders who ordered the attack to the Hezbollah operatives who planned its execution, formally charging Iran and Hezbollah in 2006. Interpol eventually issued arrest warrants for six Iranian officials in connection with the bombing, including Iran's defense minister at the time, Ahmad Vahidi. The Islamic Republic denied any connection and refused to hand over the suspects.
In 2013, when Argentina and Iran signed a joint memorandum of understanding to investigate the bombing, Nisman and Jewish community leaders in Argentina and abroad decried the deal as a farce. Many were particularly incensed that the deal was negotiated by Argentine Foreign Minister Hector Timerman, a prominent Argentine Jew whose father, Jacobo Timerman, had been a well-respected Argentine-Israeli human rights activist. The governments of Israel and the United States also denounced the deal.
Nisman challenged the arrangement in court as "wrongful interference" by the president in judicial affairs and the probe was never implemented.
All the while, Nisman and his investigating team continued to press forward with their effort to bring those responsible to justice. Last week, Nisman filed a 300-page complaint alleging that Kirchner, Timerman and others were seeking to "erase" Iran's role in the AMIA bombing in exchange for establishing stronger trade relations, including oil sales to Argentina. He was slated to present his evidence Monday to Argentina's congress.
A few years ago, during a 2009 visit to New York, Nisman said a trial of the AMIA bombing should be moved outside Argentina if it is to have any chance of success.
"We're thinking of taking this case to a court in a third country due to the challenges of pursuing it in Argentina," Nisman said at a briefing at ADL's national headquarters. "There is a practical impossibility of doing it in Argentina because Iran has said it won't deliver the people we have accused. It's also been hard for Interpol to arrest those people because whenever they leave Iran, they do so under diplomatic immunity."
Even outside Argentina, Nisman said, it was highly unlikely that Iran would submit suspects for trial, but the move could bring some closure to the families of the AMIA bombing victims.
"I'm following the wishes of relatives and looking for a way to get them some closure," Nisman told JTA through a translator. "I cannot give up on ways of trying to get justice."
Among Argentina's 200,000 Jews — the largest Jewish community in Latin America — Nisman, who also was Jewish, was seen as a crusading hero.
So who could have wanted him dead? Many Argentines are pointing the finger at President Kirchner. By Sunday night, thousands had gathered outside the presidential palace to protest Nisman's death, with some holding aloft signs reading "Cristina murderer." The hashtag #CFKAsesina — Kirchner's initials and the Spanish word assassin — was one of the top topics trending on Twitter in Argentina on Monday.
In Jewish and Israeli circles, some analysts speculated that Nisman may have been killed by Hezbollah, whose operatives were fingered for carrying out the AMIA bombing on behalf of Iran.
Just hours before Nisman's death — he did not eat dinner on Sunday night, investigators said, suggesting he likely was shot before dinnertime — several Hezbollah fighters were killed in an airstrike in southern Syria attributed to Israel. Among the dead were Mohammed Allahdadi, a general in the Iranian Revolutionary Guard, and Jihad Mughniyeh, son of the late Hezbollah mastermind Imad Mughniyeh, who was killed in a February 2008 car bombing in Damascus. Mughniyeh was the one whom Nisman found had coordinated and oversaw preparations for the AMIA bombing.
Hezbollah accused Israel of being behind Sunday's airstrike. Israeli officials, adhering to protocol in such cases, declined to comment. But an unnamed senior Israeli security source confirmed to Reuters that Israel was behind the strike but said it wasn't meant to target a senior Iranian general.
"We did not expect the outcome in terms of the stature of those killed — certainly not the Iranian general," the source told Reuters. "We thought we were hitting an enemy field unit that was on its way to carry out an attack on us at the frontier fence."
Could Hezbollah have pulled off Nisman's killing so quickly after the airstrike in Syria? It would be uncharacteristic for the Lebanon-based group, which typically has carried out its well-planned reprisals months or years after Israeli attacks. But some analysts noted Iran and Hezbollah have sleeper cells that can carry out operations on short notice.
The circumstances of Nisman's death, assuming he indeed was murdered, certainly represent a failure of the Argentine authorities. Nisman had been under police protection, including the positioning of police guards outside the luxury high-rise where he was found dead.
Nisman had made several prescient references to the possibility of his untimely demise, saying as recently as Saturday, "I might get out of this dead."
On Sunday, the guards assigned to protect Nisman said they hadn't been able to reach him by telephone, and his newspaper lay untouched outside his apartment door. His mother was called and came with her spare key, but the lock was jammed with the key stuck in the other side. After a locksmith opened the door, Nisman's body was found in the bathroom.
Jorge Kirszenbaum, a former president of the Argentine Jewish community's political umbrella group, DAIA, told JTA that a cousin of Nisman who visited the crime scene found a note to the house maid with Monday's tasks spelled out.
Rabbi Sergio Bergman, a Jewish leader and member of Argentina's congress, called Nisman, who is survived by two daughters, "victim 86 of the AMIA attack."
Argentine-Israeli journalist Roxana Levinson, whose uncle, Jaime Plaksin, was killed in the AMIA attack, said Nisman's death was devastating.
"This death is like another bomb," she told JTA. "It's a death sentence for truth and justice in the AMIA case."
Now that Nisman is gone, it's not clear what will happen with the AMIA investigation or his accusations against Kirchner and Timerman.
In another one of his eerily prescient comments, Nisman told a TV interviewer last week after news of his accusations against the president made the papers, "With Nisman around or not, the evidence is there."
(A JTA correspondent in Buenos Aires contributed to this report.)