A Possibility of Violence, by D.A. Mishani, 282 pages, Harper, $26.99
Reviewed by NEAL GENDLER
D.A. Mishani's catchy crime novel doesn't begin with a murder — although we learn that one has occurred — and doesn't end with a clever police detective perfectly and easily solving what develops into two cases.
It's also interesting that this policeman, Avraham Avraham, is suffering from the trauma of a child-death case in which he performed rather poorly. That was in The Missing File, the first of what's planned as an Avraham Avraham series by Mishani, an Israeli literary scholar specializing in the history of detective literature (8-2-13 AJW).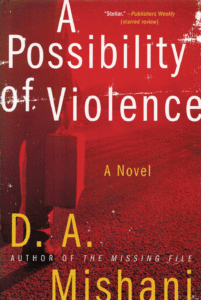 In A Possibility of Violence, Mishani's second book, Avraham has returned from a long, recuperative vacation in Europe in which he found a new love in Brussels. Still officially on vacation, he visits his Tel Aviv-area station to find he's the only detective available to investigate a fake bomb left near a child care center followed by a threat that it's "only the beginning."
That seems pretty tame, but Avraham, haunted by the case in the previous book — about which we learn as we go along — takes it seriously lest there next be a real bomb, and also because the rather testy woman who owns the daycare appears to be lying. About what, he's not sure.
As Avraham's investigation unfolds, his suspicion turns from a suspect reportedly present at the scene to one of the daycare parents, a man who's had an argument with the owner and left humiliated. The man, who runs a home-based catering business, is caring for two young sons in the apparently permanent absence of his wife.
Avraham senses that the smarmy first suspect — well known to police — is lying and that the caterer seems to be hiding something.
Murder mysteries aren't my usual fare, but I know of the need to plant false leads, and Mishani does so almost too heavily as the actions of the caterer-father grow increasingly suspicious.
The caterer, none too brilliant, realizes he's become a suspect in the fake-bomb case and thinks that if he leaves Israel for a couple of weeks, the case will get solved and Avraham will be done with him. The father hasn't told his sons that their indifferent mother is gone for good; he plans to take them to her Philippine homeland for vacation.
He tells the children she'll meet them at the airport, knowing full well she won't — as the story develops, we learn why — and thinks that the boys will just see that as the final time she's disappointed them and they'll eventually stop asking for her.
To Avraham, of course, it appears that the caterer is fleeing. Haunted by the earlier child-death case, Avraham fears that the caterer may be planning to kill his sons.
I won't reveal more of the plot except to say that by the end, Avraham has solved the fake-bomb case, a vicious assault on the daycare owner and a murder.
But not as neatly as a detective in a 60-minute TV show.
He has doubts, makes mistakes, is troubled by his mentor's unflattering report about the child-death case, and he has to investigate the murder without official sanction when his boss and colleagues argue that it's likely just a spousal desertion. Meantime, his Brussels love — a policewoman — stops communicating with him.
Except for Avraham, the characters aren't much developed, and even him only sparingly. But A Possibility of Violence certainly holds the reader's attention, and the translation by Todd Hasak-Lowy is a breeze to read.
I hope Avraham will be developed further in future books of this series. I look forward to reading how Mishani troubles him next.
***
Neal Gendler is a Minneapolis writer and editor.