The Jewish Community Relations Council of Minnesota and the Dakotas (JCRC) issued a press release on Aug. 6, which congratulated Israel for extending a 72-hour cease-fire in Gaza. The JCRC also thanked congressional representatives in Minnesota and the Dakotas who voted to authorize $225 million in supplemental funding for Israel's Iron Dome anti-missile system.
Further, the JCRC took the unprecedented step of rebuking a member of Minnesota's congressional delegation for his vote against the Iron Dome funding measure:
We also express our profound disappointment with Representative Keith Ellison's vote in opposition to additional funding for Israel's 'Iron Dome' anti-missile technology. Without 'Iron Dome,' Israeli civilians would be defenseless against the thousands of rockets fired by Hamas and Hezbollah since 2006.  Both entities are terrorist organizations dedicated to Israel's destruction and are proxies for Iran.  The necessity of the 'Iron Dome' has been underscored by Operation Protective Edge, which has intercepted scores of rockets heading towards Israel's population centers.  Notably, Rep. Ellison was one of only eight members of Congress to vote no. To vote against 'Iron Dome' in the midst of the current conflict is seemingly an expression of opposition to Israel defending its citizens — Arab and Jew alike — from terror.
So, I checked this week with JCRC officials; I asked them the following question: "Regarding the JCRC's 'profound disappointment' with Rep. Ellison's vote against Iron Dome funding, has the JCRC previously called out a member of the Minnesota congressional delegation in this way?"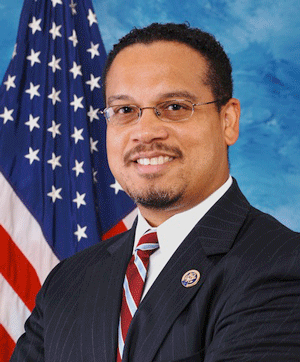 As the AJW was going to press, I heard back from the JCRC. They were not able to find any such denunciation of a member of Congress from Minnesota. Why this unprecedented attack on Rep. Ellison?
It should be mentioned that the Senate passed the Iron Dome funding on a voice vote; in the House the vote was 395-8. Ellison cast one of the eight "no" votes, in the landslide passage of money for Iron Dome.
In the way of putting this in context, Ellison won the Minneapolis-area congressional seat in the 2006 elections — and became the first Muslim ever elected to Congress. In the intervening years, he has travelled many times to the Middle East, including seven trips to Israel, and three trips to the Gaza Strip. He was in Gaza last year, in August, and saw a people who were "beleaguered and beat down," he told me during a phone conversation this week.
Ellison explained his vote — essentially a protest vote, he agreed in our talk— in a press release last week: "I support the Iron Dome and have voted in favor of appropriations of over $1 billion to Iron Dome since its inception. I repeat my condemnation of Hamas' indiscriminate rocketing of Israeli civilians, and I am grateful Iron Dome has been there to protect them. I voted against H.J. Res. 76 because I believe in the midst of a hot war with so many casualties, the U.S. government needs to be prioritizing a cease-fire between the two sides."
Ellison noted the high number of dead and injured civilians in Gaza and said, "Congress should show compassion for both sides, and should also be working to fund humanitarian aid to Palestinians in Gaza. In the end, there is no military solution to this conflict. I urge Congress and the Obama Administration to work together with the international community to intensify efforts to bring about a cease-fire, an end to the blockade of Gaza, and a resumption of final status negotiations [of the Israeli-Palestinian conflict]."
He told me that "the blockade [of Gaza] just feeds the extremists." Prior to the 2007 siege of Gaza, by Israel and Egypt, 80,000 people were on food assistance; the number is now north of 830,000. "The blockade hands the economy of Gaza over to Hamas," Ellison told the AJW.
Ellison voted against a measure that did not contain language urging a cease-fire in Gaza nor provided humanitarian aid to struggling civilians. Furthermore, Ellison said that, prior to the House vote, his office inquired about the state of supplies for the Iron Dome batteries in Israel. "According to our sources who we reached out to, Israel is well-stocked with interceptor missiles, and they were not running low…. Our compassion has to run in both directions, not just one. That's why I didn't vote for it."
"I expect to be voting for Iron Dome again," added Ellison, who has consistently supported the provision of U.S. military aid to Israel, which amounts to around $3.1 billion annually. "I've never voted against aid to Israel," he said.
Despite the harsh rhetoric from the JCRC, the expression of "profound disappointment," Ellison commented, "Those guys, they are friends of mine." Ellison allowed that "they're understandably upset" over his vote against supplemental Iron Dome funding; but he's talked recently with JCRC officials and has been "able to clarify" his position.
And Ellison mentioned that the JCRC has expressed concern about the humanitarian crisis in Gaza.
While there is a pause in Gaza conflict, as the AJW went to press this week, the violence could flare up again. And Israel's image has taken another battering in the so-called court of public opinion, as the world views video of the carnage, suffering and destruction in the Strip. Israel's stock remains high in Congress; but there are cracks developing in support for Israel, as detailed in the AJW's JTA story on Page 1 of this edition.
I hear that Israel has a hasbara problem, a difficulty in making its case publicly. However, Israel has an actual problem: The military occupation of the Palestinian Territories is now in its 48th year. That is a rather long time to lord it over another people, to humiliate and oppress a group that aspires to sovereignty. Hamas, which is a horrible organization in most respects, has exploited Palestinian suffering to aggrandize its power. Again, Hamas bears a large burden of responsibility for the current catastrophe in Gaza.
"Israel's a good country and I want the world to know that," said Rep. Ellison, when asked about Israel's current standing in the international community. He said that Americans need to support a diplomatic solution to prevent further bloodshed in Israel and Palestine.
The violence in Gaza shows the limit of military means — three bloody conflicts in the span of six years: "Unless we want to go for the fourth time in eight years, we've got to talk about a meaningful change to the status quo," Ellison said. "The path forward is not military, the path forward is negotiations."
— Mordecai Specktor / editor [at] ajwnews [dot] com
(American Jewish World, 8.15.14)