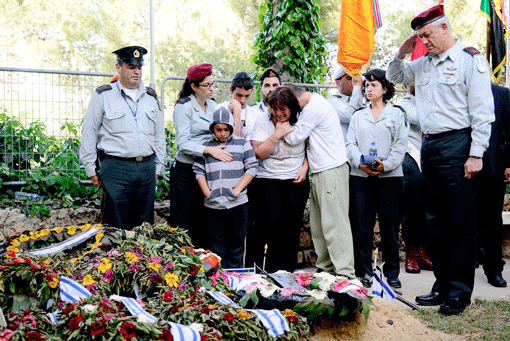 Lt. Gen. Benny Gantz along with family members of First Lt. Hila Bezaleli lay a wreath for the fallen soldier at Mount Herzl on April 22. Bezaleli, 20, was killed when a heavy lighting fixture collapsed during rehearsals for the upcoming Independence Day ceremony at Mount Herzl. (Photo: Gal Ashuach/IDF Spokesperson's Unit)

JERUSALEM (JTA) — A one-minute siren marked the beginning of Fallen Soldiers and Victims of Terrorism Remembrance Day, Israel's official Memorial Day.
Tuesday evening's siren was immediately followed by a national ceremony held at the Western Wall and televised to the entire nation.
"Your beloved ones had a crucial part in the achievements of the state," Israeli President Shimon Peres told the bereaved families at the ceremony. "We shall forever remain indebted to your children. No act or gesture on our part can relieve your pain and the memories that will not vanish."
According to official figures, the total number of fallen security personnel and terror victims from 1860 to 2012 stands at 22,993, with 126 killed since last Remembrance Day. There are 10,524 bereaved families of security personnel, 2,396 orphans and 4,992 widows of the Israeli military and the defense establishment.
At a ceremony earlier in the day at the Yad Lebanim memorial, Israeli Prime Minister Benjamin Netanyahu told the bereaved parents and political and religious figures on hand, "It was the heartfelt duty of our dear ones that led them to face the enemy.  It is the duty of our conscience that leads us to stand with eyes closed and not only remember but look toward the future as well. Today, the people of Israel lay aside disagreements and stand as one beside you. Today we remember the fallen of Israel's wars, all of our dear ones. Each one had a family.  Every name has a life's story of its own; an entire world has been cut short."
Netanyahu's brother Yonatan was killed in the Israeli military's July 1976 mission to rescue hostages at the Entebbe Airport in Uganda.
"As a member of a bereaved family, Remembrance Day is very significant for me," the prime minister said. "It is not only a national day of remembrance, it is also a private day of remembrance for me and my family, as it is for all of you."
Memorial services will be held in communities and military cemeteries across the country on Wednesday, culminating with a torch-lighting ceremony on Mount Herzl at 8 p.m., which ushers in Yom Ha'atzmaut, or Israel Independence Day.
Also Tuesday, Israel's Central Bureau of Statistics announced that Israel's population stands at 7.88 million. There were 806,000 residents of Israel when it was established in 1948.
Three-quarters of the population, or 5.93 million people, is Jewish. The 1.62 million Arabs in Israel comprise 20 percent of the population.