By ADRIAN GLASS-MOORE / Assistant Editor
The COVID-19 pandemic has hit senior care facilities especially hard, and Sholom is no exception.
The Jewish nonprofit, which offers senior apartments and assisted living, used to be a social hub: family members, musicians, children and puppies were always around.
"That's all gone," Sholom CEO Barbara Klick told the Jewish World in an April 27 interview. Due to the pandemic, Sholom is in lockdown.
"That's the eerie thing," she said. "It's very quiet."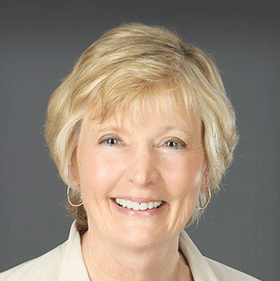 Sholom instituted new protocols to prevent the spread of the virus in an effort to protect residents and staff. Social distancing is reinforced by "X"s on the floor, and wearing personal protective equipment (PPE) is the norm.
Klick said a "handful" of Sholom residents have died from COVID-19. She also said three Sholom employees have tested positive for the virus; one recovered and returned to work and the other two were in stable condition at home.
Statewide, 301 people had died from the virus and 4,181 tested positive as of April 28, according to the Minnesota Department of Health.
In face of these challenges, Sholom is bolstered by a "strong leadership group" and dedicated staff, Klick said. In addition, the nonprofit has received aid from other organizations and people.
"We want to thank the community for their generosity so far and for the kindness and love they are showing our seniors," she said.
Physical and mental toll
March 10 was a key date for Sholom. "It was the date of Purim and I finally thought, 'Oh my goodness, here we go,' and I gathered my team and that night we started screening visitors," Klick recalled. "And then by the next day we're not allowing visitors."
Sholom has been buying PPE and cleaning supplies, monitoring the health of residents "every day" and moving people into isolation when necessary. Visitors are banned except for one exception: an "actively dying" person can receive a single visitor.
Klick said it's a struggle to deal with an "invisible" virus which can spread even when someone isn't feeling sick.
The Minnesota Department of Health (MDH) published a long list of "congregate care facilities with exposures" in the state that includes Sholom's Roitenberg Assisted Living, Sholom Home West and Sholom Menorah Plaza.
Klick said the virus was present at Sholom Home West and "some in our assisted living which also includes memory care." She said there were no infections at Sholom's St. Paul campus and none currently at Menorah Plaza.
"With the exception of our Roitenberg assisted living, we've had just a handful of people — I mean it's been very mild, and now we've had more in our Roitenberg area in assisted living and memory care," Klick said of infections. "Once you have kind of a cluster, then we're asking for every resident and tenant to be tested, so that's what's happening now."
On top of the deaths and infections, the virus can impact mental health too.
"Physically and mentally this really can affect the people that we serve, no doubt about it," Klick said. "In terms of our own staff, nobody knows when this is going to end, and if you think about it, they're putting their life on the line every day coming into work."
Klick added: "There's no end in sight and I think that's the hard part."
Sholom is also taking a financial hit. It's set to lose more than $3 million in revenue for the months of April through July. "And we're not even talking about expenses," Klick said, which include PPE.
Sholom is applying for grants and getting support from various entities including the government and the Minneapolis Jewish Federation. The Sholom Foundation has a COVID-19 fund which helps pay for PPE and cleaning supplies.
All sorts of other donations are appreciated, Klick said. Sholom has created a wish list of items mainly for residents, from coloring books to movies to TVs. There are bins outside of Sholom buildings where people can drop off donations.
Jewish Family Service of St. Paul and Jewish Family and Children's Service of Minneapolis have offered counseling for residents, staff and family members. Trader Joe's has provided free flowers, and JonnyPops dropped off ice cream for staff one day.
Klick said young people shouldn't assume they're invincible during this pandemic. People in their 30s and 40s are having unexplained strokes and blood clots, she said. Preventing the spread of the virus by staying home and social distancing is key, along with increased testing.
"I know it's a rough road," Klick said. "As a critical care nurse I've seen a lot of people die in my life and I really hope that we can keep those numbers low."
Minneapolis Jewish Federation awards grants
The Minneapolis Jewish Federation has given to many other organizations besides Sholom. The federation said in a statement it had given out more than $800,000 in total to various entities as of April 23.
"We have an obligation to do our best to make sure the community can continue to be a strong, vibrant, safe home when the crisis is over," Federation CEO James Cohen was quoted as saying. "We are committed to making sure that happens."
The federation began on March 19 by opening an economic distress fund at JFCS. Then it awarded "morale grants" of about $50,000 to 40 schools, organizations and synagogues around the Twin Cities.
Federation board members voted March 21 to set aside $2 million in "unrestricted assets" to give out grants, the federation statement said. "Since that board vote … MJF has distributed funds to seven local schools, synagogues and organizations, as well as its two overseas partners.
"Funds have been used by schools to start distance learning programs from scratch and connect students without internet access, by the local Jewish senior living center to purchase personal protective equipment and have provided emergency cash to organizations whose galas, fee-for-service activities and other normal business operations are at a halt."
Synagogues were still closed as Gov. Tim Walz's stay at home order remained in effect.
The Minneapolis Community Kollel's dean, Rabbi Chaim Gibber, was back at home after being admitted to the hospital on March 29 and testing positive for COVID-19.
"He is recuperating at home, thank G-d," Kollel CEO Avigdor Goldberg told the Jewish World.
(American Jewish World, May 2020)