Reviewed by NEAL GENDLER
Persistent and resourceful Esther Safran Foer would have made a fine detective.
I Want You to Know We're Still Here is her engaging account of uncovering the prewar story of her father, who died when she was eight, and of seeking the Ukrainian family that hid him and the name of a suddenly discovered half-sister.
Her parents were Shoah survivors whose relatives in Europe all died.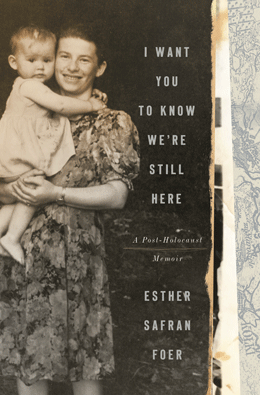 "For much of my life, I have been haunted by the presence of absence," Esther says. "My childhood was filled with silences that were punctuated by occasional shocking disclosures."
One of the biggest occurred when she was in her 40s, at her mother's kitchen table. Her mother casually mentioned that her father, Louis, had a prewar wife and daughter. Her mother didn't provide names, nor could surviving relatives or family friends.
"This was the beginning of a search that would define the next phase of my life," says Foer, former CEO of Sixth and I, a Washington, D.C., center for arts, ideas and religion. Although "obsessed with the question of how to remember my sister," she "had no idea of what I was meant to remember."
Esther's father had left nothing from pre-1945 but an unidentified photo showing himself, an older man and two women.
Esther's journey of discovery starts a bit slowly with family history; accelerates into interviewing prewar émigrés from her father's hometown or their descendants; and ends emotionally in Ukraine.
Not at gravestones; only one, from 1927, remains. Most of her relatives were shot dead in pits, some marked by memorials.
Mother Ethel had fled Kolki, Ukraine, in July 1941, staying ahead of the Germans. Louis — then Leibel — Safran was from Lysche, nearby larger Trochenbrod, which has vanished. Its Jews, herded into a ghetto at nearby Chetvertnia, were killed while Leibel was away working. The only survivor was a woman named Fanya Rosenblatt.
Esther Brucha Safran — named for her slain grandmothers — was born in 1946 in Lodz, Poland, where her parents married and ran a deli concealing Leibel's money-changing operation. As anti-Semitism grew, they fled to displaced person camps before reaching New York in 1949. Esther's father became an independent grocer.
Part of Esther's years-long quest included sending son Jonathan with the old photo, attempting to find Trochenbrod. Finding nothing, Jonathan wrote a fictionalized story of his ancestors, Everything Is Illuminated. The award-winning novel drew a torrent of information "that would begin to unlock some of the deepest secrets of my family," Esther says.
A caller invited her to a reunion of Trochenbrod descendants in 2008. Soon after, she went to Israel, bringing a video of the reunion to Trochenbrod-raised Chaim Binenbaum. Binenbaum took Esther "to meet some of the oldest Trochenbroders still alive." One was Fanya Rosenblatt, the first non-relative she'd met who knew Leibel before the war.
"Hesitantly, I asked her the question I'd been carrying around with me since that day in my mother's pink kitchen: Did she know anything about my father's first wife and child?"
Fanya knew the wife's name but remembered nothing about the child.
Deciding she had to go to Ukraine, Esther and son Franklin joined a trip of Trochenbrod descendents, adding time for Kolki and Lysche. They brought copies of a photo of her family to tuck into or bury beneath a bit of dirt at monuments. "We wanted our ancestors to know that we are still here," she says.
She'd brought the wartime print, suspecting that the older man shown had hidden Leibel.
Outside Kolki, at a pit holding 4,000 bodies, she "was standing on the grave of my grandmother, my great-grandmother, aunts, uncles and countless other murdered members of my family."
At Lysche, they met the grandchildren of Davyd Zhuvniruck, perhaps the man in the photo.
"Assuming that the last 10 percent added up… well, I'd been quite literally dreaming of this day much of my adult life."
The sum exceeded expectations.
***
Neal Gendler is a Minneapolis writer and editor.
(American Jewish World, May 2020)