Known as 'Grandpa Henry' to the high school students he sometimes taught, Gurman survived a German labor camp and immigrated to the U.S. in 1946
By ERIN ELLIOTT BRYAN / Community News Editor
In a 1991 paper for a humanities class at Lakewood Community College (now Century College), Henryk Gurman wrote: "I am a Polish Jew, a survivor of the Holocaust era, who grew up in the shadow of Hitler's rise to power. I committed several symbolic suicides in my life concealing and denying my identity as a person."
Since he was eight years old, Gurman had decided to hide the fact that he was Jewish. After surviving the Holocaust and immigrating to the United States with his parents in 1946, he changed his name to Henry Harvey — the name by which he was known for the next 45 years.
During his life in the United States, Gurman worked in finance and retired as a certified public accountant with his own practice in 1986. He later became a substitute math teacher in several east metro school districts.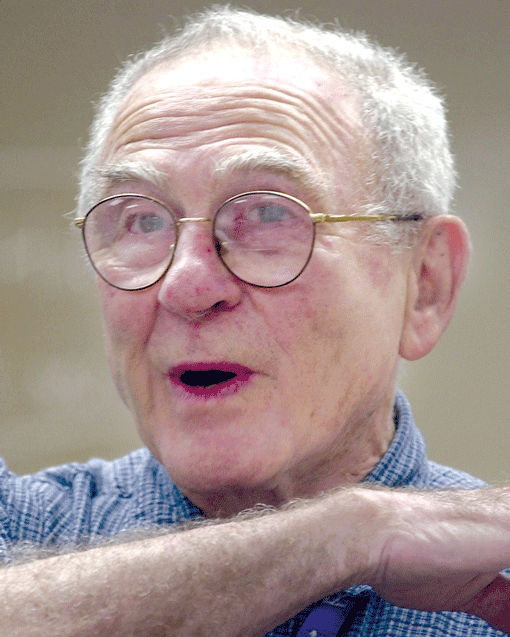 Gurman died July 29 at his home in Woodbury. He was 89.
Gurman was born on June 6, 1924, in Warsaw, Poland. According to a 2001 St. Paul Pioneer Press article by Nick Coleman, Gurman fled with his parents to Lvov in 1939, but the family was arrested in June 1940 — two days before Gurman's scheduled high school graduation — by the Russian secret police who had declared them "socially dangerous elements."
Gurman was sent to a forced-labor camp in Russia, where he cut wood for 10 hours each day. Gurman and his family were released in 1941 with the other camp inhabitants, and in 1942, he enlisted in a Polish division of the Red Army, where he was decorated for valor and later became an artillery officer.
After the war ended, the Gurmans made their way to a displaced persons camp in Germany and finally immigrated to the United States in 1946.
Gurman earned a business degree from the City College of New York in 1951 and worked as a certified public accountant. He and his wife, June, moved to Minnesota in 1967, when Gurman was hired as vice president of finance for a local company. The family have been members of Mount Zion Temple almost since their arrival in the Twin Cities.
Gurman retired in 1987 and began taking courses at local community colleges. His paper for the humanities class announced that with his "revised and amended sense of values," he legally reassumed the name of Henryk Gurman — "the name given to me by my parents upon my birth" — on March 12, 1991.
"It has been the spirit and atmosphere of tolerance, acceptance and sense of charity," Gurman wrote, "which I believe to be indigenous to Minnesota that has given me the courage and compulsion to put an end to the sham and self-denial of my identity."
In the late 1990s, Gurman began substitute teaching in Woodbury and Cottage Grove, and was recognized as the oldest substitute to teach in the North St. Paul-Maplewood-Oakdale School District, from which he received the Very Important Person Award for "his outstanding service as a substitute teacher." He received an honorary high school degree from Woodbury High School in 2001 and an honorary teaching license from the State of Minnesota in 2008.
Gurman taught math and was affectionately known as "Grandpa Henry" by the hundreds of students he taught. He credits his love of the subject to his fifth and sixth grade teacher in Poland, who he believed died in the Holocaust.
Gurman spoke often about his experiences during World War II and shared a special message with his students.
He told the Star Tribune in 2008: "What I usually tell young people is that my generation provided people like Adolf Hitler and Joseph Stalin, and I want your generation to be more human than mine."
Gurman was preceded in death by his wife, June E. Harvey. He is survived by daughters Linda (Jon) Harvey Edstrom and Marcia (Brian) Harvey Freeman; and three grandchildren.
(American Jewish World, 9.27.13)