By ELANA WARREN / Assistant Editor
Francelyne Lurie said she believed everyone is born with the capacity to commit heroic deeds; it's a matter of if the circumstances present themselves. She was describing her mother's heroism during the Holocaust in an AJW obituary for her mother, Paulette Fink, but it applies to her as well.
Remembrance
Francelyne Lurie died on April 2 at the age of 84. While she was not old enough to act as a hero — let alone understand why she was in hiding — during the worst of circumstances, the Shoah, she used her circumstances later in life to act selflessly.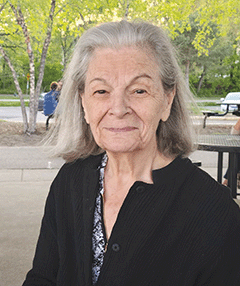 Lurie followed in her mother's footsteps of speaking about the Holocaust and involving herself in the Jewish community. Knowing she was Jewish could have gotten her killed while in hiding, so she first learned of her Jewish identity when she attended a Jewish camp in New York at age 12.
As a young woman without any knowledge of Jewish customs or holidays, she imitated her neighbors to create a Jewish home for her children. Her oldest daughter, Lysa Lurie, said she made a beautiful home and was a great cook. She also collected elephant items.
She dedicated herself to Jewish organizations. She was president of Sharei Chesed Congregation, where her grandson Jacob Mars is now a board member; the first woman president of Jewish Family and Children's Service of Minneapolis; chairwoman of United Jewish Appeal Women's Division; and president of the local Brandeis University chapter. In all these roles and more, she fundraised — all on a volunteer basis.
Lysa Lurie said that her mother would want to be remembered for the difference she made in the lives of people who were struggling. She emigrated from France at 15 years old, and she later helped Russian families settle here through Sharei Chesed. She also hosted big gatherings, including an annual pool party for the JFCS Big Brother/Big Sister Program.
"She would spare nothing to make sure that everybody felt like they were a guest of honor," Lysa Lurie said.
Possibly the most important thing to her, though, was family. She and her husband of 54 years, Richard Lurie, have six children, 14 grandchildren and two great-grandchildren. Lysa Lurie told the Jewish World she believes Lurie wanted six children to do her part in replacing what was taken from the Jewish people, and she refused to give the Nazis the power to dictate her life.
Lurie had a difficult start to life with no tools, no role model for raising children and little education and nourishment at first. The Nazis killed her father, and she was separated from her mother and sister for a time, thinking she had been abandoned.
"She overcame all of that," Lysa Lurie said. "How many of us could have done that and managed to lead this impactful life on so many?"
Lysa Lurie described her mother as independent, determined, funny, engaging, social, clever, creative and incredibly giving.
"She taught me how to do the right thing, … making sure that you are doing what you can do to heal the world, to give back to the world."
Though private and guarded, Lurie also left lessons around Minneapolis and the country. In a world with increasing antisemitism and denial of the Holocaust, at least the students she taught know better and can continue educating.
Her family's story of survival and heroism also lives on in the books Lest Innocent Blood Be Shed, by Philip Hallie, and Witnesses to the Holocaust: An Oral History, by Rhoda Lewin. Other resources such as Facing History & Ourselves' Le Chambon: A Village Takes a Stand tell of the French village, Le Chambon-sur-Lignon, where a pastor and the villagers hid Jews, including Francelyne Lurie, during the Shoah.
(American Jewish World, May 2023)