By MORDECAI SPECKTOR
When the AJW contacted pianist Emmet Cohen on a Friday afternoon in late April, he was visiting his parents in Glen Ridge, New Jersey, "like a good Jewish boy."
Cohen, 33, who is familiar to local jazz fans from his gigs in the Twin Cities over recent years, will return for a show at the Dakota in Minneapolis on June 15. For his upcoming show, Cohen will be backed by Philip Norris on bass and T.J. Reddick on drums. The trio likely will play some of the tunes on Cohen's acclaimed recent album, Uptown in Orbit (Mack Avenue Records).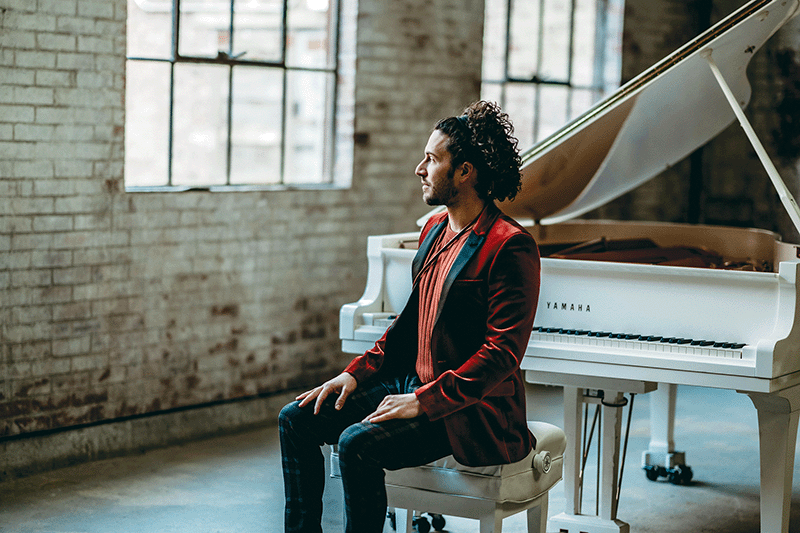 The talented and articulate musician is part of a younger cohort of jazz practitioners that reveres the history of the genre and the elder artists still with us. Cohen and his like-minded peers are taking the music forward by employing new digital technologies to reach a wider audience.
Emmet Cohen Trio plays the Dakota on June 15
Some recent Jewish World stories about musicians — Anat Cohen, Sharon Isbin and Bill Charlap — have touched on the pandemic of 2020-2021, a time when every performing musician was out of a job. Emmet Cohen has a unique story of that time.
Cohen's trio was set to play a March 23, 2020, concert at the University of Kansas when the lockdown closed all venues. In a magnanimous act, the promoter of the show told Cohen that he would pay the group its full fee, $2,000, and they could do a show from home and send it out through cyberspace.
"I live in Harlem and there's a lot of musicians in Harlem — it's a bit of a secondary Harlem Renaissance — and we decided to get together at my house," Cohen recalled. The trio's first livestream employed his iPhone and the Facebook Live app.
Cohen said that he and his rhythm section did "what we knew how to do best, and that was to play music and try too heal the world through it. It's one of music's great gifts, the power to heal." That first livestream session got close to 40,000 views, so the musicians decided they'd try it again the following Monday. The live sessions caught on.
After 106 livestreamed concerts, the frequency changed from 7:30 p.m. every Monday night to once a month, as some of the musicians were on the road and "the neighbors don't love it." The livestream sessions — dubbed "Live from Emmet's Place" — featured Cohen with longtime trio mates Russell Hall on bass and Kyle Poole on drums. Hall and Poole also play on Uptown in Orbit.
Cohen said that the trio also took the livestream concept on the road. "We traveled to South Korea in January, and while we were there we did an 'Emmet's Place'-style show and invited some Korean musicians to join us and filmed it."
The pianist explained that the livestream shows became more sophisticated over time. The sessions started with an iPhone propped on a stack of books, then evolved to productions with a professional sound technician and five video cameras. You can watch some of the archived videos on Facebook and YouTube.
The popular response to "Live from Emmet's Place" surprised Cohen, who had no idea that the concept would go viral, as they say.
In the liner notes for the Uptown in Orbit album, jazz journalist Allen Morrison wrote that the livestreams from Cohen's Harlem apartment, a fifth-floor walk-up, "became an internet phenomenon and a mecca for some of the leading jazz musicians in the world. Among those who have trekked up the stairs: Christian McBride, Wycliffe Gordon, Randy Brecker, Joe Lovano, Johnny O'Neal, Cyrille Aimée. The current generation of up-and-coming jazz stars has been well represented, including such fine players and singers as Tivon Pennicott, Benny Benack III, Jazzmeia Horn, Alexa Tarantino, Bruce Harris and dozens more. Even the revered 87-year-old tenor saxophonist Houston Person and 93-year-old vocal trailblazer Sheila Jordan made the scene."
Cohen reflected that the live streamed gigs were something people needed at the time.
"It became something that we needed, because we needed to play, and something that the worldwide jazz community needed — something to look forward to … a live performance, something in the moment. That's the beautiful thing about jazz: It's in the moment. You can rehearse all you want, you can have all the ideas about how things will go, but you're really making split-second decisions with other people — it's a very democratic process in real time, and that's why people love it so much. You really have no time to think when you play; you just have to feel, and people feel your feeling when you play."
Mindful that he was talking to the Jewish World newspaper, Cohen likened his livestream concerts to communal prayer services in a shul, with the musicians delivering a "musical sermon. … It was really about the community."
And referring to his early Jewish education, Cohen suggested that Judaism was "much less about a devotion to God than it was about the devotion to your fellow human beings, and tzedaka [righteous generosity], and helping the person next to you, and coming together on the holidays and experiencing the tradition with the people you love. I think that's a great parallel for me."
On the topic of the jazz tradition, Cohen has produced a celebratory series of recordings, the Masters Legacy Series, that features songs and interviews with jazz legends Jimmy Cobb, Ron Carter, Benny Golson, George Coleman and Albert "Tootie" Heath.
From the summit of his 33 years on the planet, Cohen now feels a responsibility to pass on to younger musicians lessons that he's "learned from the masters and the ancient texts, if you will." At the end of the telephone interview, Cohen wanted to share one more story.
While recording the Masters Legacy Series album with bass maestro Ron Carter, Cohen asked the legendary musician how an African-American from the Detroit area came to have a stereotypically Jewish middle name, "Levin."
It turned out that Carter "grew up in the Depression and one day his parents ran out of money." They needed medication for their children but couldn't afford the cost. The druggist told them that they could have the prescriptions at no cost, so they named their next child after Levin, "the Jewish pharmacist."
Cohen commented, "That story was very touching."
And then Cohen and Carter recorded a track on the album Master Legacy Series Volume 2: Ron Carter titled "Hatzi Kaddish," which draws on a Black musician's familial encounter with a kindly Jewish pharmacist. "Hatzi Kaddish Intro" features the melody to "Avinu Malkeinu," and "Hatzi Kaddish," with Cohen, Carter and drummer Evan Sherman, swings the liturgical tune and takes it into orbit.
***
The Emmet Cohen Trio will play in concert 7 p.m. Thursday, June 15, at the Dakota, 1010 Nicollet Mall, Minneapolis. For tickets, go to dakotacooks.com or call 612-332-5299.
(American Jewish World, June 2023)