Reviewed by NEAL GENDLER
Life-changing chance encounters, common in fiction, also occur in real life, as many married couples can attest.
But three for one person — the first one lifesaving?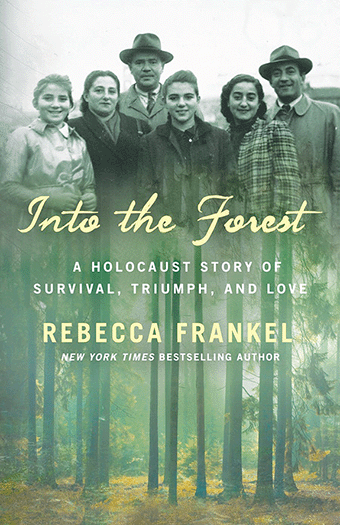 That's Philip Lazowski's good fortune. From Bilitza, he was a World War II refugee in Zhetel, both then in Poland, when his life was saved by Miriam Rabinowitz, a total stranger, during a roundup. Miriam, mother of girls, two and four, had a work permit and claimed he was her son.
Flash forward to 1953. Philip, a Yeshiva University student attending a wedding, sat next to Gloria Koslowski. Conversing, they learned both had survived the Shoah by hiding in the Białowieża Forest.
As he told his story, Gloria said a refugee camp friend's mother, Miriam Rabinowitz, had saved a Bilitza boy. "That was me," he said.
Philip rushed to a pay phone, coins for only one call. He asked for Rabinowitz in Hartford, Conn. Six were listed. "Try the first," he said. Miriam answered.
Soon they met. Later, he married her daughter Ruth.
I'm not giving away the punchline — it's in the jacket notes of Into the Forest by Rebecca Frankel.
The book's heart is the Rabinowitz family of Zhetel, a town of about 5,000 — 80 percent Jewish — where Morris Rabinowitz worked in lumber. In 1933, he married Miriam Dworetsky, from nearby, larger Novogrudek, owner of a successful nonprescription medication store in Zhetel.
War put the family in the Soviet half of divided Poland. Their businesses and home seized, they moved several times between farms, Miriam's parents', then back to Zhetel.
In February 1942, under German occupation, Jews were confined to a cramped ghetto. Work permits spared the Rabinowitzes from a Zhetel roundup when 1,200 Jews were marched into the woods. Those without satisfactory papers were shot dead, naked.
Suddenly Miriam's sister Luba disappeared for four days, returning to tell of partisans and suggesting escape.
The Rabinowitzes were living with Morris' friends, the Coopermans. They created a shelter for two dozen people beneath the Coopermans' detached garage, just inside the ghetto fence, beginning a tunnel for escape.
The shelter was used during an Aug. 6 roundup. Morris was seized but saved by claiming to be a carpenter. Those not taken away, including Philip, were confined in the town's theater, from which Morris and Philip separately would escape.
Morris' family, the Coopermans and others — more than 20 total — had squeezed into the shelter, hearing Germans above searching the garage. Near the search's end, a Cooperman baby began to cry. One of the men in the shelter took the baby and suffocated it.
Miriam and the others crawled out and fled to a forest per Morris' previous instructions. In Zhetel, from Aug. 6 to 8, the Germans killed 3,000.
"The Białowieża forest was an ancient place, a uniquely undisturbed stretch of land and one of the earth's last remaining primeval woodlands," Frankel says. It "covered some 580 square miles across the borders of Belorussia and Poland" with peat bogs and marshlands.
Morris soon joined them, leading a group of about 30 for the next two years — hiding from German raids; Jew-hating partisans; and Lithuanians, Poles and Ukranians happy to kill Jews for rewards.
Frankel describes the group's privation, cold, hunger, fear, lice and typhus that nearly killed Miriam. Survival depended largely on Morris' wits, food from his network of farm friends, and goods and supplies brought by his friend Chaim Feldman. The Feldmans and Rabinowitzes lived as an extended family.
As the Soviet army drew closer in summer 1944, fleeing, marauding Germans were a threat, sending 29 people into a flat-roofed emergency bunker four feet deep, six feet wide and 30 feet long, hidden under vegetation.
Crammed in, nearly immobile during more than 10 fetid days, emerging only at night, they heard German voices and boots walking across the top. After two days of quiet, they came out, finding Soviet soldiers.
The family became part of the movement of Shoah survivors to the Palestine Mandate. A months-long journey led to Italy in 1946 for a sunny sojourn, awaiting emigration. In 1948, they got visas for the United States, where "a large network of Rabinowitz relatives" awaited, "eager to help," Frankel says.
Eventually, Morris reentered the lumber business.
Frankel tells this story captivatingly, wrapping in the bigger, ugly picture of the destruction of Europe's Jews.
She includes orders from Stalin and a conversation of which I'd never heard between Soviet Foreign Minister Molotov and Germany's Moscow Ambassador von der Schulenburg the day Germany invaded the USSR.
Twenty-eight pages of near-microscopic notes attest to Frankel's heavy research and documentation.
***
Neal Gendler is a Minneapolis writer and editor.
(American Jewish World, Dec. 2021)