By DORIS RUBENSTEIN
Ben Tisser, the new cantor at Beth El Synagogue, knew from a very early age that the cantorial life was the life for him.
Born and raised in Los Angeles, Tisser began studying hazzanut (cantorial music) at age six, when he began leading services alongside Cantor Herschel Fox at Valley Beth Shalom Synagogue in Encino, Calif. Little did he know at that tender age where his passion for this liturgical art form and his talent would take him.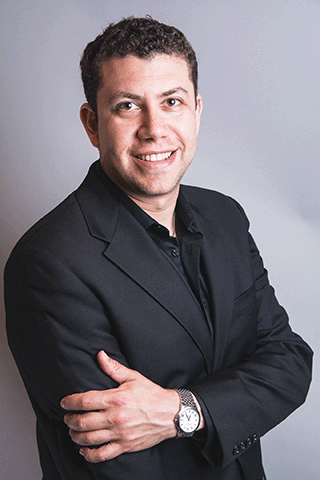 Tisser did not come from a family that was especially into vocal music. He commented, "My parents were both good pianists; my grandfather played seven or eight instruments. Nobody sings, though my parents can carry a tune."
Still, the budding cantor found teachers and mentors close by, particularly in the area of cantorial accompaniment. This sparked his interest in composition. He took advantage of the wealth of cantorial talent in the Los Angeles area to study composition with Dr. Michael Isaacson and hazzanut with such cantorial greats as Alberto Mizrahi and Jacob Mendelson.
These role models performed and composed liturgical music in the more classical style. Tisser is a child of the '80s, though. He admits that there were two other American composers of Jewish music with more contemporary appeal whom he admired: Craig Taubman and St. Paul's own Debbie Friedman.
"When I was growing up, they were in their prime," he recalled. "Taubman led youth services at my shul, and our day school choir was always sharing Debbie's newest songs." He's also a fan of Motown music and other pop bands from that era, including the Beach Boys and the Rolling Stones. In his 20s, he discovered opera, which has influenced his tastes and products.
A product of the Conservative movement in its many facets, Tisser takes great pride in having attended a Conservative day school, served on the board of directors of his United Synagogue Youth (USY) chapter, and attended and worked at Camp Ramah in California. In addition, he taught Judaic music for nine years at Sinai Akiba Academy and the Heschel School in Los Angeles.
His knowledge and talent brought him to the bima of several congregations before he finally enrolled in the H.L. Miller Cantorial School of the Jewish Theological Seminary and received his master's degree in sacred music in 2013. His bachelor's degree is in Hebrew literature and Middle East political science from American Jewish University.
Tisser has had a worldwide career as a soloist and member of ensembles. His performances have taken him to Germany, Spain, Canada and, of course, Israel, among other places. Tisser has served on the executive council of the Cantors Assembly, the largest body of hazzanim in the world, and for six years was president of its Midwest region.
He is a noted composer and arranger, and his choral arrangements are sung in synagogues around the country. In 2012, his setting of "Achat Sha'alti" was a finalist in the Shalshelet Music Festival in Miami. In 2021, he released his first album of primarily original music Hegyon Libi (available on Spotify and Amazon Music).
With all this behind him, why did Tisser decide to come to the Twin Cities?
"The main thing was finding the right fit," Tisser remarked. "The professional team here works so well together, and I could not have found a better rabbinic partner than Rabbi [Alexander] Davis. I wanted to serve a large congregation. I grew up in a large congregation and have worked at large shuls for the past decade. There are special opportunities that exist primarily in larger congregations, due to the unique diversity of such communities, the often large corps of volunteers, and the resources available to the congregation. And while Beth El is a community of thousands of people, it retains this very special heimish (homey) quality that I immediately picked up on during my interviews. Finally, I wanted a place that had longevity in the clergy."
After all this travelling, he wants to put down roots.
"They can carry me out of here in a pine box," he joked. Being a very proud USY alumn, he is also proud to serve the congregation where USY was founded.
It took no time for leaders in the local Twin Cities choral music community to discover such a new, rich talent in their midst. In November, he was invited to sing with the Magnum Chorum choir at the Cathedral of St. Paul for a concert celebrating All Souls Day. It was an inspiration for him.
"I have a lot of hope to do cooperative programs with other churches and synagogues," he said. He enjoys these programs, but what gives him the most joy is "singing with an energetic congregation every single week at Beth El. My predecessors created a long tradition of a singing congregation, and I hope to carry on that tradition for decades to come."
Ben Tisser's greatest "compositions" are his two children, Talia and Ethan. His wife, Robyn, is a high school math teacher, and together they enjoy their fur babies, Zoey Doey Picklehead and L.C. S'mores.
So, what's in store at Beth El for this music maven and his new congregation?
"It's going to be a great adventure together — trying and discovering new things, and bringing meaning, spirituality and music to each other," he replied. "I feel so fortunate to be part of the Beth El family and can't wait to see what is in store for us!"
If you can't get over to Beth El this coming Shabbat, you can still hear Ben Tisser's music HERE.
(American Jewish World, Jan. 2022)