By MORDECAI SPECKTOR
Ramsey County Sheriff Matt Bostrom has the highest regard for the folks who organized his recent group tour of Israel.
Bostrom took part in the 2014 Law Enforcement Educational Seminar in Israel, along with 15 other sheriffs from around the country. The junket was sponsored by the American Israel Education Foundation (AIEF), a charitable organization affiliated with AIPAC, "America's pro-Israel lobby."
"I can be a nitpicker when it comes to how people deliver education, particularly professional education," Bostrom said, during an interview with the AJW last week, in his spacious office in the Law Enforcement Center, near downtown St. Paul. However, the Israel tour, from March 30-April 5, "was the most meticulously well-done delivery of education that I've ever experienced."
AIEF worked with the National Sheriffs' Association, and its global affairs committee, to select participants for the Israel trip.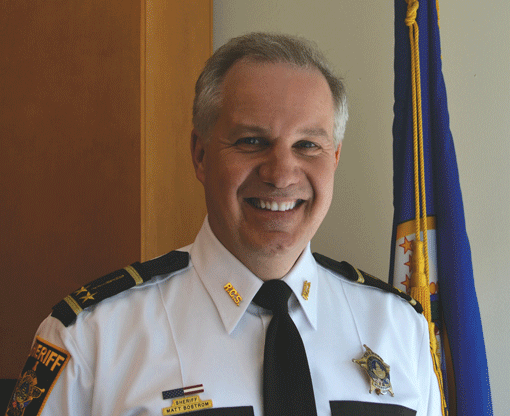 "We left on a Saturday and returned on the following Sunday," Bostrom recalls. Before boarding the plane at JFK in New York, the sheriffs got their lanyards and additional briefing materials. That was the beginning of "the actual educational event," says Bostrom.
"We all get on the plane together, direct flight to Tel Aviv; [get off the plane], folks grab their luggage, the coach is waiting… the narrative begins on our way up to Jerusalem."
The tour guide on the bus delivered some historical and cultural information, but Bostrom says, "It was a structured conversation tailored to law enforcement, public safety and security types of things."
On Monday morning, the group of sheriffs, which was staying at the Inbal Hotel, heard from Jonathan Schachter, an adviser to Prime Minister Benjamin Netanyahu.
"We had a major general the first night, then a senior adviser [to the Israeli premier] comes to spend time with us," the sheriff remarks, and adds that the "smaller group" fostered an intimate atmosphere.
"It was a great setting to ask questions and interact," he says.
The group toured the Old City; visited prisons around Israel; and traveled to Sderot and Kibbutz Kfar Aza, on the border with the Gaza Strip. The sheriffs visited Camero, a high-tech firm in Netanya — Israel's "Silicon Valley," says Bostrom — that has developed "Sense-Through-The-Wall (STTW) solutions." The company's products allow military forces to observe stationary and moving objects concealed behind walls or barriers.
Materials for all the sheriffs were on hand at "every single place we went. It was ready, prepared, the speakers knew their stuff, and they delivered things in a way that was meaningful for those of us who were there."
The tour covered the Jewish state, "starting in Jerusalem, up to [the border with] Lebanon, the Golan Heights, all the way down through the West Bank, to Masada, all the way down to Gaza and back up to Tel Aviv."
In addition to meeting with Israeli officials, the delegation had a meeting with Issa Kassissieh, a representative of the Palestinian Authority, at the American Colony Hotel in East Jerusalem.
"We didn't find his disposition tremendously compelling," comments Bostrom about Kassissieh, who is apparently now the P.A.'s ambassador to the Holy See, the Vatican. "I'm trying to be diplomatic."
During a prison visit, Bostrom says that he and the other sheriffs were surprised to learn that "the most dangerous thing they have in their prison systems are fires," and a consequent loss of life of corrections officers.
The sheriffs looked at each other and someone asked, "Fires? You guys still let guys smoke?"
"They said, 'Oh, yeah.'"
"And then it hit all of us, that if they would have asked us 20 years ago, well, yeah, there was still smoking allowed in a lot of these facilities," Bostrom reflects. "And that was where a lot of loss of life resulted in those close quarters, smoke inhalation, or riots… from lighting things on fire."
While American jails and prisons ban smoking by prisoners, the Israelis condone it in the interest of keeping the prisoners more comfortable.
Regarding corrections in Israel, Bostrom says that "they've got a different model; however, there's always some things you can learn from each other."
Bostrom, who is 52, is a St. Paul native, from the Lake Phalen neighborhood. A graduate of Johnson High School, he joined the St. Paul Police Department in 1982, at the age of 21, and moved up the ranks. During his last four years on the force, he was the assistant chief under John Harrington.
A sort of evangelist for professional policing (we talked at the outset for some time about the mission and goals of the Ramsey County Sheriff's Office), Bostrom earned a bachelor's degree, then a master's degree, and a doctorate in public administration from Hamline University. He also is a graduate of the FBI National Academy in Quantico, Va.
In 2010, Bostrom ran against the incumbent Ramsey County sheriff, Bob Fletcher, and won handily. He's up for reelection this year, and says that no one has filed to run against him, so far.
Returning to the topic of Israel, I ask Bostrom about his impressions of the Old City of Jerusalem.
"There is a presence there," he replies, and adds that it conjured "childhood stories" from his Christian upbringing.
"Those stories… being there and being able to picture some of those things — now I know why people go back; because my wife and I will be going back," he says. "There were no spouses on this trip… but there's no question we'll be going back."
Visitors to Israel are confronted with a heightened security regime, as a result of the unresolved Israeli-Palestinian conflict. In Jerusalem, young men and women, in the IDF or working for private security firms, tote high-powered rifles or have pistols strapped to their hips.
Bostrom says that he was satisfied with the complement of security officers he noticed in the hotels and other places in Israel.
"There is something that's been lost in the United States; we take it for granted, the safety and security that we have here," the sheriff says. "Undoubtedly, the kids coming out of high school in Israel, knowing that they have to [serve in the IDF] — the boys, three years, the girls, two years — have to say, 'Oh, I can't believe I have to do that.'
"But there is a piece of ownership for your country when you've done that, when you've all had that shared experience," Bostrom concludes. "While it's kind of sad, in one way, that so many people have to go through [the military], that's the model; but there is a country unity there that I got a sense of… I don't know that there are other places on the planet that have that."
(American Jewish World, 6.6.14)