By MORDECAI SPECKTOR
Gabriel Kahane's new album, The Ambassador (Sony Masterworks), is made up of 10 songs from 10 varied Los Angeles locales, with the street address as part of each title. Each song tells an intriguing story from the specific geographical location. The album rollout even features an interactive Web map and flags marking the song sites (ambassadoratlas.com). There's a description of each location, and a brief audio commentary by Kahane.
For example, "Empire Liquor Mart (9172 S. Figueroa St.)" tells the truly sad story of Latasha Harlins, a 15-year-old African-American girl who was accused of stealing a bottle of orange juice. Following a tussle with the 51-year-old Korean-American proprietor, Harlins turned to leave the shop — and was shot in the back of the head and killed.
This incident occurred in 1991, just 13 days after the videotaped beating of motorist Rodney King by Los Angeles police officers. The killing of Harlins is said to have fueled racial tensions in the city, which erupted the following year, on April 29, 1992, when the four white officers were acquitted on charges of assault and using excessive force in the King beating.
Gabriel Kahane: June 14 at Icehouse
This might not seem like the stuff of a pop tune; but "Empire Liquor Mart" is an entrancing nine minutes of lilting Beatlesesque music, with strings — a sort of mini-opera, with lyrics from the unfortunate teen's point of view. One refrain, which evokes Paul Simon's work, got stuck in my head. Kahane sings: "Nobody reads from the Book of Job at the church where me and my grandma go. / Nobody sees the trouble I know, but I know that trouble's gonna find me."
"This is a story that has resurfaced recently," says Kahane. "A woman named Brenda Stevenson recently published a book called The Contested Murder of Latasha Harlins, which sheds new light on that incident."
Kahane, who lives in Brooklyn, talked with the AJW last week, from Los Angeles, where he was preparing for a June 3 record release show at the Hotel Café.
He will perform a solo concert, June 14, at Icehouse in south Minneapolis. The show, which is sponsored by the Cedar Cultural Center, will feature music from The Ambassador and Kahane's other albums. He likely will play piano and guitar. He plays the banjo, too.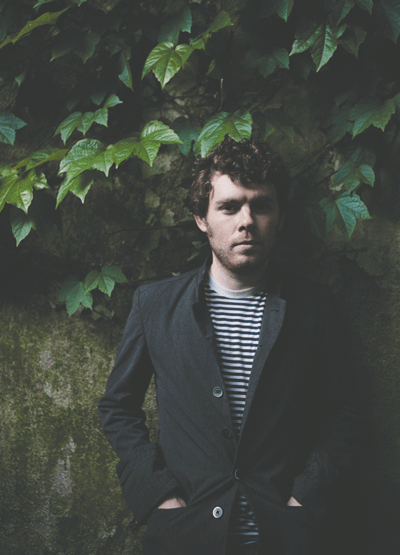 The 32-year-old musician and composer was born in Venice Beach, California, then spent his childhood on the East Coast, and in Northern California. His father, Jeffrey Kahane, is an acclaimed pianist and conductor, and his work took the family to several cities.
Kahane achieved some notoriety with his 2006 album Craigslistlieder, a collection of songs inspired by the popular Web site, with the singles ads: "You Looked Sexy," "Neurotic and Lonely," etc.
In 2008, Kahane released a self-titled album — with performances by Sam Amidon, Sufjan Stevens and Chris Thile — that unveiled his characteristic, lovely lyrical approach to the pop tune. The 2011 album Where Are the Arms brought further acclaim to the young tunesmith, who also kept busy with commissions for the Kronos Quartet (The Red Book), cellist Alisa Weilerstein, and the Los Angeles Philharmonic.
Other concert works by Kahane include the chamber song cycle For the Union Dead, which is based on poems by Robert Lowell; the Piano Sonata, for classical pianist Natasha Paremski; and Django: Tiny Variations on a Big Dog, written for his father, which had its successful premiere at Lincoln Center's Alice Tully Hall.
And I was impressed to read in Kahane's bio that he has played with Brad Mehldau, one of the most acclaimed jazz pianists on the current scene. "Brad has been a supporter of mine for a number of years," says Kahane. "He has sat in occasionally at gigs… and we've just sung standards together or done songs of mine."
Kahane appears to be equally at home in a concert hall or a gritty rock club. Again, the show at Icehouse will showcase the new tunes from The Ambassador.
Regarding the track "Ambassador Hotel (3400 Wilshire Blvd.)," about the famed L.A. locale, Kahane says, "I was really moved reading about the struggle for preservation of that site, which, to me, seems to be the first moment when Los Angeles had a sense of its own architectural history — a sense of its own history, period. And, of course, they did not save the hotel."
We chat about the Ambassador, which closed in 1989, and met the wrecking ball in 2005. Kahane mentions that the hotel was home "to Hollywood stars" in the late '20s, early '30s.
He adds, "Four of the first eight Academy Awards ceremonies were actually held at the Ambassador Hotel, in The Cocoanut Grove," the nightclub, "which started the careers of many, many great performers."
And a line in "Ambassador Hotel" mentions "that midnight in the pantry when the country lost its soul," which is a reference to the June 5, 1968, assassination of Sen. Robert F. Kennedy in a kitchen passageway, on the night of his victory in the California Democratic primary election.
On the lighter side, the Ambassador Hotel, which after its closing was used frequently as a location for film and music video shoots, also appeared in the 1967 film The Graduate; it was called the Taft Hotel, and it was the spot for the assignation of Ben Braddock (Dustin Hoffman) and Mrs. Robinson (Anne Bancroft).
"These addresses are, in a way, just an organizing principle for examinations of all culture in Los Angeles," explains Kahane, regarding the concept behind his new album.
Kahane has played in the Twin Cities a half-dozen times, and mentions the Southern Theater and the 400 Bar ("which I heard is reopening at the Mall of America," he comments). "I've always quite loved the Twin Cities."
Toward the end of the phone chat, I pose a question that I've put to other songwriters: Jerry Lieber and Mike Stoller, Neil Sedaka, John Kander, Ben Sidran, et al. Why are Jewish composers so prominent in the canon of American popular music?
"Jews are just good at writing tunes," Kahane replies, with a laugh. "To a certain extent, there's a great tradition of music being part of the home. I am in no way an expert on this, but if I had to make an educated guess, I would say that for a lot of poor, immigrant Jewish families, if they were able to have a piano in the house, that was a sign of middle-class comfort and a kind of middle-class status symbol. There seemed to have been an emphasis on music in the home, in middle-class Jewish culture at the turn of the [20th] century and in the early part of the century, and it was in that milieu that a lot of these songwriters emerged."
And then Kahane mentions the "vexing" problem of Cole Porter: "You hear so many of these melodies that sound so profoundly Hebraic, and yet he's the one of that bunch who was not Jewish."
So, I point out that Cole Porter was aware that his musical peers were disproportionately Jewish. And, as mentioned in the stage play The Soul of Gershwin, by local musician and composer Joe Vass, Porter told Richard Rodgers that he discovered the secret for writing hits: "I'll write Jewish tunes."
Kahane laughs at this and says, "Well, he did."
***
The Cedar Cultural Center and Icehouse present Gabriel Kahane 11 p.m. Saturday, June 14 at Icehouse, 2528 Nicollet Ave., Minneapolis. Doors open at 10:30. For tickets, call 612-338-2674 ext. 0 or go to: ticketweb.com. For information, go to: thecedar.org.
(American Jewish World, 6.6.14)