By DORIS RUBENSTEIN
American Jewish World readers who are also classical music aficionados already know that world-renowned classical guitarist Sharon Isbin is one of our own. The St. Louis Park native and St. Louis Park High School grad was interviewed last in these pages in 2014. It's time to catch up.
For a globetrotting artist like Isbin, the COVID-19 pandemic has forced her to put her live concert performances on hold. Now a resident of New York City (for short stays between shows on stages around the globe), Isbin has been anchored there since last March.
"This is the longest I've stayed in one place since high school," she told the Jewish World recently.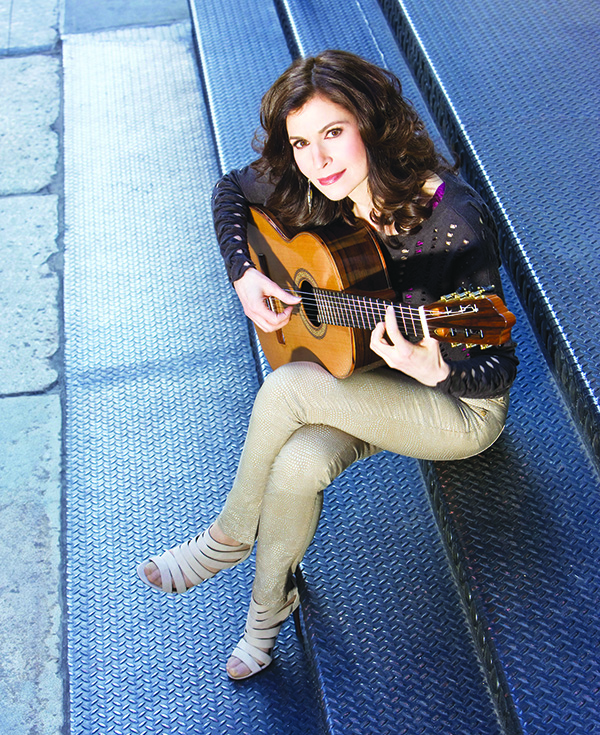 Isbin finds this to be a welcome respite from constant traveling and it has created time for many projects, including two new albums released last summer of world premieres specially composed for her. The albums are Strings for Peace, with India's legendary sarod master Amjad Ali Khan, and Affinity, which features music from three continents.
Affinity includes a new concerto composed by Chris Brubeck that pays homage to his father Dave Brubeck, whose centennial is celebrated this season.
In addition, January 2021 saw the publication of her own edition of the Joan Baez Suite by John Duarte for solo guitar, a work featured on Isbin's Grammy Award-winning album Journey to the New World. In this project, she's joined by legendary folksinger and activist Joan Baez, and Mark O'Connor.
Over the years, Isbin counts as her favorite collaborators such famous artists as Steve Vai, Sting, Stanley Jordan, Josh Groban, the Pacifica and Emerson Quartets, Romero Lubambo, Paul Winter, Laurindo Almeida, Isabel Leonard and the New York Philharmonic.
Isbin has had Israel on her itinerary numerous times.
"The first work I ever commissioned was by the Israeli composer Ami Maayani," Isbin recalled. "I was 17 when we met at a lecture he gave about his music at the local JCC. I eventually convinced him to write me a guitar concerto, which I premiered with the Minnesota Orchestra and then performed in Israel the following year, in 1979, with the Jerusalem Symphony in a live-televised concert at the Binyenei Ha'ooma Hall (International Convention Center).
"You can see an excerpt of the Israel performance in the award-winning, one-hour PBS documentary Sharon Isbin: Troubadour… That experience with Ami was momentous. It inspired me to commission many more works by some of the world's finest composers, over 80 to date, including over a dozen concerti for guitar and orchestra."
The Isbin documentary is streaming on Amazon Prime Video, and also available for rental and purchase (sharonisbintroubadour.com).
"Some of my relatives live in Israel, so I was especially happy to return in the early '80s to perform a recital in Tel Aviv," she commented. "Given the adversarial climate in the world today, I never hesitate to be a fierce advocate of Israel's right to exist and to defend itself against disinformation and terrorism."
During Isbin's early years in the Twin Cities, her family belonged to Beth El Synagogue. Sharon's favorite Jewish memory revolves around Passover.
"Hanuka and Passover were always family celebrations, the latter a little stressful when my oldest brother would surreptitiously re-hide the afikomen leaving me to search for it in vain," she said.
There's no hiding the impact of her formative years here on her off-stage life.
"Our home was adjacent to a huge public field with hills, so my winters there were filled with ice skating and sledding," she said. "In high school, I took up cross-country skiing and recall once getting lost on a snowy night in Wirth Park, having to hitchhike back to the car with a friend. I've been cross-country skiing in breathtaking places, such as the Canadian and Colorado Rockies, Alaska and the White Mountains [in New Hampshire]; and I always keep a pair of skis at home in New York City to enjoy the occasional snowstorms that blanket Central Park."
Her interest in guitar was not sown in Minnesota, however. That occurred when the Isbin family had an extended stay in Italy, when Isbin was at the impressionable age of nine.
Her talent was obvious and she studied with the best: Andrès Segovia, Oscar Ghiglia and, for 10 years, with noted Bach scholar and keyboardist Rosalyn Tureck.
Isbin received a B.A. cum laude from Yale University and a Master of Music from the Yale School of Music. She authored the Classical Guitar Answer Book. And she is the director of the guitar departments at the Aspen Music Festival and The Juilliard School. (Isbin created Julliard's guitar program in 1989, becoming the first and only guitar instructor in the institution's 100-year history.)
There are members of the Isbin family still living in the Twin Cities: brother Ira and his wife Amie Noun, and cousin Rachel Brudnoy. Isbin's last visit was a sad one, a memorial service for her father in 2018. As for her next visit, she says: "Alas, no one knows when the pandemic will be over, so no plans to visit at this point."