By MORDECAI SPECKTOR
Among the many great musicians to come out of the Twin Cities in recent decades, few are as accomplished or critically acclaimed as guitarist Sharon Isbin, a native of St. Louis Park.
Hailed as "one of the best guitarists in the world" (Boston Globe) or the "Monet of the classical guitar, … a master colorist" (Atlanta Journal), Isbin continues to explore new musical realms and inspire her students.
She has won multiple Grammy Awards and commissioned more concertos for classical guitar than any other guitarist. These new works have been composed by such luminaries as Tan Dun, Christopher Rouse, John Corigliano, Aaron Jay Kernis, Lukas Foss and Chris Brubeck.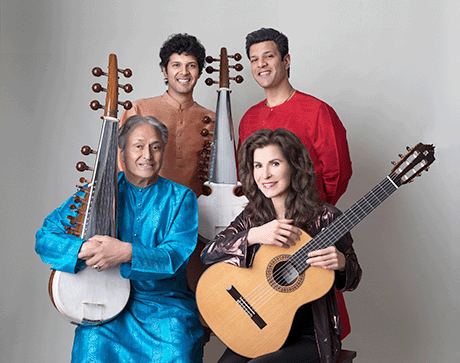 When not concertizing around the globe, Isbin teaches at Juilliard, where she established the guitar program in 1989, and at the Aspen Music Festival, where she directs the guitar department and performs every summer.
Her lengthy discography and list of awards can't all fit in a Jewish World story, so let's cut to the news: Sharon Isbin will return to Minneapolis with Strings for Peace, an ensemble of artists playing guitar, sarod and tabla. The group will perform on two nights, March 15 and 16, at the Dakota in downtown Minneapolis.
Isbin will perform with sarod master Amjad Ali Khan, and Amaan Ali Bangash and Ayaan Ali Bangash, also on sarod, which is a stringed instrument used in Hindustani music. Rounding out the group is Amit Kavthekar on tabla, Indian drums.
How did Isbin come to play with these musicians from India?
"It's an amazing story because about a dozen years ago I received an email from the foremost, and legendary at this point, sarod player from India, Amjad Ali Khan, who wanted to collaborate with me," Isbin explained during a recent phone conversation with the Jewish World from her home in New York City.
"First we had to meet. I was able to come and hear his performance with his two brilliant sons, Amaan and Ayaan Ali Bangash. I heard them in New York, thought they were phenomenal, and every year we would be in touch, see each other."
She added that because Amjad Ali Khan was living in India, "our times would be short and sweet."
Isbin explained that in order for a collaboration to take place, she would need the group's music written in the form of notation used by classical guitarists. Because the sarod player doesn't read music, he had to find the right person "to notate what was in his head, and that took a lot of time — about 10 years."
One day Isbin opened her email, "and it was filled with ragas." (A raga is the melodic framework for improvisation in Indian classical music.) Amjad Ali Khan "had found the right person, his name is Kyle Paul." They created a demo recording for Isbin, who "loved the music."
Ali Khan then informed Isbin that they had booked a tour of India with her in two months.
"I had to move mountains to make that happen," she recalled about these events in early 2019. "It was really an exciting project, a fabulous way to visit that country for the first time, and to experience the beauty and the magic of everything it had to offer."
Isbin and her Indian collaborators agreed that they had to record the music. So, she booked a New York studio in April 2019, and they recorded the album Strings for Peace (Zoho Music) over two days. The album consists of four entrancing ragas, with Isbin playing her nylon-string classical guitar and the Indian musicians playing the steel-string sarods.
"All of this was before the pandemic, so that was lucky," she commented.
Isbin credited Amjad Ali Khan with the success of the musical project. "He has developed a way of approaching Western musicians, like myself, who have not spent dozens of years studying his culture and its music. By the way he is notating and combining the different worlds, … we can skip all of those years of study and immerse immediately into his phenomenal world of music."
As a college student, Isbin listened to and enjoyed Indian classical music, so she had some familiarity with the genre but "never dreamed that I would be a participant." She also has performed for many years with Brazilian percussionists, which informed her approach to playing with Kavthekar, the "extraordinary tabla player from India," who is performing on the U.S. tour.
She said that her background in, "believe it or not, Baroque embellishment" was valuable in playing in an Indian classical style. Isbin also cited her experiences with improvisers "in the jazz and rock world, like Steve Vai, Nancy Wilson from Heart, [Brazilian jazz guitarist] Romero Lubambo, so that it would be comfortable for me to work with people who are inventing music on the spot. All of this came together in a very powerful way."
Publicity for Strings for Peace included a statement by Amjad Ali Khan, which illuminates the unique musical melding: "The sarod and the guitar belong to a common family of stringed musical instruments. Through this collaboration, we strive to preserve the essence of both Indian and Western traditions so they can flow into each other without artistic compromise. Each of the artists brings the spirit of sharing the great unique treasures of their own artistic traditions, as well as finding common ground in ragas and medieval modes. The idea is to achieve a cross-fertilization at both the cellular and cosmic levels of two classical music traditions, which are often held to be radically different. This is a blissful dream of a project, infused with the unique amalgamated contributions of artists united under a common aegis, regardless of their diverse backgrounds, cultures, traditions, generations, genders, religions, upbringing, and career paths."
Isbin further explained that she plays her part from a musical score, while the Indian musicians play from memory. When they take off on an improvisatory flight, Isbin plays a bass line, perhaps in the way a jazz bassist plays behind an instrumental soloist.
"There never are two performances that are the same," she added.
Strings for Peace has been playing concerts in North America since the fall of 2021.
"This is the first time we play in Minneapolis, so I'm thrilled to be able to bring String for Peace to [the Dakota]," where she expects that audiences "will fall in love with the group."
And the Dakota shows will be the ensemble's first time playing in a club. They've mainly played concert halls and university theaters. In any case, Isbin said that drinking some chianti and listening to the East-West musical blend is perfectly appropriate.
To sum up, it's always a pleasure chatting with Sharon Isbin, and the upcoming Strings for Peace shows should be the musical events of the season.
***
Strings for Peace will perform 7 p.m. Wednesday, March 15 and Thursday, March 16, at the Dakota, 1010 Nicollet Mall, Minneapolis. For tickets, go to dakotacooks.com or call 612-332-5299.
Here is a video trailer for the Strings for Peace album: