Reviewed by NEAL GENDLER
Most adult Jews likely know about Raoul Wallenberg, the Swedish diplomat who with associates saved thousands of Hungarian Jews from death.
A book and movie made Oskar Schindler known for saving 1,200 Jews in his factory.
But what about Aristides de Sousa Mendes, Portugal's counsel general in Bordeaux, France, or Angelos Evert, Athens police chief?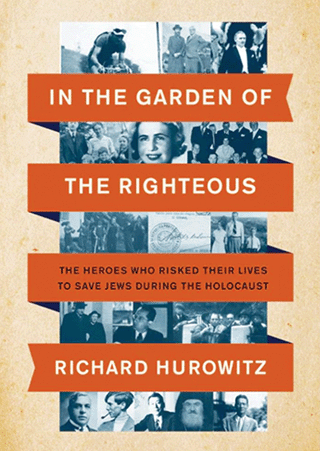 Or Italy's Gino Bartali, 1938 and 1948 Tour de France winner, who smuggled false ID documents in the frame and handlebars of his bike to the clergy of Assisi, who were hiding hundreds of Jews?
"I could have written an entire additional book — indeed several — about others as remarkable," New York writer and lawyer Richard Hurowitz says. Among them is Swiss Consul Carl Lutz, who also saved Budapest Jews.
In The Garden of the Righteous tells the stories of about a dozen among 27,000 honored at Yad Vashem as Righteous Among the Nations for saving Jews during the Shoah.
"There are literally hundreds of thousands of people alive today" because of gentile rescuers, Hurowitz says. "Of course," he adds, "we must acknowledge that rescue was very rare."
And regrettably, a review can provide only slim overviews from a book very worth reading. Here are some of the Righteous Diplomats in the book:
• Sousa Mendes, who claimed descent from conversos (Spaniards forced to convert to Christianity by the Inquisition), rescued an estimated 30,000 Jews in summer 1940, possibly saving more people than any one person, while "defying explicit orders from his government," Hurowitz says. Defiance also was true of Hiram Bingham IV and Chiune Sugihara.
Sousa Mendes' passports and visas to neutral Portugal allowed exit from Vichy France. He once led a group said to number 1,000 to cross the Spanish border. When Portugal forbade visas, he arranged for Dutch visas to the Caribbean island of Curaçao and issued transit visas to it.
"My attitude was motivated solely by feelings of altruism and generosity," Hurowitz quotes Sousa Mendes, who refused payment. He could not ignore "the fate that awaited all those people should they fall into the hands of the enemy."
• Angelos Evert, of German descent, supported the Greek resistance and, with Athens Archbishop Damaskinos, issued Jews a blizzard of Greek Orthodox baptismal certificates. Help from other police led to an estimated 27,000 false ID papers, Hurowitz says. Damaskinos ordered priests to assist Jews and open convents to hide them. At least 600 clergy were arrested, and one executed, for helping Jews, Hurowitz says.
• Gino Bartali hid the Giacomo Goldenberg family of four and a nephew in a building he owned and regularly bicycled fake documents 155 miles from Florence to Assisi under the guise of training. In a racing shirt with his name, he sailed through checkpoints, but once was arrested and held for three days, accused of smuggling weapons into the Vatican, of all places. He was made an honorary Israeli citizen.
• Chiune Sugihara was sent in 1939 as Japanese consul in Kovno, Lithuania, to spy on German and Soviet troop movements and predict the date of Germany's invasion of the USSR, writes Hurowitz.
Less known is Dutch Jan Zwartendijk, 43, in Kovno to run the local division of Philips Electronics. As honorary Netherlands consul, he issued 2,345 visas for Dutch possessions such as Curaçao. "With now a theoretical place to go," the refugees needed transit visas, Hurowitz says. "The only possible direction was east."
Sugihara issued more than 2,200 transit visas to Japan. He persuaded Soviet officials to honor them for crossing the USSR.
• Georg Duckwitz, a Nazi party member, was a Hamburg America Line shipping expert working for the German Foreign Ministry in Denmark, a country he loved. When Germany declared martial law, "Duckwitz was devastated," Hurowitz says. He nearly wept.
Instead, he acted, convincing Sweden to receive Danish Jews and revealing German roundup plans to Danish leaders who then organized the famous evacuation of almost the entire Jewish population in the Scandinavian nation. Further, he got German naval officers to keep their ships in port during the evacuation.
• Irena Sendler, a Polish Catholic, was a Warsaw epidemic hygiene worker, giving her regular entry to the ghetto. She and colleague Irena Schultz smuggled medicines in and children out to a network for hiding. Sendler is estimated to have saved more than 2,000 lives.
She was arrested and tortured, creating a lifelong limp. Minutes from execution, she was freed by a bribed guard. She is the subject of books. I recommend Irena's Children, by Tilar J. Mazzeo.
• Hiram Bingham was an Ivy League son of the discoverer of Machu Picchu's lost ruins. Vice consul in Marseilles, France, with oversight of visas, he worked with Varian Fry, an agent of the Emergency Rescue Committee sent to free intellectuals, starting with interned novelist Lion Feuchtwanger.
Bingham, called "the angel of freedom" by a refugee, rescued hundreds, among them other famous writers and artists including Victor Serge, Marc Chagall and Jacques Lipchitz. Visas for other Jews included 52 for members of a Zucker family.
• André Trocmé was pastor of Le Chambon-sur-Lignon, a small town amid villages on a south-central French plateau . A pacifist Protestant, Trocmé agreed to offer refuge when asked by American Quakers.
Le Chambon is estimated to have saved 5,000, around 70 percent Jews, most of them children who hid in woods or villages when officials came to inspect. Refugees also were led to Switzerland. For a longer overview, see my review of A Good Place to Hide, by Peter Grose, in the Jewish World's April 10, 2015, issue (bit.ly/good-place-to-hide)
• Adolf Althoff hid Jewish acrobat Irene Danner and three others in his popular circus, attended by Nazi officers.
• Ten British prisoners of war working on a farm saved starving, injured teenage Sara Matuson, who had fled from a death march. They hid Sara in a barn, nursing and feeding her back to health.
In The Garden of the Righteous is prodigiously researched, well written and with photos. Its philosophical conclusion begins: "For many, the most striking thing about the rescuers is their near unanimous modesty about their actions. … They did not believe they had done anything special."
***
Neal Gendler is a Minneapolis writer and editor.
(American Jewish World, March 2023)