The goal is to inspire young Jews — and non-Jews — to take part in the seder, which offers an opportunity to foster meaningful discussion
By GABRIEL FRIEDMAN
An appreciation for classics and architecture does not necessarily foster interest in the Passover seder.
However, those interests are what have led Michael Hebb, a former restaurateur and the founder of meal-related projects such as Death Over Dinner and Drugs Over Dinner, to adapt Passover to the digital age.
Hebb's latest project, Seder2015.org, is a multimedia Passover resource — it contains Passover recipes (from well-known cooks like Top Chef contestant Spike Mendelsohn), recorded anecdotes about the holiday meant to play at the seder table (including one by Susannah Heschel on the night Martin Luther King, Jr., came to her Passover seder), holiday-appropriate playlists compiled by Jewish indie musicians, and more. The site has also partnered with Haggadot.com, an existing online repository of community-generated Haggada materials, to provide further digital resources.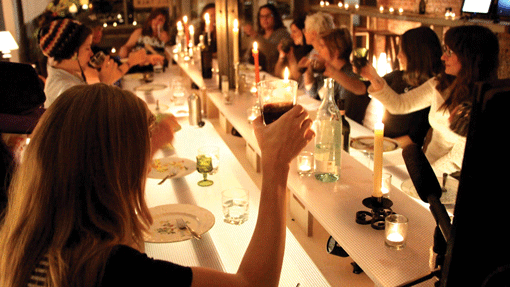 This initial year is a bit of an experiment, and Hebb says that all the site's various media libraries will expand after this spring for the years to come. Nevertheless, the goal is to inspire young Jews — and non-Jews — to take part in the unique millennia-old dinner ritual that Hebb says offers almost unparalleled opportunity to foster meaningful discussion. He imagines younger seder attendees playing the Heschel anecdote on their smartphones or streaming the Passover playlists on Spotify.
"The millennials and Gen Y and the generations that are to come tell their stories on their digital devices," Hebb said. "And the fact is, if you go online to look for resources for Passover, you're going to be pretty disappointed."
Hebb, 39, is an unofficial expert on the dinner table. After studying architecture at Portland State University and classics at Reed College, 21-year-old Hebb started the firm Communitecture with fellow architect Mark Lakeman. Together, they created the City Repair Project, which brought Portlanders together in public places that Hebb and Lakeman converted into tea houses and other gathering spaces.
As Hebb explained, some of their more daring ideas — such as drawing concentric circles on the streets of Portland and hosting discussions there — got them in trouble with "a lot of angry bureaucrats."
It was around this time that Hebb began hosting his own seders and "working with a wide array of Portland artists and musicians to create experimental Haggadot."
"My interest in the Greek symposium and the seder and architecture all came together," he said.
Nearly two decades later, after stints owning several chic restaurants in Portland, Hebb started Death Over Dinner, a project that provides guidelines to help users hold discussions about mortality with family and friends at the dinner table. The idea struck a chord, and tens of thousands of people since 2013 have reportedly attended dinners planned with Hebb's resources. It inspired Hebb to create Drugs Over Dinner, which helps people host candid discussions about drug abuse.
However, taking on the Passover seder remained an epic and tempting feat for Hebb. When talking about Death Over Dinner and Drugs Over Dinner, he says that "in some ways those projects are secretly seders."
"We can talk about the importance of the Greek symposium, and yet it hasn't existed since the classical period," Hebb said. "It was defined by a very small period of history. And then you look at the seder and how it has help keep a community of faith together for millennia — it's pretty remarkable."
That doesn't mean that the seder is invincible. In fact, Hebb worries that declining seder attendance among young Jews, which the 2013 Pew study documented, will continue or even worsen if Jews don't experiment with ways to engage young people.
"If we don't start creating meaningful reasons for them to be at that table, then they're not going to show up," he said.