A Good Place to Hide, by Peter Grose, Pegasus, 323 pages, $26.95
Reviewed by NEAL GENDLER
Books and an acclaimed documentary film have made the French Huguenot village of Le Chambon and Pastor André Trocmé well known for sheltering Jews from the Nazis and their Vichy France collaborators.
But some books have been criticized as inaccurately portraying how Le Chambon and its surrounding villagers and farmers saved thousands.
Author Peter Grose
to speak April 20
Peter Grose seeks to set things straight in A Good Place to Hide, a very readable account — out on April 15 — benefitting from corrections by two wartime residents, Catherine Cambessédès and Nelly Trocmé Hewitt, the pastor's daughter, who lives in St. Paul.
There's "no reliable way of knowing when Jews… began arriving on the [Vivarais-Lignon] plateau in significant numbers," Grose says. "No records were kept, official or unofficial; nobody asked questions; nobody gossiped; nobody was in charge; nobody had a policy, a plan, or a piece of paper laying down the rules. The process was haphazard, spontaneous, clandestine, burgeoning and unstoppable." Nobody asked for payment, either.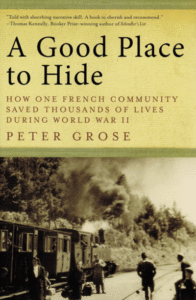 Pacifist Trocmé's determination to save lives was endorsed by his congregants and helped by the cohesiveness and isolation of the plateau, which "straddled no strategic route from anywhere to anywhere," and wasn't occupied.
The story is sufficiently familiar to need no reciting, but Grose provides some notable observations.
For example, the famous "weapons of the spirit" sermon was given June 23, 1940, but refugees — Republicans fleeing Franco's Spain — began arriving in 1936. They "were not exactly greeted with open arms," but in "the first glimmer… of the plateau's role as a refugee shelter," two orphanages and two hostels opened. Most Spaniards left by 1939.
The first specifically Jewish refugee likely was Hilde Hoefert, arriving after Germany absorbed Austria in 1938. She stayed, teaching German.
With war, refugees came in increasing numbers from Western Europe. Some — mostly children — lived legally on the plateau, freed from French internment. Some were Frenchmen avoiding forced labor. Most were Jews hoping to get to Switzerland or Spain, or content to remain on the plateau, or departing with new identities.
"The genius of the plateau's forgery industry" was Oscar Rosowsky. The 18-year-old Latvian, kept from medical school because he was a Jew, became "one of the finest — and most-spectacularly successful — forgers in World War II history," Grose says. Rosowsky and a partner made 50 sets of false IDs and supporting documents a week — an estimated 5,000 total, two thirds for Jews.
Outside sources, some in the United States before it entered the war, supplied funds. Later, suitcases of cash were brought from Switzerland — money often raised, sometimes carried, by former Mayor Charles Guillon, living in Switzerland for a world YMCA position. He's been honored by Yad Vashem.
The area had been a summer resort, with 38 guest houses, 11 children's hostels and seven hotels, but it couldn't hold everyone; refugees were sneaked in small groups into Switzerland, often guided by boy scouts.
In early 1943, Trocmé and two other leaders were arrested and held for a month. On June 29, 1943, a German police raid took 18 students and their house manager, Daniel Trocmé, the pastor's cousin; he would die in Maidanek. André Trocmé was persuaded to go into hiding. Assistant pastor Édouard Theis hid, too, but he continued to smuggle out Jews.
In June 1944, Trocmé and Theis returned, again preaching pacifism, "but by now, nobody was listening," Grose says.
"One of the bloodiest events in the history of the plateau has been more or less airbrushed from history," he says. Most of the plateau was controlled by the Resistance, but on July 5 and 6, 1944, German forces attacked a center of its activity, Le Cheylard. Thirty to 50 civilians died.
Although brevity makes A Good Place to Hide something of an overview, and Grose distractingly injects himself occasionally, it's an enlightening and presumably accurate story.
Grose uses British spellings and idioms, mysteriously felt we needed the specificity of "two front-wheel-drive Citroëns," and understates the 900-day siege of Leningrad as two years.
Quibbles aside, we have a fascinating account of how, in a time when decency was in short supply, "on the plateau, it triumphed."
***
Peter Grose, author of A Good Place to Hide, will speak 7 p.m. Monday, April 20 at the St. Paul JCC, 1375 St. Paul Ave. The event is free; for information, contact Beth Friend at 651-255-4735 or visit: www.stpauljcc.org.
Neal Gendler is a Minneapolis writer and editor.
(American Jewish World, 4.10.15)