The Mendota Heights native is returning home to foster engagement between Jewish students and the local Jewish community
By SAMANTHA EZRILOV
Hillel at the University of Minnesota has hired Benjie Kaplan, a leader in the local Jewish community, to serve as director for its developing program.
The 33-year-old Kaplan, who was raised in Mendota Heights, has always been involved in the Jewish community. Experiences attending Herzl Camp, participating in Temple of Aaron's USY chapter and his membership at Beth Jacob Congregation serve as just a few examples.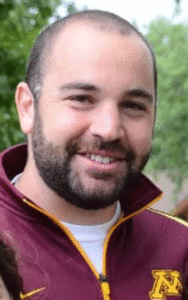 Kaplan's inspiration to be deeply involved came from family members who were active in the community. His grandfather was president of many boards throughout his childhood, and Kaplan's mother — who "volunteered everywhere she possibly could to lead by example for her family and show us what it means to be involved" — played a big role.
"In terms of the Jewish community in Minnesota, I was a little bit of everything," Kaplan told the AJW in a recent interview. "It just kind of came natural to me to be a community developer, a community leader."
When Kaplan transitioned from Henry Sibley High School in St. Paul to college at the University of Kansas, he did not let his passions for leadership and Judaism dwindle. As president of Alpha Epsilon Pi, a Jewish fraternity, Kaplan stayed involved and even gained some experience with the Kansas Hillel when it hired a new director during his senior year.
Upon graduation, Kaplan was unable to get a job in public relations or marketing to complement his journalism degree. Instead, the Kansas Hillel director steered him towards a yearlong Hillel program called the Jewish Campus Service Corps (JCSC) Fellowship.
The JCSC Fellowship brought Kaplan to the University of Wisconsin-Madison, where he worked to incorporate students within the Greek system into the Hillel community. After some major successes and an inspiring visit to Israel as the group leader of a Birthright trip, Kaplan was inspired to consider Jewish communal work as a career.
Kaplan earned his master's degree in Jewish professional leadership from Brandeis University. After graduate school, he paid his dues working at federations, JCCs and day schools before he got the call about an opening at the Hillel in his home state.
"I had always had an itch to come back to Hillel because that's where I found my love for working in the Jewish community," Kaplan said.
Kaplan's goal for this upcoming year is to foster creativity. He wants to be able to fund it, help students figure out what Jewish community means to them and how they want to create it, and work with them and the greater Minnesota Jewish community to help make it happen.
"There is so much potential on our campus," Kaplan said about the University of Minnesota. "As tuition costs rise and family dollars kind of decrease, we're going to see a lot more students staying local. We need to make sure that the Jewish programming is here for [students] to be able to engage with the Jewish community."
Kaplan is especially excited about his idea to offer a budget to students so that they can play a direct role in creating their own programming.
"This idea of building a pool of money to let students get funding for their own programs is a new idea. It's out of the box, something nobody is doing right now," Kaplan said. "I think we'll see ourselves being a lot more successful if we're student driven with staff supervision."
Kaplan estimates that there are approximately 1,900 Jewish students on campus and he wants to engage as many as possible by reworking the old Hillel model of providing students with staff-made programming. Maintaining an emphasis on three major components — Jewish education, support of Israel and leadership development — Kaplan believes a successful program will come from student initiative.
"When students get to a college setting, all of a sudden they're going to make what they want to make and we can only be there to encourage," Kaplan said. "My hope is that this model will lead us to more quality programs, more student involvement and more support from the community."
Hillel at the University of Minnesota is in need of support from the community to assist in programing, but also for facility renovations. Kaplan thinks that it's vital that kids want to come into the building, but working with one built in 1955 has proven difficult. Alumni and donors are a big motivation for Kaplan to succeed.
"I know that I have to show [potential donors] something this year. If they don't see excitement then they won't get behind this," Kaplan said of his vision for Hillel.
Kaplan thinks that further community involvement in Hillel programming could bring awareness to businesses and help foster connections, resulting in a relationship that is mutually beneficial. According to Kaplan, companies work so hard to reengage generation X after college by marketing towards them, when he suggests that maybe they should never stop.
"I look at my agency and I say 'I've got the next gen here everyday but I don't have the funds to engage them,'" Kaplan said. "When a college student is on campus I don't just want it to be about Hillel, I want it to be about community."
The Minnesota Jewish community is the people who raised him, the place that he comes from. As Kaplan settles into his job as director of Hillel at the University of Minnesota, he is coming full circle.
"I've been hired for this job, and with my background I should be able to do it very well and make it amazing," Kaplan said. "I'm glad that I'm doing this and I get to do it in my hometown. Hopefully, the community rallies around me."
***
Samantha Ezrilov is an editorial intern at the American Jewish World.