Reviewed by NEAL GENDLER
Jason Sommer had an uneasy childhood with a smart, gregarious father whose Shoah experience hovered just beneath personal achievement and professional success.
Jason hoped they'd draw closer during a trip he planned, visiting places of his father's, Jay Sommer's, past and a spot that might bring him some closure in the death of his brother Shmuel Steinberger, killed at 17 after escaping a train to Auschwitz.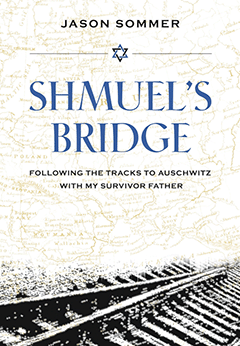 Shmuel's Bridge begins slowly and a bit disjointedly: Jason shows Jay old photos, prodding the failing memory of a man, now 98, who'd never finished elementary school but spoke 10 languages, earned a college degree at night and was 1981 National Teacher of the Year.
Only child Jason has developed a midlife sense of obligation not to let his father's experiences disappear: "Otherwise, I fear that the part of his identity that often felt at most odds with mine will disappear … and some part of myself, skeptical, defined in opposition, looking for a different and wider view of the events he speaks about — that will be gone, too."
They trace the rail route that took Shmuel, the youngest of three brothers from Munkács, jli, to the death camp in 1944. Brothers Jay and Harry — then Yehuda and Herschel — had been drafted into labor brigades.
Jay and Jason hoped to find the bridge from which Shmuel jumped after escaping the boxcar. He quickly was shot dead.
Shmuel's Bridge also is Jason's story of his relationship with his father.
As a youth, "I resented my father and his special suffering, which crowded me out," Jason says. "His story alone became the story of the family. I was an item in compensation, a replacement for those he lost. The here and now was always usurped by the there and then."
Their journey occurred in spring 2001. Jason was in his mid-50s, Jay 78.
"My father had always wanted me to show the sort of interest in his life story that a visit to its settings would evidence. And I was apparently ready to do that, after long avoidance, even resistance.
"Whatever Shmuel had come to mean to me, he was my father's brother, whose loss was among his deepest griefs."
Destinations included Jay's birth village, then nearby Munkács. In his youth it was a Czechoslovakian city of about 20,000 — half Jewish — becoming Hungarian in 1938, and now Ukrainian.
In Munkács, they found the abandoned brickyard with the tracks that deported Shmuel; Harry's wife, Lilly; "people I knew, people I never would know, except through story, and people unremembered, unmemorialized, beyond recall in every way," Jason says. "All my father's people were brought here, taken from here … more than 60 souls."
Then "to places with harsher memories: the labor camp in Budapest where he was enslaved; the roads and fields of Slovakia, where he had witnessed much atrocity and killing; Auschwitz, where most of his family perished; and the bridge, the fateful bridge in Poland."
If they could identify it.
Jason's rail-line research identified two possible routes.
But they had two pieces of good fortune. First, after decades of refusing to discuss the Shoah, one day at dinner Lilly let slip the timing of Shmuel's escape.
Second was Eva Kelenye, a Hungarian Jew that Jay knew from a 1991 trip with his American-born wife. Eva arranged visas, lodging and a driver: another 1991 acquaintance and a hydroelectrical engineer from Ukraine, Volodya. He knew about rivers and bridges — and which route the death train had taken.
Everybody knows, Volodya told Jay.
"In the villages and towns along the way, the people knew which way the Jews went, and their children know now, and grandchildren," Jason says. "They simply knew."
Volodya's knowledge helps them find the steel-girder bridge from which Volodya is sure Shmuel jumped.
Throughout the trip, Jason records video and takes notes that became this book. It's thoughtful, insightful and clearly — at times beautifully — written despite some needlessly fancy words. Chapters begin with relevant excerpts from Jason's poems. Shmuel's Bridge is well-illustrated, but the publisher should have paid for indexing.
Jay's wartime story is scattered throughout. Growing up in extreme poverty, he left Munkács for Budapest, working in a bike shop, learning the welding he figures saved him from deportation to Auschwitz from a slave-labor camp.
He survived exhaustion, near starvation and a terrible beating, then was transferred to a metal factory where, in hellish heat, he and friend Imre Naiman fed heavy scrap into a smelter. Imre got employee papers enabling their escape but left Yehuda/Jay alone on the streets. A year of hiding and narrow escapes culminated in farm labor under a foreman who suspected Yehuda was a Jew, Jason says.
"I was running out of time," Jay says. Saved by the Soviet army's arrival, he joined the army as a translator and fired a submachine gun in combat. At war's end, he fled to avoid being sent to the USSR.
The trip apparently met at least one of Jason's objectives.
Driving from the bridge, Jay tells him: "Volodya says that when we were on the bridge, it got dark and rained, but now look how the sun is out. We can a little be at peace now."
***
Neal Gendler is a Minneapolis writer and editor.
(American Jewish World, May 2022)