By DORIS RUBENSTEIN
What do Hinduism and Kabbala have in common? According to Tamara Nadel, it's all in the dance.
Nadel, a member of our Twin Cities Jewish community and one of the principal dancers of the Ragamala Dance Company, notes that both traditions seek a spiritual connection with the Divine that can be brought closer through dance — be it the highly choreographed movements of traditional Indian dance or the exuberant group dances that are always a part of simchot (joyous occasions), such as weddings and B'nai Mitzva.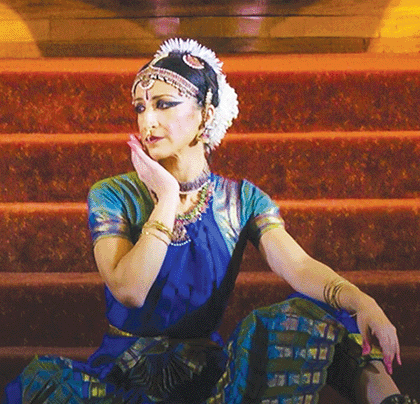 Tamara Nadel left her native New York City (where she took her first dance lessons at the 92nd Street Y) to study religion — with a dance minor — at Macalester College in 1991, and never looked back. It was in her freshman year that she joined a dance history classmate from India to see Ragamala's founding artistic director, Ranee Ramaswamy, perform, and she was hooked.
Nadel immediately started studying with Ramaswamy; but those dance lessons had to be put on hold while she explored her Jewish background in Israel on a junior year abroad program. After a short ulpan (Hebrew study course), she spent two months at Kibbutz Beit HaEmek in the Galilee, and then enrolled at the University of Haifa where she took classes in Hebrew language, Jewishness in American and Israeli literature, and archaeology.
Upon her return to St. Paul, she jumped back into dance classes with Ramaswamy, who quickly offered Nadel a place in the Ragamala Dance Company, which performs the South Indian dance form of Bharatanatyam.
Dancing with the Ragamala Dance Company has taken Nadel to places that expanded her worldview and her appreciation of this unique dance form. Performances have taken her and the Ragamala troupe to venues as varied at the Kennedy Center for the Performing Arts in Washington, D.C., to the Just Festival in Edinburgh, Scotland, to the NYU Center in Abu Dhabi.
It was during a dance tour in Chennai, India, that Nadel was able to connect with members of India's ancient Jewish community.
She recalls how, "20 years ago, I was the recipient of a Jerome Fellowship which gave me time and resources to meet and learn about the Jewish community in Cochin. I wanted to learn more about this 2,500-year-old community, immersed in both cultures. I met a relative of the Jewish wardens of the Cochin Synagogue. She introduced me to them. The family welcomed me to their home for Shabbat and introduced me to Jews in other cities. One Jewish family was the very last one in their town and they were preparing to make aliya."
During that long history, many Sephardic Jews from Spain and Portugal arrived in India, seeking refuge from the Inquisition. Their story inspired Nadel to work with choreographer Ranee Ramaswamy and Jewish musical artists — including Beth El Synagogue's Cantor Audrey Abrams — to create a cross-cultural music and one-woman dance piece, using texts from Sephardic poets of the Golden Age of Spain.
The result was Haven't I Hidden Your Name?, which premiered at Beth El in 2017. The dance attempts to bring the shared Hindu and Jewish goal "to illuminate the universal journey of a human soul longing for transcendence," according to the program's introduction. Nadel recently performed the piece at the Conney Conference on Jewish Arts at the University of Wisconsin-Madison.
It's no wonder that Nadel's contributions to this intercultural/cross-cultural art form have brought her wide recognition. Tamara is a 2006 McKnight Artist Fellow in Dance. She is the recipient of a Jerome Foundation Travel Study Grant, as well as grants from the Minnesota State Arts Board, the Metropolitan Regional Arts Council, Rimon: The Minnesota Jewish Arts Council, and the Howard B. and Ruth F. Brin Jewish Arts Endowment of the Minneapolis Jewish Federation.
In addition, she has served on the City of Minneapolis Arts Commission and on panels for the National Endowment for the Arts, Minnesota State Arts Board and McKnight Foundation, among others. She currently serves on the board of Minnesota Citizens for the Arts.
What's next for Tamara Nadel and Ramagala? With the easing of COVID restrictions, Ramagala will be touring Greater Minnesota this summer under a grant from the Metropolitan Regional Arts Council; first stop, DreamAcres Farm in Wykoff, Minnesota.
And how about Israel? Nadel has ideas.
"I'd love to take Haven't I Hidden Your Name to Israel. I applied to a festival a couple years ago, but wasn't selected. It's one of my dreams!"
(American Jewish World, May 2022)