Reviewed by NEAL GENDLER
Sadie Rosen will never cook lunch in Seattle again.
Fired from the Green Onion, where she was sous-chef — the kitchen's No. 2, in charge when the chef/owner is away — she's been too humiliated to be employable in any respectable area restaurant.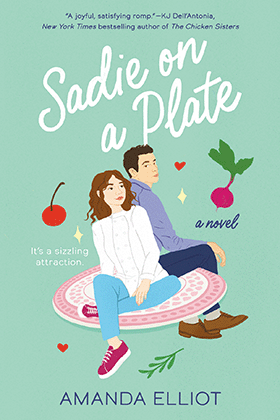 Deep into Sadie on a Plate, we find out why. (A nice Jewish girl did what?)
But it won't matter if she can win Chef Supreme, a grueling national TV competition in which she's surprised to be a contestant.
A top-notch chef now with rock bottom self-esteem, she's 27, about to dress for a temp-agency interview, when her phone rings.
It's Adrianna Rogalsky in New York, calling from Chef Supreme, which author Amanda Elliot said was inspired by her love for the real program, Top Chef.
Sadie is flabbergasted. She'd applied six months ago, sending a video of her cooking matzo ball ramen.
It "looked fantastic," Adrianna says. "We were all drooling."
Being on Chef Supreme is a dream. Just being one of the four finalists attracts investors seeking a chef to open a new restaurant.
She tells Adrianna that she is "inspired by traditional Jewish cuisine," which she'd like to update for broader appeal. In her mind's ear, her dead Grandma Ruth, an ace cook, says: "Pastrami-spiked pork shoulder?"
Interviews and a cooking tryout in New York get her onto the show, which means six weeks under Adrianna's drill-instructor control, living in company quarters with no telephone, internet, outside contact or sightseeing, and cameras present everywhere but the bathroom.
Two months after acceptance, Sadie is being flown to New York — business class. She's next to a handsome, charming guy about her age with hands scarred like hers — chef's hands. He's Luke. They hit it off. Her mind hears Grandma Ruth ask: "Is he Jewish?"
After landing, they pull their suitcases to a speakeasy where he's a regular for irregular food.
The attraction is electric. On the sidewalk before parting, they hold each other close, kissing.
Their attraction will become a distraction at Chef Supreme.
At Chef Supreme House, she meets her 11 competitors. They include four Joes; a young black woman named Nia who has researched all the competitors, their cooking styles and statistical chances of winning; Megan, a lesbian; and Kel, who uses they/them pronouns that become comic.
Last to arrive, to Sadie's shock, is lithe, beautiful Kaitlyn, with whom Sadie worked early in their careers — tolerating each other in a thin bond of exhausting, sweaty toil.
Contestants will cook mostly in a large room containing 12 kitchen setups in two rows facing each other, sharing some appliances. Later they'll cook outdoors for a large, fancy birthday picnic and then take over the kitchens of two top-end restaurants to cook for customers.
Across from Sadie is Bald Joe, who cooks Japanese food.
The chefs have 15 minutes to decide what they're going to make, five minutes to grab ingredients from a pantry and 90 minutes to prepare four plates. Judges eliminate one or two contestants a week. Sadie fears the shame of being the first sent home.
For the first round, Sadie plans cornmeal knishes, "a crisp fried pocket of the smoothest, creamiest potatoes you've ever met," offset by herring.
She returns from the pantry, ingredients in a wire basket, but before cooking starts, Maz, the diminutive, plastered-hair host, announces a surprise: They must trade baskets with the chef across from them. "Oh no," Sadie thinks. "How in all the hells Judaism didn't believe in was I going to make my dish out of miso paste and seaweed and rice?"
Improvising, she survives the first round. And goes on, round after round with her improvisations, emotional roller coaster and disasters: burned scallops, a bowl of herb slurry hitting the floor, most spilling out, and a plate sailing off a table, sending its contents onto an older couple's elegant attire.
Does she win? What's with Luke? Readers will find out.
Funny, mildly feminist and surprisingly engaging, Sadie on a Plate reveals the arduous, exacting tasks of making really good food.
Light as a soufflé, it's delicious.
***
Neal Gendler is a Minneapolis writer and editor.
(American Jewish World, April 2022)