The event will feature entertainment by iLuminate and honor two deserving community members
By ERIN ELLIOTT BRYAN / Community News Editor
The sky's the limit at this year's Sabes JCC Annual Benefit.
That's the theme of the "out-of-this-world event" that will support the programs and services of the JCC. The benefit will feature cocktails, dinner, live and silent auctions, entertainment and fun surprises, as well as honor Mort and Micki Naiman for their years of dedicated community service.
The Sabes JCC anticipates a sell-out crowd for the benefit, which will take place on Thursday, May 9 in the newly renovated North Star Ballroom at the Hyatt Regency in downtown Minneapolis (formerly The Oceanaire restaurant). The event will be the first ever held in the new space and it will be the first to use the Hyatt's new kosher catering service.
Entertainment will be provided by iLuminate: Artist of Light, a theatrical experience that was featured on last year's America's Got Talent. The group recently performed on Broadway and is on tour in Central Asia; this will be its first performance in Minnesota.

American Jewish World is a 'Supernova Supporter'
of the Sabes JCC's 2013 Benefit Fundraiser

"It's going to be an incredible community gathering, both in celebration of the important role that the Sabes JCC plays in our community as well as honoring two very deserving community members, Mort and Micki Naiman," said Tamar Fenton, the Sabes JCC's director of donor relations and special projects. "Not only have they played an instrumental role in the way we are able to provide programs and services to the community, they really set an example for all of us in what it means to be generous of spirit, giving of your time and devoting yourself to the betterment of the community."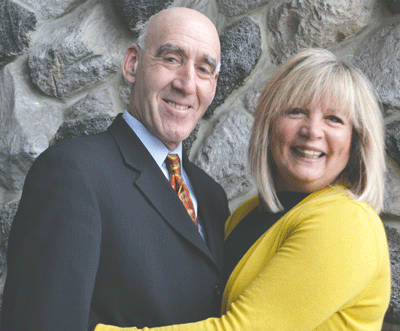 But as children of Holocaust survivors, both Mort and Micki see themselves as "basic folks" who are grateful to the Jewish community and the Sabes JCC. The annual benefit will highlight three of the JCC's program areas that have the biggest impact for the Naimans: senior programming, theater arts and inclusion, which is this year's "fund-a-need" and is supported entirely by community donations.
"This is how we live our lives: Honey, got to go to work today, got to go save the Jews," Mort told the AJW. "Our lives have been enriched by the interactions and the opportunities we've had… That's part of our Jewish life, it's our responsibility."
Mort, who was born in Belgium and grew up in New York and New Jersey, and Micki, who was born in Germany and grew up in Sweden and Minneapolis, first met on a Jewish National Fund mission trip to Israel — celebrating Jerusalem's 3,000th year — in 1996. After a long-distance courtship, Naiman moved to the Twin Cities to take a position as campaign director of the Minneapolis Jewish Federation.
They were married at Temple Israel in Minneapolis and celebrated 15 years of marriage on April 19 — the anniversary of the Warsaw Ghetto uprising.
For Micki, her experience with the Sabes JCC began as a child, just a few years after she came to the United States with her family when she was seven years old. She attended what was previously known as the JCC's Council Camp when she was 10.
"It's where I got my Jewishness, because my parents came with fear and were not feeling safe they could even tell me I was Jewish or what that was," Micki said. "It was my awakening to Judaism and so that's where I started with the JCC."
She went on to be a counselor at Council Camp, as well as at the day camp, and then acted in the JCC's theater productions. Professionally, Micki served as JCC membership director, beginning in 1999, and also took on directing Shalom Minneapolis, which welcomes newcomers to the local community, and all senior programming.
Micki is now retired and volunteers in the JCC's senior congregant dining program.
Mort, who is now the Federation's senior philanthropy officer, has been involved with the Sabes JCC since he arrived in Minneapolis. He is one of the founders of the inclusion program and raises additional money separately as directed gifts for the JCC through the Federation.
"If not for an inclusion coordinator, [the JCC] could not have kids and adults with special needs participating in their programs," Mort said. "I'm right now on a quest to raise $35,000 to get advocates for the summer camp."
Micki lauded her husband for his passion and commitment to the Jewish community.
"I do believe that Mort has brought a uniqueness to this community. He is about uniting community," she said. "I think Mort has a special soul. Mort really believes there's nothing we can't figure out how to fix…I say I'm just flying along, I'm lucky to be part of his life."
"My world is better, my life is better, I do better because of Micki," Mort added. "We're a great team."
And the couple's passion and commitment has been passed on to future generations — to Micki's two sons, Adam and Jason Kapel, Mort's daughter, Marni Noyman, and their six grandchildren.
In an article published on TC Jewfolk, Jason Kapel refers to the dynamic pair as a "force."
"I benefit every day from the love and support Mort and Micki provide me," Kapel wrote. "I benefit from the larger Jewish community they have built and remain active in. And all of you, whether you know it or not, benefit from the time and dedication they put into building our community."
As part of their involvement with the annual benefit, Mort and Micki assembled a committee of 143 people to develop an effective event built around raising funds for the JCC. As the AJW went to press, Mort and Micki had already surpassed their original goal of raising $200,000 and were setting a new goal of $250,000.
But, above all, Mort and Micki want the focus of the annual benefit to be on the work of the Sabes JCC.
"The support for this event has been just unbelievable and it's all about the J, we support the J," Micki said. "And if we were somehow a vehicle for the J having this most successful event, I'm thrilled."
***
The Sabes JCC Annual Benefit will take place 5:30 to 9:30 p.m. Thursday, May 9 in the North Star Ballroom at the Hyatt Regency, 1300 Nicollet Mall, Minneapolis. For tickets and information, visit: www.sabesjcc.org/annual-benefit.php.
The Bidding for Good online auction, featuring travel, dining, entertainment and sports items, opens April 30; visit: www.biddingforgood.com/sabesjcc.
For information about the benefit or for sponsorship opportunities, contact Raleigh Wolpert at 952-381-3429 or: rwolpert@sabesjcc.org.
(American Jewish World, 4.26.13)