MJTC's Handle with Care is like three plays in one
Reviewed by DORIS RUBENSTEIN
Jason Odell Williams' play Handle with Care is about serendipity, coincidence or could it even be "kismet"? No. Handle with Care is about faith, or the lack of it. No. Handle with Care is a love story. Yes. But then again, maybe it's all of the above. Maybe it's three plays! The audience gets them all for the price of one.
Handle with Care, running through May 5 at the Minnesota Jewish Theatre Company's home stage in St. Paul, opens with a shocking blast of uninterrupted and untranslated Hebrew, rebutted by a hilarious pantomime interspersed with some desperate-sounding English. It's an introduction to much of what this play is about: people trying to reach across language and cultural barriers to accomplish a task that has importance for all parties involved, although in different ways.
Young Israeli Ayelet (Miriam Schwartz) and her grandmother "Savta" (Linda Kelsey) are holed up in a cheap motel room (realistically recreated by scenic designer Carl Schoenborn, right down to the plum-colored paint on the wall behind the bed) on Christmas Eve in Goodview, Va. They've been doing a strange, backroads tour of rural eastern Virginia for some reason unknown to Ayelet, but important to her dying grandmother. That's "Play #1."
In "Play #2," on Christmas Day, ditzy DHL truck driver Terrence (in a delightful and frenetic performance by Dustin Bronson) has inadvertently had his truck bearing Savta in her casket stolen. To help him explain this all to the Hebrew-speaking Ayelet, he calls on his childhood friend and the only Jew he knows, Josh (played by MJTC regular Ryan M. Lindberg). Josh is the product of a mixed marriage and, as such, experienced "briss and baptism; confirmation and Bar Mitzva; Rosh Hashana and Christmas." He's a non-believer, or so he believes he is.
These two stories are told in alternating scenes that combine to result in "Play #3," where secrets are discovered, faith is found or recaptured, and long-lost love blossoms in a new generation.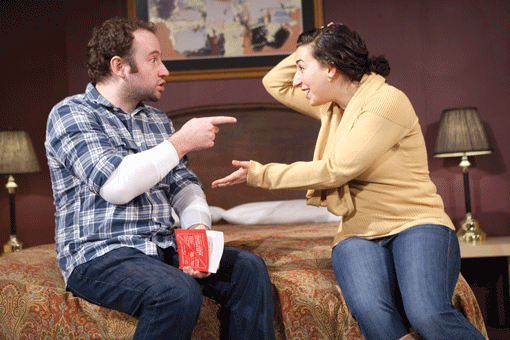 American-born Hebrew-speakers like myself will be entertained and challenged to understand Ayelet's rapid-fire lines throughout her scenes with Terrence and Josh. My monolingual companion found some of Ayelet's longer Hebrew speeches to be tedious, but that was because she was looking forward to the game of charades that always followed them when the guys tried to reply or interpret. Josh's breakthrough impression of actor Owen Wilson brought a huge laugh to the younger members of the audience as much as it created a generational/cultural bridge for the two potential lovers.
Ayelet seems to pick up more English as the play progresses; likewise, the Hebrew that Josh learned in preparation for his haftorah comes back in a big way as he and Ayelet discover their commonalities. I found this a bit unrealistic, but a theatrical necessity of the playwright in order to advance the plot.
I also question the complete lack of grief on Ayelet's part when Savta dies suddenly but peacefully. This is demonstrated by how little she seems to worry about the "misplaced" (that's Terrence's term) casket. She shows no anger or impatience over the fact that Savta's body may be ditched in a snowbank, not to be seen until the spring melt. She seems more concerned about getting something to eat and being a good hostess. Looks like she's got an overdeveloped sense for doing the mitzvah of haknasat orchim (welcoming guests).
Fortunately, this case of misaligned values results in a touching scene that proves the power of faith and tradition to heal and unite; they can make a place as profane as a motel room into sanctified space.
The scenes between the two Hebrew-speakers, Ayelet and Savta, are performed in natural English. Kelsey plays Savta with much energy, despite the fact that she is supposed to be dying. Once her quest is completed, however, it is no surprise that she gives up her life as she gives up her reason for living. But she must die in order for kismet to kick in for her granddaughter. It's a happy sacrifice.
Kudos to Rebecca Shavit-Lonstein on her work as Hebrew coach in this production. She had her work cut out for her.
Handle with Care is partly autobiographical. Williams was born into a completely secular home and then married an Israeli who introduced him to the beauty and fun of Jewish life. The part of Ayelet was written for her and based on her. Handle with Care is fun, whether you're Jewish or secular. Have some fun and see it before it's gone.
***
The Minnesota Jewish Theatre Company (MJTC) closes its 18th season with the regional premiere of Handle with Care by Jason Odell Williams, which runs through May 5 at the Hillcrest Center Theater, 1978 Ford Pkwy., St. Paul. For tickets and information, call 651-647-4315 or visit: www.mnjewishtheatre.org.
(American Jewish World, 4.26.13)