The well-traveled and acclaimed klezmer band returns to Minnesota for shows in Rochester and Minneapolis
By MORDECAI SPECKTOR
Itzhak Perlman, the virtuoso classical violinist from Israel, was featured in the 1995 PBS Great Performances documentary In the Fiddler's House. Perlman was paired with some of the leading exponents of the klezmer revival: Brave Old World, Kapelye, the Klezmer Conservatory Band, the Andy Statman Klezmer Orchestra and The Klezmatics.
"If you have a set melody, you play it from beginning to the end, and that's the end of it," Perlman remarks in the documentary. "But with the Klezmatics, they took the melody and they started to, what do we say, pickle it and pepper it. And I sort of tried myself to give it something that came to me, just absorbing and soaking [in] this kind of music from my childhood. And what came out I wasn't sure that I liked, but I was getting encouragement from everybody, so for me that was a very nice experience."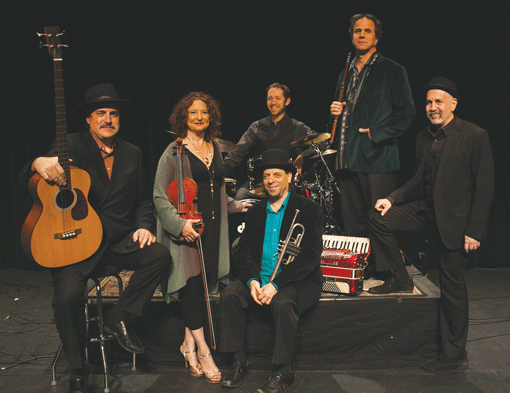 The Klezmatics, now in their 28th year of recording and performing, are still pickling and peppering klezmer tunes. They have put their stamp on Jewish music from the Old World, bringing radical politics and an ethereal soundscape into the mix.
The renowned klezmorim return to Minnesota for a residency in Rochester, in late February, and two shows: March 1 at the Mayo Civic Center's Presentation Hall; and March 2 at the Dakota in Minneapolis.
Lorin Sklamberg, an original member of the group, who is the lead vocalist and also plays accordion, guitar and piano, talked to the AJW last week from his home in New York City.
He and the band's current lineup — Matt Darriau, reeds; Paul Morrissett, bass and tsimbl; Lisa Gutkin, violin; and Richie Barshay, drums — will appear in Minnesota, minus Frank London. The trumpeter will not be on the gigs here.
"Right after we come back from Minneapolis, we will start recording a new CD or album — I don't know what you call it these days," says Sklamberg.
So, at the Minnesota shows, music lovers will hear some of the Klezmatics' "old chestnuts," as Sklamberg puts it, and some of the new material bound for the record.
The album will not have a theme, per se. Sklamberg notes that the new recording is shaping up "rather like Rise Up! " — the group's 2002 album on the Rounder label. "Some dance material, a good number of songs, and some interesting surprises," he sums up what's on tap for the upcoming studio sessions.
Perhaps some tunes in the country-western genre?
"If I told you, they wouldn't be a surprise," he answers.
The group funded the recording and pressing of their last album, Live at Town Hall, which celebrated the group's 25th anniversary, through a Kickstarter-type campaign. They're using the same crowd-funding method for the new album, which will be issued on the group's own label. Album patrons — in a range from $15 to $1,000 — will receive various premiums, from advance CD copies to a VIP listening session with the band of the final mixes. You can find information at: klezmatics.com/about/patrons.
Sklamberg points out that many musicians are using the crowd-funding technique, as the recording industry is not what it was.
"The days of record companies giving you a nice chunk of money to make a recording, those days are pretty much gone," he comments, regarding the appeal to friends for funding the new album. On the plus side, Sklamberg says that it's cheaper to record music these days, with the advent of low-cost digital technology. "It's much more facile to make a CD, and much easier to do it yourself than it used to be."
So, even for an illustrious group like the Klezmatics, winners of a Grammy for the 2006 Wonder Wheel album, which set melodies to some previously unsung Woody Guthrie lyrics, the economics of the music business are problematic.
In Minnesota, in addition to the Rochester and Minneapolis public performances, Sklamberg, Morrissett and Darriau will lead workshops over five days in Rochester-area schools and at the Cannon Falls library, in the run-up to the March 1 Rochester show. Apparently, money for the library workshops and the Rochester "mini-residency" came from Southeastern Minnesota Arts Council grants.
On top of recording and touring, and collaborating with the likes of Itzhak Perlman, Israeli singer Chava Albertstein and playwright Tony Kushner (who wrote song lyrics for the album Possessed), the group was the subject of a 2010 feature-length documentary, The Klezmatics: On Holy Ground, which was directed by Erik Anjou.
"It's interesting to be followed around by a camera for four years," Sklamberg recalls about the making of the film. "It's good for the band, and for Jewish music in general, for people to see what a contemporary working band that plays Jewish music, what they're all about…. I'm glad it got made, and I wish there were more opportunities for people to see it."
In a side project, Sklamberg recorded an album, Saints & Tzadiks, in 2009, with Irish singer Susan McKeown, who also can be heard on the Wonder Wheel album. The album features songs in Yiddish, Gaelic and English.
"We certainly have plans to do another CD," Sklamberg says. "[McKeown] has since moved back to Ireland, so it's a little bit of a challenge for us to get together. But the world is much smaller than it used to be, I mean, with Skype and computer stuff, it's very easy to collaborate with people who live across an ocean."
Apart from his job with the Klezmatics, Sklamberg is the sound archivist at the YIVO Institute for Jewish Research. You can read his blog, and hear old Yiddish and liturgical music, at: yivosounds.com.
Since Sklamberg is the gay member of the Klezmatics, I mentioned during our chat that Minnesota became a marriage equality state last year, and that Gov. Mark Dayton signed the bill into law May 14, before a crowd of thousands gathered in front of the Capitol in St. Paul.
"It's interesting to see how the United States is going in one direction, Russia is going in another direction, in that regard," Sklamberg replies, about legal recognition of GLBT rights. "Very odd. It's kind of exhilarating that this thing is happening in the States; and it's really kind of shocking to see that there are still places, in 2014, where gay rights are going in the other direction. You can never be complacent about these sorts of things. You have to continue to talk about what you believe, if you have the opportunity to do so in a public forum. I think it's important for us to support people's inherent right to be who they are."
As mentioned, the Klezmatics won a Grammy for Wonder Wheel, and they recorded another album of Woody Guthrie lyrics related to Hanuka, Happy Joyous Hanukkah.
Pete Seeger, the famed folksinger who died Jan. 27, was a close friend of Guthrie. Did the Klezmatics ever play with Seeger?
"Oh sure," says Sklamberg. "We've done several shows with him, and we've played at the Clearwater Festival, which he started. We've played there three times — and I think we're playing there a fourth, this summer. Of course, this summer the festival will be pretty much in memory of Pete."
Seeger "quite liked" a song on the Wonder Wheel album, "Gonna Get Through This World," recalls Sklamberg.
"He wrote Lisa [Gutkin], who wrote the music, a letter about the song, and, first of all, how much he liked it, and second, how he thought she could improve it."
***
The Klezmatics will perform 7 p.m. Sunday, March 2 at the Dakota Jazz Club and Restaurant, 1010 Nicollet Mall, Minneapolis. For tickets, call 612-332-1010, or go to: dakotacooks.com. Members of the Klezmatics also will conduct workshops in Rochester and Cannon Falls, and the group will perform 7:30 p.m. Saturday, March 1 at Presentation Hall in the Mayo Civic Center.

(American Jewish World, 2.14.14)