Trumpeter and group co-founder Frank London talks with the Jewish World
By MORDECAI SPECKTOR
The Klezmatics concert in Minneapolis has been rescheduled to Thursday, Oct. 8 — an Oct. 9 date had been advertised previously. It's an important bit of news.
The renowned klezmer band last played in the Twin Cities on March 2, 2014, at the Dakota Jazz Club. This time the show will be at Orchestra Hall (the Minnesota Orchestra will not play).
Prior to last year's Klezmatics show here, the AJW talked with Lorin Sklamberg, the group's co-founder, lead vocalist and accordionist (2-14-14 AJW).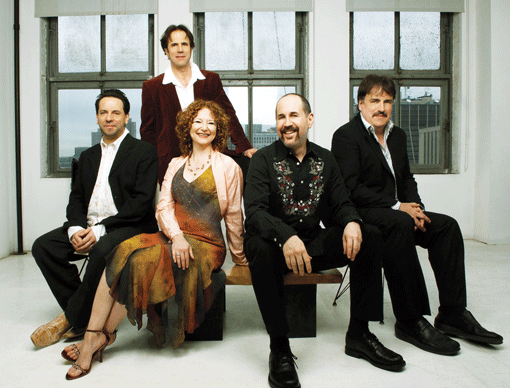 Speaking for the Klezmatics this time around is Frank London, trumpeter and another founding member of the band. He talked by phone with the AJW from New York, after playing the previous weekend at the 75th National Folk Festival, in Greensboro, North Carolina. He performed at the festival with his group, Frank London's Klezmer Brass Allstars.
"The National Folk Festivals are great because they bring together such an amazing cross-section of musicians," he comments. The groups are selected to represent varied musical traditions, which results in a "fun and inspiring" musical smorgasbord, London says.
"It was great, but let's talk Minneapolis," he suggests.
I recall seeing a number of stellar musical acts at Orchestra Hall over the years: Herbie Hancock, Ravi Shankar, Bob Marley, Leonard Cohen and Dizzy Gillespie (on a bill with Earl Hines).
"That's a nice list," says London, who mentions that the Klezmatics have never played the venue.
"We're on the verge of our 30th anniversary together," comments London. "Talk about longevity: 30 years."
The Klezmatics have recorded a new album, which is "all new material, and we're looking forward to playing a lot of that at Orchestra Hall," in addition to "our vintage stuff," London explains.
The new album, which features the core members of the Klezmatics and no guest musicians, likely will be released later this year.
For those unfamiliar with the group, in addition to London and Sklamberg, the Klezmatics lineup includes Matt Darriau, kaval, clarinet and saxophone; Lisa Gutkin, violin and vocals; Paul Morrissett, bass and tsimbl; and Richie Barshay, percussion.
London says the Klezmatics are traveling to Minneapolis on a "two-city tour. We're going to go from you guys up to Winnipeg, up in Canada. They're doing a little KlezFest," which features the Klezmatics. (The Oct. 11 concert at Rady JCC in Winnipeg is sold out).
"Lorin and I will stay on up there and do some teaching and some workshops of klezmer and Yiddish music…. The longer you do it and the more we get to know the stuff, the more I think we're responsible for helping share it, it's part of what we do."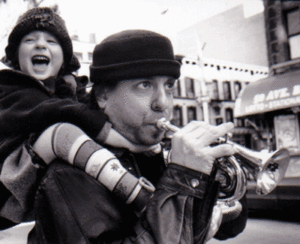 The Grammy-winning Klezmatics were featured on the CBS Sunday Morning show, Sept. 13, in an entertaining feature about teaching Yiddish in Texas. The focus was on Yiddish classes at the University of Texas in Austin, which are taught by Itzik Gottesman. The segment also mentioned Yiddish films, theater and music.
"The language has a melody, the language has a flow to it, and I think people, whether or not they understand every word, they understand the Yiddishkeit [Jewishness], they get the feeling, the tam, the taste, of the Yiddishness in everything we do," London told Sunday Morning, regarding the way audiences receive Klezmatics music.
London, 57, a native New Yorker — "My grandfather had a deli in Brooklyn Heights" — took up trumpet in the fourth grade. His list of compositions for theater and film is too lengthy to list here. Let's say that he's a busy arranger, composer and musician.
Apart from his work with the Klezmatics, London has recorded with a diverse group of musicians: John Zorn, They Might Be Giants, Mel Torme, Iggy Pop, Youssou N'dour, LaMonte Young and LL Cool J. He also has recorded with the late poet Allen Ginsberg.
And he has a full plate these days.
"Gosh, I've been doing so much," London says. "I'm in the middle of writing a Yiddish-Cuban opera; and I'm working on a multimedia dance, poetry, theater piece based on the story of Solomon."
And there's a "huge project" about the world's first Jewish ghetto, in Venice, Italy. "I've been commissioned to create a new project for them, to commemorate this 500th anniversary." Commemorative events have been scheduled for March 2016 (veniceghetto500.org).
"I'm also artistic director of this event called KlezKanada," a one-week annual retreat in Montreal. "We study all aspects of Yiddish language, music and culture."
The list of London projects rolls on. "Lorin and I have a trio called Nigunim [with pianist Uri Caine]," he says, about the ensemble that delves into "Ashkenazi Jewish spiritual music." Nigunim joined with Zion 80, which is led by guitarist Jon Madof and also features London in the lineup, along with other groups, in a Sept. 10 premiere performance of "Masada Book Three — The Book Beriah," a composition by John Zorn, at Roulette in Brooklyn.
When the Klezmatics took the stage at the Dakota last year, an audience member shouted out, before the group played a note: "Where's Frank?"
Come Oct. 8 at Orchestra Hall, Frank London will be onstage with the Klezmatics, "with bells on," he assures the Jewish World.
***
The Klezmatics will perform 8 p.m. Thursday, Oct. 8 at Orchestra Hall, 1111 Nicollet Mall, Minneapolis. For tickets, call 612-371-5656, or go to: minnesotaorchestra.org.
(American Jewish World, 9.25.15)