In the Feb. 27 edition of The New Yorker, Ruth Margalit, a former member of the magazine's editorial staff, profiled Israeli politician Itamar Ben-Gvir, a leader of the Otzma Yehudit (Jewish Power) party.
She noted that Ben-Gvir, 46, "has been convicted on at least eight charges, including supporting a terrorist organization and incitement to racism, compiling a criminal record so long that, when he appeared before a judge, 'we had to change the ink on the printer,' Dvir Kariv, a former official in the Shin Bet intelligence agency, told me. As recently as last October, Netanyahu refused to share a stage with him, or even to be seen with him in photographs. But a series of disappointing elections persuaded Netanyahu to change his mind."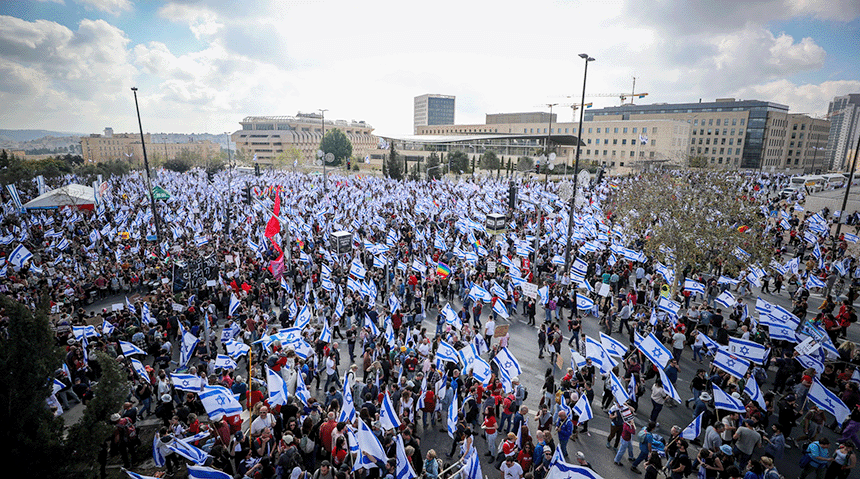 Margalit, who writes from Tel Aviv, described how Ben-Gvir has adjusted his extremist ideology in recent years in order to insinuate himself into what passes for legitimate politics in Netanyahu's new governing coalition.
She explained: "Most Israelis first heard of Itamar Ben-Gvir in the fall of 1995 — a tense time in Israeli history. Even as suicide bombers struck with alarming frequency, Prime Minister Yitzhak Rabin signed a historic peace accord with Palestinian leaders. But the deal conceded tracts of Israeli-occupied land in the West Bank, which the right wing considered a betrayal. Protests grew violent. On October 11th, a 19-year-old Ben-Gvir appeared on television, wearing a pale-blue T-shirt, with his arm in a sling. He was holding a Cadillac emblem that had been ripped from the Prime Minister's car. 'Just like we got to this emblem, we can get to Rabin,' he said. Three weeks later, a right-wing law student named Yigal Amir approached Rabin at a peace demonstration in Tel Aviv and shot him twice. Rabin died soon afterward."
The ambitious young Ben-Gvir was a disciple of the late racist Rabbi Meir Kahane, who advocated for expelling all Palestinians from Greater Israel, the West Bank and East Jerusalem. As a teenager, Ben-Gvir "became a fixture at Kahane's Jewish Idea Yeshiva, in Jerusalem," according to Margalit.
In December, Margalit flew to Europe to meet Gilad Sade, "who was raised by Tiran Pollak, Kahane's right-hand man, and served for years as one of Ben-Gvir's closest confidants."
Margalit asked Sade how long he had known Ben-Gvir. "'Since I can remember,' he said. 'He was like an older brother to me.' Ben-Gvir was also his boss. He used to pay Sade and other teen-age boys about 60 dollars for a full night of spray-painting slogans. Sade said that he also encouraged such extracurricular 'activities' as slashing car tires and smashing windshields. (Ben-Gvir denies this.) Most of the action took place in Arab neighborhoods in East Jerusalem and Hebron, but occasionally the boys rented a car and went from city to city on a binge of vandalism."
There's much more about Ben-Gvir in Margalit's story. Some of her informants say that Ben-Gvir has worked as an informant for Shin Bet, Israel's domestic security agency. In any case, this unsavory character was picked by Netanyahu to serve as his minister of national security.
Regarding Ben-Gvir's important post in Israel's 37th government, Margalit wrote: "As the new minister in charge of supervising Israel's police force, Ben-Gvir oversees a special-operations unit tasked with breaking up armed riots. For many Israelis, this is alarming. In one poll, 46 per cent of respondents described him as 'unworthy' of such a sensitive post. But Ben-Gvir's performance in last year's election was strong enough that Netanyahu granted him an expanded portfolio, which includes broad responsibility for 'national security' and authority over border-patrol units in the West Bank — what the departing defense minister, Benny Gantz, called a 'private army.'"
The preceding is one aspect of the alarming developments in Israel since Benjamin Netanyahu forged a new ruling coalition. There has been an upsurge of violence in Israel and in the Palestinian Territories this year, including terrorist attacks against Jews in East Jerusalem and the West Bank. These attacks were followed by bloody Israeli military raids against armed militants in places like Nablus, where 11 Palestinians were killed and dozens were injured by live rifle fire on Feb. 22. The bloodbath in Nablus occurred about a month after a similar Israeli raid in the Jenin refugee camp that killed 10 Palestinians.
All of this violence is taking place amid massive protests against the government's proposal for "judicial reform," which critics say would spell the death of an independent judiciary. Netanyahu — currently on trial in the Jerusalem District Court on criminal charges of bribery, fraud and breach of trust — seems to be modeling his "reforms" on the autocratic government of Hungary, where Prime Minister Viktor Orbán has consolidated his hold on all branches of government and gained control of mainstream media.
In response to Netanyahu's agenda, Israelis have been going into the streets for the past two months in massive protests, hundreds of thousands of citizens standing against these government policies.
And the organized Jewish community in this country, which rarely publicly gainsays Israeli government policy, has responded to the seismic wave of protests. Recent emails from both the St. Paul Jewish Federation and the Minneapolis Jewish Federation have expressed concern about the Israeli government's plan to hobble the judiciary.
"I have a confession to make," James Cohen, CEO of the Minneapolis Jewish Federation, wrote in a Feb. 24 email. "I have drafted and erased the text of this message many times. I am cognizant of the fact that the issues under discussion in Israel are complex and that tensions in many quarters are running high. And as I have mentioned in previous communications, Minneapolis Jewish Federation prides itself on being apolitical, open for participation by all Jews and all those who love Israel. It is precisely because of that love for Israel and for a desire that all voices remain heard in the Jewish state that I stray gingerly into the conversation."
Cohen noted that the Jewish Federations of North America (JFNA) recently published an open letter to "Prime Minister Netanyahu and Leader of the Opposition, [Yair] Lapid, urging consideration of President Herzog's proposals on reaching a compromise settlement on many of the debates currently raging in Israel. … Prime Minister Netanyahu responded, saying he was open to negotiation, and Mr. Lapid indicated that he agreed with the President's proposals.
"Over the course of the American experiment, we, as American Jews, have witnessed first-hand threats to our democratic institutions and principles, as well as debates as to how to deal with them. Though people in glass houses shouldn't throw stones, our past may be used as Israel's prologue. To speak up about threats to democracy in a homeland we love and an ally we respect, in my view, is not out of bounds — particularly since some current laws of the land, which could be overturned by a simple majority in the Knesset, have a direct impact on Jews in the diaspora. It is in that spirit that JFNA published its letter, and it is in that spirit that Minneapolis Jewish Federation supports it fully. Furthermore, it is in that spirit that we support the civil liberties of every brother and sister in Israel regardless of how they identify — by religious affiliation, gender, or orientation."
The email from the St. Paul Jewish Federation expressed similar sentiments.
The American Jewish World will continue to provide news and commentary about the upheaval in Israel. Of course, Jews in this country are also concerned about maintaining democracy amid myriad threats to its continuance. Loudmouths on the right wing of the political spectrum are proposing civil war or a "national divorce." Endemic, long-running social and environmental problems in this country give all of us pause.
There's much to discuss when we gather soon for our family seders. The editors and staff of the American Jewish World wish all of our readers a happy and meaningful Passover.
— Mordecai Specktor / editor [at] ajwnews [dot] com
(American Jewish World, March 2023)