By MORDECAI SPECKTOR
In a 2011 documentary, Sam Rafowitz: Remaking a Life, the eponymous subject comments: "About 15 and a half, they took me already. I went to work and I never came home, never came home. They loaded us up on big trucks and we didn't know where we were going. We found out that this place was a concentration camp — Majdanek, Lublin."
Remembrance
The young Jewish native of Warsaw, Poland, descended into the unimaginable horrors of the Shoah.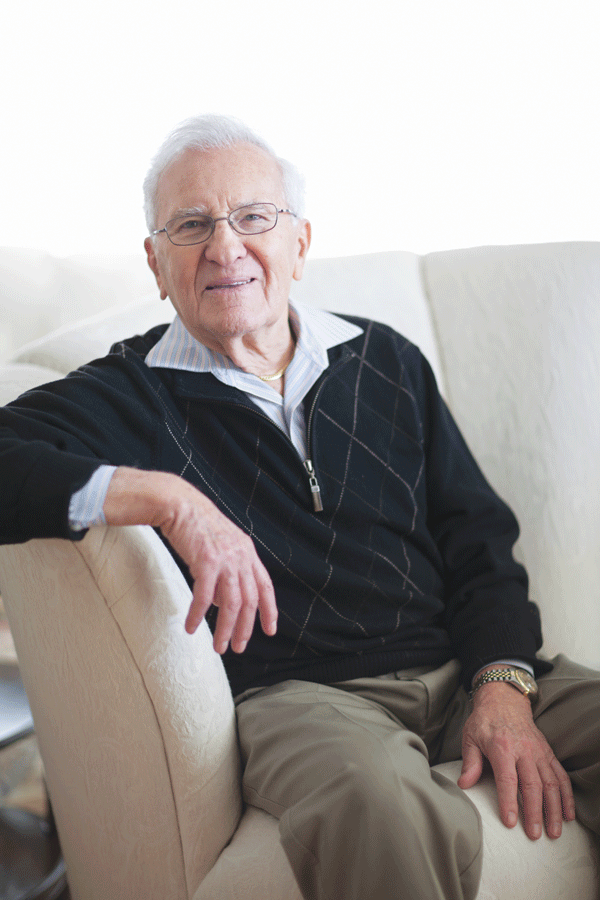 In a story published in the Jewish World's Sept. 2, 2011, edition, I wrote: "Majdanek served the Nazi regime as a forced labor, concentration and extermination camp. More than 360,000 souls, mostly Jews, were murdered at Majdanek. Rafowitz, who was pressed into slave labor, somehow survived Majdanek, and four other concentration camps — Auschwitz (1943-1945), Buna, Dora and Bergen-Belsen.
"On April 15, 1945, British soldiers liberated the tortured inmates of Bergen-Belsen, including Rafowitz, who was down to 78 pounds."
After the war, Rafowitz met Cyla Bonk, a survivor from Vilnius, Lithuania, in the displaced persons (DP) camp at Bergen-Belsen. They married and then traveled across Europe with a Yiddish theater troupe — Cyla was a singer and actress. They had their first child, Ivan, and the family came to America, settling in St. Paul, November 1949.
Cyla Rafowitz died in 2007, And now Sam, a kindly and soft-spoken man, is gone, too. The survivor who created a successful apparel business in Minneapolis, died May 29, from congestive heart failure. He was 95.
Ivan Rafowitz told the Jewish World that his father had been living independently prior to breaking his hip in February. He was in the hospital and then in rehab, prior to moving into an assisted-living facility on March 16.
Because of COVID-19 restrictions, Sam, a person who thrived on human companionship, wasn't able to see his family members and friends.
"I didn't see him for two months," Ivan remarked.
(In the interest of full disclosure, Ivan Rafowitz is a partner in Minnesota Jewish Media, LLC, the parent company of the American Jewish World; he also is a member of the company's board of governors.)
"The Nazis didn't get him and COVID didn't get him," his son commented.
In the documentary Remaking a Life, (which can be viewed at: bit.ly/sam-rafowitz), Sam Rafowitz reflects on his choice to come to the United States. "[President Harry] Truman brought me in," he says. "I think, I'm glad I'm here. I'm a free person and on my mind right away was to get a job, to get to work because I have a wife and a child. And I got a job."
Sam worked in a factory sewing jackets, employing a skill he picked up in Paris after the war. In the evenings, he and his brother-in-law, Chaim Bonk, sewed caps. They got their first order from Dayton's, the famed Twin Cities department store company. That was the birth of Northern Cap Manufacturing.
Ivan recalled that his father was a "very smart guy… obviously, his education was cut short" in Poland. He had a "charismatic personality" that he parlayed into his role as a "super salesman."
"He was a good judge of people," Ivan said. "He had a very positive outlook… He told me, 'I didn't look back.'"
I recall a visit to Northern Cap's large warehouse in South Minneapolis many years ago. Sam gave me a cap, a black wool Ivy. It was a little tight, so Sam went off to stretch it. I still have the cap.
In 2004, Northern Cap took on private equity partners. In 2008, the company was acquired by Isotoner. Sons Ivan and Ken had come into the business some years earlier; and Sam continued as a salesman for the company, retiring in 2010.
Ivan Rafowitz mentioned that his parents were open to questions about their experiences in the Holocaust. In 1996, the family participated in the March of the Living, which takes young Jews to Auschwitz in Poland and then to Israel. In 2010, Sam Rafowitz returned to the Auschwitz concentration camp, along with Ivan, his daughter-in-law Tina and his grandchildren, Adam and Mia.
In my 2011 article about the Sam Rafowitz documentary — which was written and directed by Maxine W. Davis, and produced by sons Ivan and Ken — I quoted Sam's granddaughter, Mia Rafowitz.
As the credits roll, Mia says of her zaide, "I think his best feature is his positive attitude toward life — everything he's been through, how he can still smile and be so happy."
Sam Rafowitz was preceded in death by his parents, Chava and Kesel Rafowitz; wife, Cyla; daughter, Charlene; sister, Helen; sister- in -law, Idelle Bonk; brothers-in-law, Max Schwartz and Chaim Bonk; and many others killed in the Holocaust. He is survived by son, Ivan, and daughter-in-law Tina; son, Ken Rafowitz, and life partner, Dan Porter; grandchildren, Adam and Mia Rafowitz; many nieces, nephews, great-nieces and great-nephews.
(American Jewish World, July 2020)