Reviewed by NEAL GENDLER
Combining a desire for preservation with improvisation, and at great risk, Ilona Kellner created what may be the world's least likely recipe cards: handwritten on the backs of munitions labels.
The recipes — more than 600 — came from Kellner and other women in Auschwitz and a German munitions plant near Kassel.
"Writing recipes was a form of resistance by my mother," says local author Eva Moreimi, Kellner's Czech-born daughter. "It gave her hope and a sense of dignity."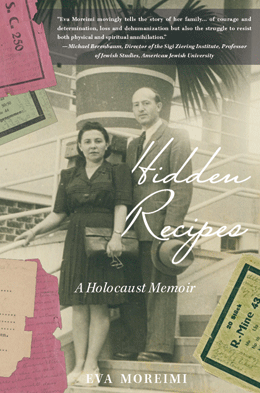 Moreimi's slender Hidden Recipes tells of her parents' Shoah experiences and shows recipes as written on various scrap documents and labels showing type, size and number of munitions.
Six dessert recipes are published — with photos — for reader use, among them Linzer cookies, sour cherry cake and chocolate almond torte.
Moreimi's book primarily is about her mother, called Ica (pronounced Itza), and more briefly of Ica's husband, Ernö Kaufmann.
Ernö was among thousands of Jewish men Hungary conscripted into labor battalions. His wife and daughter were killed at Auschwitz.
Ica's hope, and luck, kept her alive. Born in 1912 in what soon became Czechoslovakia, she and younger sister Vera (Babi) were daughters of a dealer in textiles, shoes, clothes and coffins. The family also spoke German and Hungarian.
Ernö's father sold textiles, shoes and children's clothes in a nearby city. The fathers were friendly, sometimes traveling together on business.
In 1938, Hungary annexed the southern part of Slovakia, where both families lived. German ally Hungary passed laws restricting Jews and confiscated their businesses. The fascist Arrow Cross harassed and killed Jews — most notoriously in groups shot along the Danube River.
Hungary's peace overtures led Germany to invade, in March 1944. On May 8, the Kellners were ordered into a ghetto. Ica was 31, Babi 16. In one of several coincidences, Ica there noticed a pretty blond child, Marika, Ernö's daughter, and met his wife, Irenke.
In mid-June 1944, the ghetto Jews were shipped to Auschwitz-Birkenau. The "selection" platform was the last time Ica and Babi saw their parents.
The sisters' biggest stroke of luck occurred outside the gas chamber, standing "the remainder of the day and throughout the night" awaiting death. Then the Nazis ran out of Zyklon B, the poison gas used in the death chambers.
Inadvertently spared, the sisters were put on a train taking 1,000 Hungarian women to slave labor in the subterranean munitions factory, where workers died from fumes. Barracks were an hour and a half walk away.
The near-starving women talked about food, discussing recipes. Ica wanted them preserved, so she stole a pencil stub and scrap paper, wrote what she heard and hid the papers.
In 1945, surviving a death march, Ica was freed by the U.S. Army. Ernö had fled his labor unit with a fellow worker. The next day, Hungarian soldiers killed the rest of the unit.
Ica, Babi and Ernö returned to empty homes and went back into business.
Ica and Ernö, now using the last name Kalina, met after the war. "One day, Ica walked into Ernö's store. After he met her, he knew he wanted to marry her and start a new life with her," Moreimi says. After several meetings over a few months, and two proposals, she agreed.
They combined their businesses, which were seized in 1950 by the Communist government. Ernö worked as a hospital bookkeeper. Ica managed a florist shop. Moreimi left for Britain in 1969, then went on to Cleveland. In 1971 her parents joined her, becoming Elena and Ernest.
Hidden Recipes is a charming story with photos of families, Ica's prisoner-number patch, a leather charm, and her button as a translator and messenger in the munitions plant, a job she got because of her perfect High German.
"My parents are no longer alive," Moreimi says, "and now it is my responsibility to continue to tell their story."
***
Neal Gendler is a Minneapolis writer and editor.
(American Jewish World, Feb. 2020)