Reviewed by Neal Gendler
Ethan Michaeli takes us on a series of jaunts around Israel, his keen observations and attention to everyday people creating a picture of the place and its inhabitants' lives far more comprehensive than in conflict-focused news reports.
"My goal was to document Israel at this crucial historical moment, and so I kept my literary lens at street level, letting conversations unspool," he says.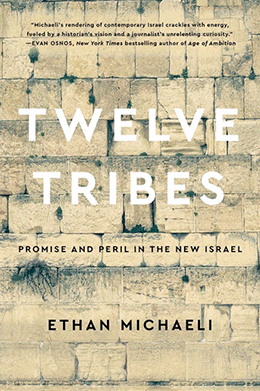 His Hebrew fluency and "tribal" neutrality as an American solicited candor in hundreds of interviews of Jews, Arabs and even the Black American immigrants calling themselves Hebrew Israelites.
The result is a sort of date-free traveler's diary, starting as he and brother Gabi, an Israeli lawyer 17 years older, visit religious sites, adding just enough explanation to teach the land's history.
This diary includes what's missing in a bus tour: a view of daily life from Israelis as diverse as waitresses, businessmen, transit riders and taxi drivers.
Michaeli shows people doing their best in a small, crowded land with low wages, scarce and costly housing, political quarreling, ethnic differences, strong national purpose and — little mentioned — the constant if somewhat subliminal background of neighbors trying to kill you just because you're there.
Gliding seamlessly among places and topics, he describes street scenes, people and their attire, social groupings, the countryside, and cultural and historical sites and who's at them.
Twelve Tribes is a joy to read, as breezy as a conversation. Readers familiar with Israel will smile as Michaeli chooses just the right things to notice and words to describe them.
For example, he travels into south Tel Aviv, a poorer area of "boxy, low-rise concrete buildings from the 1950s and 1960s, well-worn apartment blocks interconnected by webs of clotheslines."
A particularly meaningful insight comes from the story of his parents, Hungarian Shoah survivors who arrived in 1949 at Kibbutz Ma'agan, where Gabi was born and where "all the men wanted to be farmers, if only to make a defiant statement about Jewish determination to plant themselves there for good."
But farming wasn't for his parents. After four years, they left Ma'agan. In 1963, they came to Rochester, N.Y., where father Avi earned an engineering degree, mother Chava taught Hebrew, becoming a principal, and Ethan and younger brother Dani were born. They spoke Hebrew at home.
Ethan was a few months old when Gabi returned to Israel for army service. The parents divorced when Ethan was 12, and after 30 years in America, Chava returned to Israel, living on Gabi's street in Givatayim, a left-wing city of 60,000 bordering Tel Aviv.
Twelve Tribes is a product of Michaeli's four extended trips to Israel, from 2014 to 2018.
The title, he says, uses the biblical Jewish people's 12 tribes as "a good metaphor for the fractious relations among Israel's different sectors," religious, ethnic and political.
The book is a charming ramble, an overview broad but seldom deep, sometimes disappointingly.
For example, he meets with Benjamin "Benny" Brown, whom Michaeli calls "one of the world's foremost academic experts on Haredim."
I'd hoped for an analysis of the black-clad, fervent believers' moves into the economy and army and any effect on secular Israelis' weariness of bearing most of Israel's defense and financial burdens. Alas, it mostly was about haredi history and efforts to maintain solidarity, Brown's famous book on the Chazon Ish, and a tour of Israel's national library.
The Ethiopian exodus is told poignantly but briefly. Michaeli meets a star Ethiopian-Israeli medical graduate getting a doctorate in epidemiology. His father, a community leader and teacher in Ethiopia imprisoned for helping Jews emigrate, now is a respected teacher and radio personality. I had hoped to hear ordinary Ethiopian Israelis talk about their personal and communal situations.
Most of the book pays little direct attention to the Israeli control of Judea and Samaria that so dominates Western thinking about Israel but is secondary to Israelis' daily concerns.
Michaeli interviews prominent Palestinian Arabs, seeming to endorse their views that Israel is unwilling to create the Oslo Accords' envisioned two states. Evidently, but readers need to remember Arab rejection of all compromise proposals since 1937.
He approvingly quotes soft-spoken Palestinian Arabs who say that Israel's economic policies encumber their people's progress but also criticize the Palestinian Authority for corruption, misplaced priorities and inadequate economic planning.
Michaeli's quoting of Issa Amro, "an independent Palestinian activist" for nonviolent protest, is disturbing.
Michaeli writes: "Issa understood that the imposition of multiple checkpoints, which caused unpredictable delays, requiring people to pass through metal detectors and other inspections, was a policy designed to humiliate and provoke violence."
Does "Issa understood" mean Michaeli is stating Amro's opinion or saying it's fact? I thought checkpoints and searches for weapons — which can be humiliating — were intended to prevent terrorist attacks inside Israel, but perhaps I'm just naïve.
Throughout, Michaeli notes Israelis' great diversity, quoting former President Reuven Rivlin's hope for coexistence in "Israeliness." Michaeli sees that happening with food, an Israeli cuisine evolving from the mixture of traditional recipes with local ingredients.
So, too, it appears, with proximity and intermarriage making Israelis' tribal borders porous, interactions "can yield results as often sweet as bitter."
***
Neal Gendler is a Minneapolis writer and editor.
(American Jewish World, Jan. 2022)