In late December, the No. 1 film worldwide streaming on Netflix was the social-political satire Don't Look Up, directed by Adam McKay. The story concerns the discovery by an astronomy grad student, Kate Dibiasky (Jennifer Lawrence), of a comet on a collision course with planet Earth. She contacts her Ph.D. adviser, Dr. Randall Mindy (Leonardo DiCaprio), who confirms her startling find — the large heavenly body measuring about six miles across will hit in some six months.
Kate and Dr. Mindy raise an alarm, and soon they're waiting outside the Oval Office. However, President Orlean (Meryl Streep) and her obnoxious chief of staff and son, Jason (Jonah Hill), have other pressing concerns: There's a burgeoning sex scandal with a prospective Supreme Court nominee, and the midterms are coming in three weeks. The meeting about the looming destruction of the planet will have to wait for a few hours.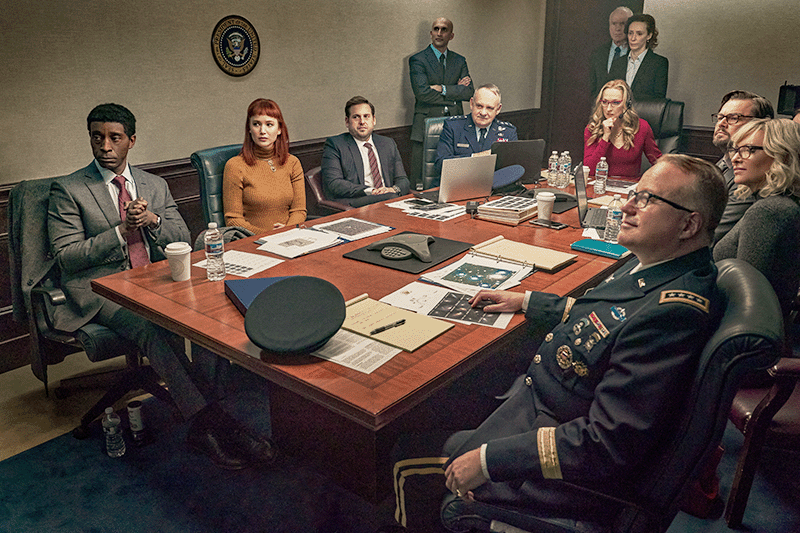 When they finally get their 20 minutes with the president, Dr. Mindy tells her that the comet will have the impact of "a billion Hiroshima bombs."
"Madam President, this comet is what we call a planet killer," explains Dr. Teddy Oglethorpe (Rob Morgan), head of NASA's Planetary Defense Coordination Office (it's a real thing).
But the president, a Trump-like narcissist, and her idiot son decide they will "sit tight and assess."
This tepid response freaks out Dr. Mindy and Kate, who go to the press. We are treated to their appearance on a network news/variety show, where the emphasis is on making the news "fun." This poses a challenge to the scientists bringing news about the end of the world.
The TV hosts, played by Cate Blanchett and Tyler Perry, are more interested in the breakup of a celebrity couple, Riley Bina (Ariana Grande) and DJ Chello (rapper Kid Cudi). The grim news being delivered by the scientists does not suit the tone of the morning show — the hosts are especially taken aback by Dibiasky, who becomes visibly upset on the show.
"Are we not being clear?" asks an exasperated Dibiasky. "We're trying to tell you that the entire planet is about to be destroyed."
And the mainstream press is no better. A fictional stand-in for the New York Times runs the comet story but finds that it gains little traction on social media, so it loses interest in Comet Dibiasky, as the planet-killing space boulder is called. (It's just a movie, folks.)
This rough account of the movie, so far, sounds grim; but I thought it was hilarious. I'm a fan of this kind of satire, and the film evokes other sharp political satires, especially Stanley Kubrick's 1964 masterpiece Dr. Strangelove or: How I Learned to Stop Worrying and Love the Bomb, which mines a rich comedic vein in a potential nuclear war between the U.S. and the Soviet Union.
Don't Look Up also has echoes of the 2006 Mike Judge film Idiocracy, in which a Pentagon experiment in suspended animation goes awry and the two human subjects awake 500 years in the future, where humans have become abysmally stupid and an energy drink corporation has bought the U.S. government.
But mainly Don't Look Up has something to say about the state of U.S. society and governance in the wake of the Trump moment, and regarding our current predicament that finds one major political party advocating against science (COVID-19 vaccinations and encroaching climate change) and for an authoritarian political order in place of our electoral democracy.
At this writing, we are one year from the failed coup d'etat, the MAGA mob's storming of the U.S. Capitol on Jan. 6, as Congress was certifying the Electoral College votes. A right-wing faction was energized and emboldened during the Trump administration, and its problematic mentality is shared by a number of members of Congress that continually agitate in support of the Jan. 6 conspirators and criminals. Thus far, there have been hundreds of indictments and several convictions of members of the mob that stormed the Capitol and fought with Capitol Police officers.
What's needed in order to protect American democracy is to hold the ringleaders to account. Former Pres. Trump spoke at a rally on Jan. 6 and called on his followers to "fight like hell" to oppose what he claims was a "rigged and stolen" election and to march to the Capitol. (He lied when he said that he would be with him. He watched the mob violence on TV from the White House — for three hours.) In fact, there is no evidence of significant voter fraud in the 2020 elections, and Trump lost to Joe Biden by more than seven million votes.
The Jan. 6 conspirators must be brought to justice or we can expect more political violence. The Republican Party has been hard at work trying to subvert election systems at the state and county levels; they are determined to have their partisans in positions to overrule the popular vote.
In the way of an upside to the dire political situation, the New York Times reported on Jan. 3 that justice might finally be served:
The House committee investigating the Jan. 6 attack on the Capitol is in the early stages of considering whether to make criminal referrals to the Justice Department that would urge prosecuting former President Donald J. Trump or his allies.
That's not the primary mission of the committee, which is planning to write a comprehensive report about what led to the violence on Jan. 6 while making recommendations to try to avoid anything like it happening again. But as the committee and its dozens of investigators issue subpoenas for documents, phone records and bank records, the panel is closely looking for evidence of criminality that the Justice Department might not have unearthed.
The Times report adds:
Investigators are looking into whether a range of crimes were committed, including whether there was wire fraud by Republicans who raised millions of dollars by promoting assertions that the 2020 presidential election was stolen, despite knowing the claims were not true. As investigators scrutinize these fund-raising efforts, they are examining whether any campaign finance laws or regulations governing how nonprofits may spend their money were broken.
The committee is also examining whether Mr. Trump and his allies obstructed Congress by trying to stop the certification of electoral votes. Representative Liz Cheney, Republican of Wyoming and the vice chairwoman of the committee, has suggested that Mr. Trump could have violated "through action or inaction" a previously obscure obstruction charge that federal prosecutors have been using to pursue rioters at the Capitol on Jan. 6: the disruption of Congress's duty to certify the final stage of a presidential election.
Political observers and scholars have issued warning over recent years that democracy in this country could take a turn to authoritarianism. Republican Party politics for the past 40 years have articulated an authoritarian viewpoint that carries a strong scent of bigotry and racism. Trump, who might or might not be a presidential candidate in 2024, is still the de facto GOP leader, and he exerts a toxic overall influence on U.S. politics. A cohort of truly demented — and antisemitic — politicians, including Reps. Marjorie Taylor Greene, Lauren Boebert and Paul Gosar, pay fealty to Trump. They parrot his Goebbels-like "big lie" about the "stolen" 2020 election and take every opportunity to deride sane public health measures in the midst of rising infections from COVID-19 and its variants.
(MORE PLOT SPOILERS) The movie Don't Look Up is seen by many as an allegory of the climate crisis: We face an existential ecological catastrophe, but nobody is overly concerned as far as doing anything about it. The graduate student and the astronomy professor are trying to rouse the government and the public about the comet hurtling at the planet; however, the president is in thrall to Dr. Peter Isherwell (Mark Rylance), a billionaire cell phone mogul and her biggest political donor.
Isherwell has the ear of the president and imposes his plan to break up the comet into "30 smaller meteoroids" and mine them for rare minerals worth "almost 140 trillion dollars." He represents the tech gods of Silicon Valley and elsewhere: Zuckerberg, Bezos, Musk, et al., who are guiding capitalism to a brave new future.
There's been a fascinating back and forth about Don't Look Up in the press and on social media. I'm in the camp that finds it funny and biting in its critique. You can make up your own mind.
Mordecai Specktor / editor [at] ajwnews [dot] com