By DORIS RUBENSTEIN
It's a challenge for any new rabbi to take over from the "founding rabbi" of an established congregation. It's a challenge for any congregation to find the rabbi who can take on that challenge successfully.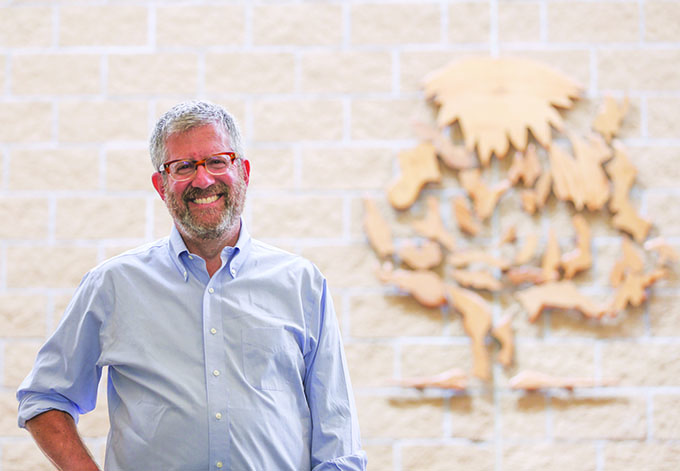 For Beth Jacob Congregation in Mendota Heights, the membership was nearly 100 percent sure that, after two rounds of grueling interviews and guest sermons, they'd found the right rabbi to take over the pulpit after the retirement of Rabbi Morris Allen, who had been on the bima since the shul's creation. His name is Rabbi Adam Rubin.
Rubin was born and raised in Southern California. His journey to Minnesota has been along a long and winding road. His family was unaffiliated with any synagogue until it came time for Bar Mitzva preparation for their oldest son, Adam, and they chose a Reform congregation for that milestone.
It was a good choice, for the scholarship committee later chose to send him to the Reform movement's Camp Swig in Northern California one summer.
"That's where I got my real first taste of Judaism," Rubin recalled.
Clearly, he liked that flavor, because after graduating from the University of California-Berkeley, with a degree in American and European history, he spent two years at the Pardes Institute of Jewish Studies in Israel studying Jewish classical texts.
"I wouldn't have gone to Israel if it hadn't been for camp," he said. "It made me want to deepen my Jewish roots."
The next step was a Ph.D. in modern Jewish history at UCLA, with a dissertation on "Development of Modern Hebrew Language and Culture." This was followed by a postdoctoral fellowship at the University of Washington in Seattle. Little did he know that he'd eventually end up at a congregation with a disproportionate number of academics as members.
Rubin returned to Southern California and taught in the Jewish studies department at the University of Southern California and at the Los Angeles branch of Hebrew Union College.
However, Rubin was discomfited by the academic life. "I love being with people and wanted to be actively and directly involved in the Jewish community," Rubin said.
By 2010, already married to Judith Schleyer — a French Jew with an American mom — he decided to start rabbinical school at American Jewish University's Ziegler School of Rabbinic Studies, a Conservative seminary.
Smicha, rabbinic ordination, followed in 2014. He returned to Seattle for an assistant rabbi position and then filled the senior rabbi slot at Beth Tikvah Congregation, in suburban Vancouver, British Columbia.
With a desire to be in a larger Jewish community in which to raise their children, Elior and Na'amah, the Rubins took the chance of moving to what others consider "flyover territory." It was worth the risk.
Rabbi Rubin, 55, jokingly admitted, "My knowledge about Minnesota comes primarily from popular culture — A Prairie Home Companion, the films A Serious Man and Fargo."
But now he is a fan.
"The four of us have been struck by the beauty of the area — the lushness of the trees is remarkable… It's hard for me to believe that in six months, all the green will be gone and the earth will be covered in snow. I've been assured by numerous sources that it will indeed happen."
All joking aside, Rabbi Rubin has an ambitious agenda for his tenure at Beth Jacob: first, get the congregation through this emergency and maintain its vitality during this pandemic; next, build on the shul's legacy as a center of learning, community building and egalitarian-participatory culture; and finally, make Beth Jacob into a dynamic learning center for the broader Jewish community.
Rubin has wasted no time in becoming involved in programs and institutions outside of Beth Jacob. He is already on the advisory board of the Jewish studies department at the University of Minnesota.
And he is determined to strengthen the separate movements of Judaism in Minnesota through participation in the Minnesota Rabbinical Association.
He's off to a good start and appreciates it. "It's been mostly wonderful, but not always easy [to make the move]," Rubin said. "We're excited about our new adventure and deeply grateful for the warmth of the Beth Jacob Congregation welcome."