By ELANA WARREN / Assistant Editor
"I enjoy every minute of life," Dr. Robert O. Fisch told the Minnesota Daily in 2000. "I enjoy putting a potato in a microwave. That to me is a great deal of joy. For you it's nothing, but I appreciate the gift of life."
Fisch died at his Minneapolis home on June 12, his 97th birthday. He appreciated the gift of life because Fisch, born in Budapest, Hungary, survived the Holocaust and then the Hungarian Revolution.
Remembrance
But he was not just a victim. After his liberation from an Austrian concentration camp, Fisch returned to Budapest and earned a medical degree. There, he refused to join the Communist party at harm to his medical practice and participated in the Hungarian Revolution of 1956, providing medical care for Russians and Hungarians alike.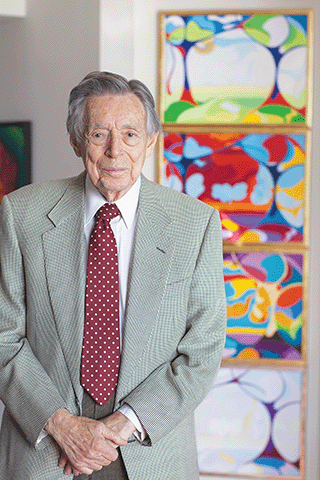 As Fisch wrote in the introduction of his book Fisch Stories: Reflections on Life, Liberty and the Pursuit of Happiness, he had "been a Jew during Fascism, a bourgeois under Communism, a rebel defeated in an uprising, a refugee among the free, and a have-not amid plenty."
For his actions against Communism, the Hungarian government awarded Fisch a medal in 1995 and a knighthood in 2000. In 2019, he earned the Knight's Cross of the Hungarian Order of Merit for his work in Holocaust education.
According to the Minnesota Daily, Fisch at first kept his memories of the Holocaust to himself, but at one point was speaking to school children once a week.
"This gives me the greatest pleasure, to have an impact on young people," Fisch told the Daily. "It's not about my story, but what they could learn from my story. In order to have respect, you have to respect other people."
One lesson he shared with students is about remaining human. Another is about hate: "I cannot forgive," Fisch said in a 2009 MinnPost column by Doug Grow. "That is not within my power; not my right." But, he continued, "What could those silent, slaughtered millions ask of us now? To hate? The very qualities that led to their demise? Not likely."
"Instead, I hope to contribute to a kinder world," he told a Minnesota Monthly reporter in 2013.
Fisch also published five books. His first book, Light from the Yellow Star: A Lesson of Love from the Holocaust, is read in schools in the United States, Hungary, Germany and Austria. His other books include The Metamorphosis to Freedom, Dear Dr. Fisch: Children's Letters to a Holocaust Survivor, the aforementioned Fisch Stories and The Sky Is Not the Limit.
After escaping Hungary in 1957, Fisch came to Minnesota where he started as a medical intern at the University of Minnesota in 1958. He was a professor of pediatric medicine at the university's medical school until his retirement in 1997.
In addition to his five books, he authored and co-authored over 100 scientific papers. He is renowned for clinical research on phenylketonuria (PKU), a potentially serious genetic disorder, and pioneering PKU child-development studies.
Early childhood education and art were important to Fisch. He started Project Read, where volunteers read and gave books to children in pediatric waiting rooms. He also painted — he studied art in Budapest and in Minnesota. Each of his books includes his own illustrations.
Fisch's paintings have been shown in the United States, Israel and Europe. According to the Star Tribune, his painting "Creation" will be on display in the University of Minnesota's Masonic Institute for the Developing Brain.
"Living is an art, and medicine is an art form to make life a little better and a little longer," Fisch wrote in an issue of Minnesota Medicine. "Art and medicine are two consequences of the same desire to sustain life."
Bringing together his roles of teacher, doctor and artist, Fisch, with his wife, Karen Bachman, established the Fisch Art of Medicine Student Awards, in 2007, to give University of Minnesota medical students the opportunity to pursue arts outside of the medical school. As of 2017, the Awards had presented a total of $90,000 to 90 students to pursue any and all forms of art.
Robert is preceded in death by his parents, Zoltán and Irén Fisch; and his brother, Paul. He is survived by his wife and daughter, Alex Fisch. The family has suggested memorials be sent to the Yellow Star Foundation (yellowstarfoundation.org).
(American Jewish World, July 2022)