The June 1 event will benefit Rimon and feature eight artists talking about 18 images that inspire them
By ERIN ELLIOTT BRYAN / Community News Editor
For the fourth year, Rimon: The Minnesota Jewish Arts Council will present its popular P'Chotchka event, a fast-paced evening of art, film and performance, on Monday, June 1 at the Metropolitan in Golden Valley. The event, a benefit for Rimon, will feature eight artists speaking about ideas or images that excite them or have inspired their artistic work.
The artists — whom Rimon has funded or presented during the past several years — are tasked with selecting 18 images, projected one at a time, and given 18 seconds to speak about each image.
"Some have referred to this as speed dating," David Harris, executive director of Rimon, told the AJW. "The images can refer to [the artists'] own work, literally, or it can refer to ideas or experiences that have stimulated or excited them, or have been formative for them as an artist. It becomes like a visual autobiography."
This year's artists will be filmmaker Emily Goldberg, painter Keren Kroul, artist and educator Ethan Rowan Pope, photographer Eiden Spilker, actor and playwright Susan Stein, playwright and composer Joseph Vass, composer Adam Wernick and playwright Jenna Zark.


Harris said the eight artists represent a spectrum of art forms and life experiences.
"P'Chotchka is meant to show the full range of what [Rimon does] and, more importantly, show the full range of the artistic talent in our community," Harris said. "Our goal is to support artists in every phase of their artistic life, from research and development, from early work, all the way to supporting mature artists who have been making work for 30 or 40 years. It's significant for us to be able to showcase several generations of art making."
The name P'Chotchka comes from a more Jewish-sounding mispronunciation of pecha kucha, a Japanese style of presentation that typically features 20 images and 20 seconds per image. Harris says it's a popular format used in the museum world, including the Walker Art Center, the Minneapolis Institute of Arts and the Weisman Art Museum at the University of Minnesota.
"And it becomes a celebration of creativity in our lives," Harris said. "People walk away very energized by that."
Painter Keren Kroul plans to present images of art that has inspired her, as well as images of her own work.
"I'm actually really curious to see what my life will look like through 18 slides, and maybe I can learn something from it. Once I see it, maybe I'll find some sort of pattern that I hadn't thought about before," Kroul said. "If I can find 18 images of things that inspired me, hopefully there will be a connection between that and my work… to see some sort of understanding of my work and where I come from."
Kroul was born in Haifa, Israel, but grew up in Mexico City and Costa Rica. Her family spent summers in Israel and Kroul came to the United States to attend Brandeis University. She later received her MFA from Parsons School of Design in New York City.
She received a Rimon Project Support Grant in 2014 for Charted Memories, a series of large-scale, multi-paneled works of watercolor on paper, that creates a "place of memory," according to her Web site (www.kerenkroul.com).
Though her work has become more abstract over the last year and a half, she has always explored issues of personal identity and place — in pieces inspired by her grandmother, a Holocaust survivor, and the view from her childhood bedroom in Haifa, which overlooked the Mediterranean Sea.
"I moved into a more formal way of working, where I'm thinking more about color, line, form, repetition, rather than, 'What am I really trying to say here?'" Kroul said. "Even though the groups of work that I'm working on now, these large pieces, they do come out of memories… but it's not necessary to know what the memory is to appreciate the work."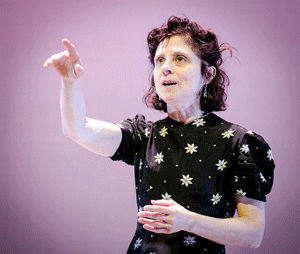 Actor and playwright Susan Stein has created a one-woman show titled Etty, which is based on the diaries and letters of Esther "Etty" Hillesum (www.ettyplay.org). Hillesum was a young Dutch Jewish woman living in Amsterdam, who began keeping a diary on March 8, 1941, as a way to deal with depression.
"I knew the first time I read the diaries that I wanted to make a play because I didn't understand why she wasn't better known," Stein said.
Stein has performed the play in various venues throughout the United States and abroad, but the most rewarding work is when she brings Etty to prisons. In December 2013, Rimon hosted Stein as an artist-in-residence; during her month in the Twin Cities, she spent a lot of time with the inmates at the Minnesota Correctional Facilities in Shakopee and Stillwater.
"What I didn't realize is that it is a prison story. [Hillesum] is imprisoned at Westerbork and her greatest writings come from her imprisonment," Stein said. "The inmates that I've met throughout the world in no way compare her imprisonment to theirs, but they find her writings and the way she deals with her imprisonment, and the way she thinks about freedom and living, inspirational."
After her time in Minnesota, Stein received a package of artwork that men from Stillwater created in response to her play. She said she will use one of those pieces for her P'Chotchka presentation.
In addition to celebrating art and its inspiration, P'Chotchka will also celebrate 20 years of Rimon, which is an initiative of the Minneapolis Jewish Federation. Since its founding in 1995, the organization has supported more than 200 Minnesota artists working in every art form and has put more than $130,000 back into the community.
"It's been quite an unexpected success, and it's because this is a special Jewish community and a special arts community," Harris said. "There's so much talent right under our nose, in all of the art forms. These are not people who are necessarily well known to the established Jewish community, but they should be."
***
Rimon: The Minnesota Jewish Arts Council will present P'Chotchka 6 p.m. Monday, June 1 at the Metropolitan Ballroom, 5418 Wayzata Blvd., Golden Valley. Tickets are $54, which includes food and a beverage; visit: www.rimonmn.org or call 952-381-3449.
(American Jewish World, 5.8.15)