Minnesota's new secretary of state looks to his family's immigrant roots as he works to expand access to voting
By MORDECAI SPECKTOR
Minnesota's Jews take their politics seriously. And in a quirk of North Star State history, there has been a Jewish United States senator representing Minnesota continuously since 1978: Rudy Boschwitz (two terms), Paul Wellstone (two terms), Norm Coleman and Al Franken. This has occurred in a state where Jews account for less than one percent of the total population.
However, until this year, no Jew ever held one of Minnesota's five constitutional offices (governor, lieutenant governor, attorney general, secretary of state and auditor).
That changed on Jan. 5, when Steve Simon, a Jewish native of suburban Minneapolis, was sworn in as Minnesota's 22nd secretary of state.
Prior to his run for statewide office, Simon, 46, served in the Minnesota House of Representatives for 10 years, representing a district that included St. Louis Park and Hopkins.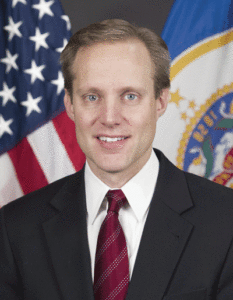 Simon talked to the Jewish World recently, and discussed his family ancestry, the priorities for his term in office and other topics. The conversation took place in Simon's spacious office in the State Office Building, across the street from the Minnesota Capitol, which is shrouded in scaffolding and netting as it's being renovated.
The previous secretary of state, Mark Ritchie, served two four-year terms. As many readers will recall, Ritchie's tenure was marked by the challenges of two high-profile recounts. First, there was the 2008 Senate race between Franken and Coleman, which, after an eight-month recount and legal battle, Franken won by 312 votes, out of nearly three million votes cast. The second recount involved the 2010 Minnesota governor's race, in which Mark Dayton and Tom Emmer came down to the wire neck and neck. Dayton eventually won the contest by close to 9,000 votes.
State political observers gave Ritchie high marks for the way he presided over the recounts.
"I think that he conducted those recounts with great poise, and fairness, and faithfulness to the law, as the Minnesota Supreme Court explicitly said," Simon responded. "And because of him, I, or anyone else who holds this office in the future, will be much better positioned to preside over a recount."
Ritchie — along with the state canvassing board — put "practices and customs and protocols" in place so that future recounts will go smoothly, added Simon.
The Simon family lived in St. Louis Park for a time when Steve was young, then moved to Hopkins. He attended Hopkins High School; earned a bachelor's degree in political science from Tufts University in Massachusetts; and a J.D. from the University of Minnesota Law School, in 1996.
Following law school, Simon worked as an assistant attorney general for Minnesota attorneys general Hubert H. Humphrey III and Mike Hatch; then, in 2001, he was hired as an associate with the Robins, Kaplan, Miller and Ciresi firm.
Simon is married, and he and his wife, Leia, have two children, Hannah, 2, and Noah, 1. The family also has taken in two rescue dogs, Nella and Hugo. The Simons belong to Temple Israel in Minneapolis.
Reflecting on his position as Minnesota's secretary of state, Simon noted "a Jewish immigrant connection."
His great-grandparents were Lithuanian and Polish Jews, who, "to put it mildly, were mistreated," he recounted. "They did not have full rights, did not have a voice, certainly did not have a vote" back in the Old World.
"They came to northern Minnesota first, settled in the Iron Range. They had a dry goods store in Hill City, and my grandfather was born and grew up the first part of his life in Eveleth. As you know, there used to be a strong and hearty Iron Range Jewish community."
Simon's paternal ancestors found full rights of citizenship in America.
"They found a voice, they found a vote here, and that is worth cherishing," Simon concluded.
The family later moved to St. Paul. Simon's mother, Marlen, who came to this country from Austria, died at a too young age of cancer. His father, Ron, was a well-known attorney who represented some of Minnesota's high-profile athletes, including Kent Hrbek, Paul Molitor, Neal Broten and Kevin McHale.
Sadly, Ron Simon, who's 81, is suffering from Parkinson's disease. Steve Simon mentions the case of his disabled father, in the course of making an argument for going to "true early voting" in Minnesota.
In 2014, Minnesota began "no excuses absentee voting, first time in state history" — Simon authored the measure as a legislator. "It was a huge game-changer; we had a 55 percent spike in the number of people who vote absentee."
So, the elder Simon — like many other Minnesotans — "was able to vote from home" last year.
He mailed in a ballot.
"I'd like to take it one step further, which is to go to true early voting; 20 states have this," said Simon.
This innovation simply would allow voters to cast their votes before election day at a government office or city hall, as opposed to the "nine different steps" involved in absentee voting now, according to Simon.
And Simon is also looking ahead to August, and marking a milestone in voting rights.
"We really need to spend a good chunk of our time and energy this year commemorating and celebrating the 50th anniversary of the Voting Rights Act," he said. "That's something where we can really come together.
Simon said that "there's a really Minnesota story to tell there… In 1965, this was a controversial piece of legislation — doesn't seem so now, but it was. The backdrop was some tumultuous, wrenching debates on things like Vietnam, the new Medicare and Medicaid programs, on immigration — sounds familiar."
Minnesota "had a very divided and polarized" congressional delegation, four Democrats and four Republicans.
"But when the roll was called on that bill, Minnesota was one of those unanimous states, there weren't that many, but we were unanimous," Simon point out. "Our entire delegation — both U.S. senators, all eight House members — voted yes. And that's remarkable, considering who we were at the time, considering the complexion of our congressional delegation; and it says something about what we prize in Minnesota."
Simon acknowledged that Minnesotans are "not always arm in arm" in agreement on election issues. There was, for example, the 2012 ballot measure that would have amended the state constitution with a requirement that voters produce a government-issued ID at the polls.
However, Simon said that on access to voting, Minnesotans generally have been united "much more of the time."
And he expressed hope that the events in August, the celebration of the 1965 federal Voting Rights Act, can be used as "an occasion to educate and to activate, as well. So it's not just about looking back and thanking those who did what they did, but also looking forward and building on that occasion to register people, to let them know about the tools available to them — like no excuses absentee voting — and to get people more engaged civically."
(American Jewish World, 5.8.15)