by MAX SPARBER
Community News Editor
Paula Vogel, who has long been one of America's premier playwrights, nonetheless has experienced an unexpected late-career success, with an unexpected play.
Vogel's past plays have tended to be relatively contemporary, American stories, often semi-autobiographical. An example would be The Baltimore Waltz, her 1992 play inspired by a tour of Europe she took with her brother, who was dying of AIDS.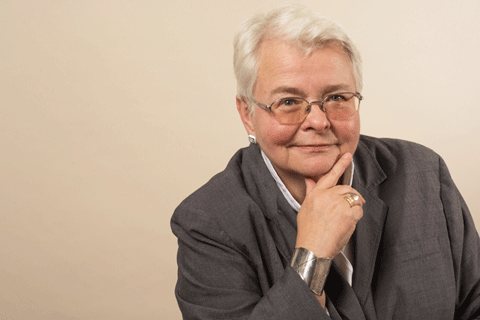 But Vogel spent the better part of a decade co-creating and scripting a play based on the troubled production of a Yiddish-language play, God of Vengeance by Sholem Asch, which was first produced in 1907 at the Deutsches Theater in Berlin.
The play details the tortured family relationship in a Jewish home that sits atop a brothel. The father, whose pretenses to piety include commissioning a Torah scroll to give as his daughter's dowry, owns the brothel. He abuses his wife and terrifies his daughter, who develops a relationship with one of the prostitutes.
Even today, the play is startling, but in its time it was scandalous, with a 1923 Broadway production resulting in the arrest of the cast.
Along with director Rebecca Taichman, Vogel adapted the story of the troubled life of this Yiddish play into a new work, titled Indecent. The play has moved from success to success, starting with a run at Yale Repertory Theatre, and later moving to Off-Broadway and Broadway. It will open at the Guthrie Theater Feb. 23.
This will be the first production not directed by Taichman, which is a necessary step according to Vogel, who spoke with the American Jewish World. "I'm really excited to see the play with different directors," Vogel said. "It shows me a different world."
The new production will be directed by Wendy C. Goldberg, who must take a play that previously was developed over eight years and create it anew onstage in three weeks. Vogel explained that this is the way most American theater is done — a series of new shows on new stages, mounted in a relatively short time, and she is curious to see what it will look like.
Vogel is unambiguous about her excitement about the Tony Award-winning director, whom she has previously met but never previously worked with. "I met her 20 years ago, and I told her then, 'We're going to be in a rehearsal room together.'"
Goldberg has expanded the presentation of the play considerably: It had originally been a very small affair, consisting of actors, a bare stage and some chairs. Vogel is hesitant to give away too much about this production, but said that it is now set in a decayed theater auditorium, and the audience will see a representation of themselves onstage.
"It's very bold and very different," Vogel said.
If Vogel was hesitant to discuss the exact staging of the play, she was happy to discuss the stagecraft. Asked about how Yiddish was represented in an English play, she explained that she uses a very particular trick: When characters are speaking Yiddish, they speak without an accent. But when they speak English, it is heavily accented.
"When I described it, people said, 'This is confusing, it doesn't work," Vogel remembered. "It was very challenging for the actors."
Vogel described performing the play for recent immigrants, largely Chinese, as well as other immigrants from Asia and Latino audiences, and they instantly understood the conceit.
"I remember one man, a Chinese man, waited very patiently for me outside a theater in New York. He had been in our country for only a year or two. He said to me, 'Thank you for telling people how it feels when they laugh at the way I speak.'"
For Vogel, this is also a bit of a coming out as a Jewish playwright. The playwright, whose father is Jewish, has touched on Jewish themes before, but this is the first of her plays to address the subject so directly. Vogel explained that she grew up being told that she wasn't Jewish, because her mother wasn't, but nonetheless Judaism was a constant in her life.
"My brother started me on this path," she said. "When he was dying, 25 years ago, he spent a lot of time reading Holocaust literature on his last year on earth. I said, 'Why, Carl, why now?' He said that if you look back, as far back as you look, one half of our family has been fighting the other half."
She explained that he meant that their various ancestral ethnic groups were often at war with each other, or killing each other, and that this struck him as a metaphor for AIDS, where the body is at war with itself.
Working on this play has caused Vogel to explore her Jewish identity even more. She has enrolled in adult education classes about Judaism, and explained that "I think I'd like to take it a couple more steps."
"We've got to be the guardians of our culture," she explained, referring back to the play. "If we are not guardians, our culture can die as well."
***
Indecent plays Feb. 23-March 24 at the Guthrie Theater, 818 S. 2nd St., Minneapolis. For information, visit: guthrietheater.org.
(American Jewish World, 2.9.18)